Remember when virtual events were touted as a temporary solution to keep us afloat for a few months?
How time flies!
From local events and workshops, to major sports leagues and business conferences, we've seen how valuable virtual events can be with the ever-changing pandemic landscape.
Even though vaccines are being rolled out across the world, and in-person events are returning in specific areas, you may still have a long time to wait before greeting your attendees in-person.
Luckily, there is still the virtual option. A virtual event platform is still as good a solution as ever to host your event online.
Many companies successfully pivoted to (and will continue to rely on) virtual events
Ever since the COVID-19 outbreak ground in-person events to a halt, many organizations and businesses have thrived with virtual events.
Consensus, Coindesk's flagship event specializing in bitcoin and digital currencies, took their May 2020 conference online, attracting more than 22,000 attendees over 5 days.
Now, it makes sense that tech companies would easily switch to virtual events. After all, they're already familiar with the necessary infrastructure. But what about other companies?
Well, many non-IT companies took virtual solutions into use, if only by necessity.
After all, the global events industry was valued at over $1,100 billion in 2018. The switch is necessary to not only prevent massive financial loss, but transform and adapt to uncertain times.
This is why we can see that even the Northeast Astronomy Forum 2020 decided to host a virtual event in place of a physical conference. They adjusted their offering to fit the virtual space, using content like:
Speaker live streams
Virtual product demonstrations
Even raffles and giveaways
And while virtual events were considered a stopgap measure, some events found that their virtual events outperformed their physical ones.
Take EMAX, for example, who host events and forums where leading young entrepreneurs can meet to get fresh inspiration, share knowledge and expand their network.
They had lower expectations for their virtual event, but when they analyzed the post-event feedback, they found that attendees had just as good an experience virtually as physically, and an even better experience networking online than physically.
By leveraging the power of online events to reach and connect with an audience during a time of lockdowns and curfews, these organizers found a way to successfully drive business and provide a great experience to those who needed it.
And LendIt Fintech quickly pivoted by leveraging their audience base to weather the storm. Watch CEO Bo Brustkern talk about their journey below.
---
Back in early 2019, we asked the question...
Should you shift from physical to virtual events?
In hindsight, this question was a bit silly, as there was no other option.
We've seen a gradual return to in-person events in certain locations, but they have been plagued with restrictions.
We predicted a temporary shift to virtual events, and, well, temporary is relative. However, we're not sure anyone predicted it would last as long as it has. And it's difficult to predict with any certainty how fast in-person will return.
So now, we're asking you...
Should you keep virtual events as part of your overall event strategy?
At the time of writing, a virtual option is still your best bet. Some of you may have a hybrid option available, but our recent examples still had a heavily virtual component.
Virtual events are still just as powerful as physical events, so don't count them out when in-person returns! You can still:
Focus on the most important areas & knowledge
Facilitate connection with valuable partners and potential clients
Generate revenue, and transform your business
Here's how to do it, updated for 2022!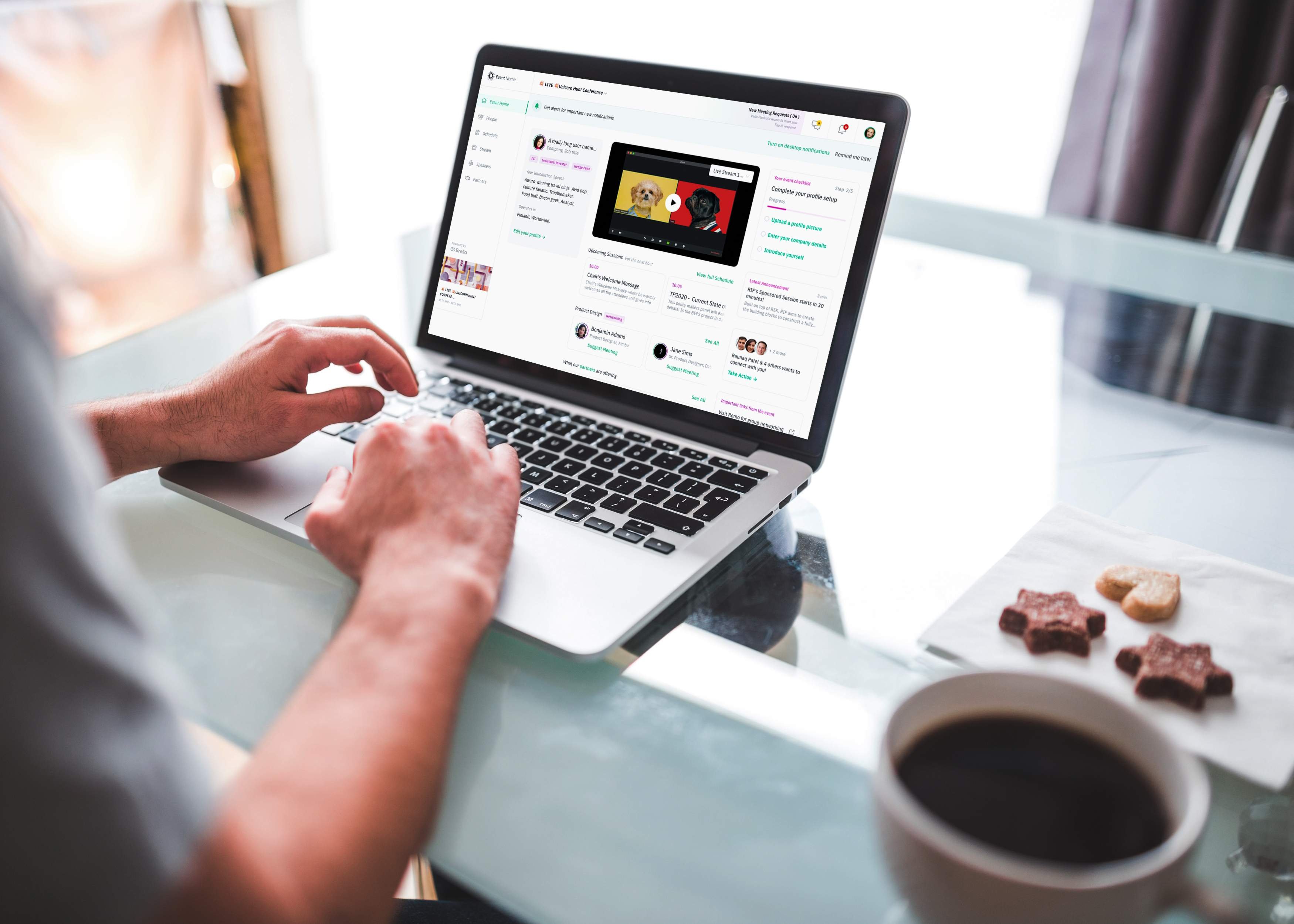 How to create a successful virtual event
Step 1: Review your event and goals
First, review your event idea. Ask yourself questions like:
How is it structured? Which content types did you plan to use?
Who is your target audience?
What is the main goal of your event? For example, lead generation, direct sales, etc.
The goal is to understand the foundation of your event, and the real reason why participants attend it.
If you've organized similar events previously, or you can get data about other similar events, try to understand:
What content types do your participants respond well to?
Which programs are most popular with participants?
Which programs generate the best results?
It's difficult to incorporate every program into your virtual event, especially if this is the first time you're doing such a transformation.
So, focus on programs your participants respond best to. It's much better to focus on one great content type than 5 poorly executed programs.
For example, your usual participants may come to your event because they love fairs with many different products. You can use this information to create augmented reality (AR) fairs, where they can see and interact with products online.
Conversely, your participants might love panel discussions. A livestream to provide them with the content they care about, and a virtual space for them to chat, would work best.
And after a year of virtual events, we've found that shorter is better. Spending the whole day at the venue is engaging, fun and satisfying. Sitting the whole day in front of your computer screen is not.
If you would normally have one day's worth of content, we highly recommend spreading it out over multiple days, or shortening it down.
Your target audience is incredibly important too, as it's one of the biggest draws for sponsors. At this point, you should think about your sponsors, as getting them on board is one of the biggest challenges. Consider:
How can you provide value to your sponsors before, during and after your virtual event?
Can you monetize existing content to boost sponsor ROI?
Can you provide detailed information on your audience demographics to segment the list as best as possible?
If you're worried about bringing sponsors onboard, one of our teammates compiled a list of excellent tips for selling sponsorships virtually. Read it here!
Whew! There's a lot to consider. However, the answers to many of your questions lie in the next step.
If you've run virtual events before, then you know the value a good virtual event platform provides.
It is, quite simply, your online venue.
It is on these platforms where your attendees consume your event content, engage and interact with each other and conduct business with sponsors.
These platforms allow you to focus on making your virtual event even more successful than your physical event. Forget about struggling with technological obstacles.
For example, you can use a virtual event platform like Brella to host your:
Event livestreams
Virtual 1:1 networking

Digital marketplaces for sponsors

Schedule and agenda

Breakout sessions
We also prepared a guide on hosting virtual events which includes many different providers to use with a virtual event platform.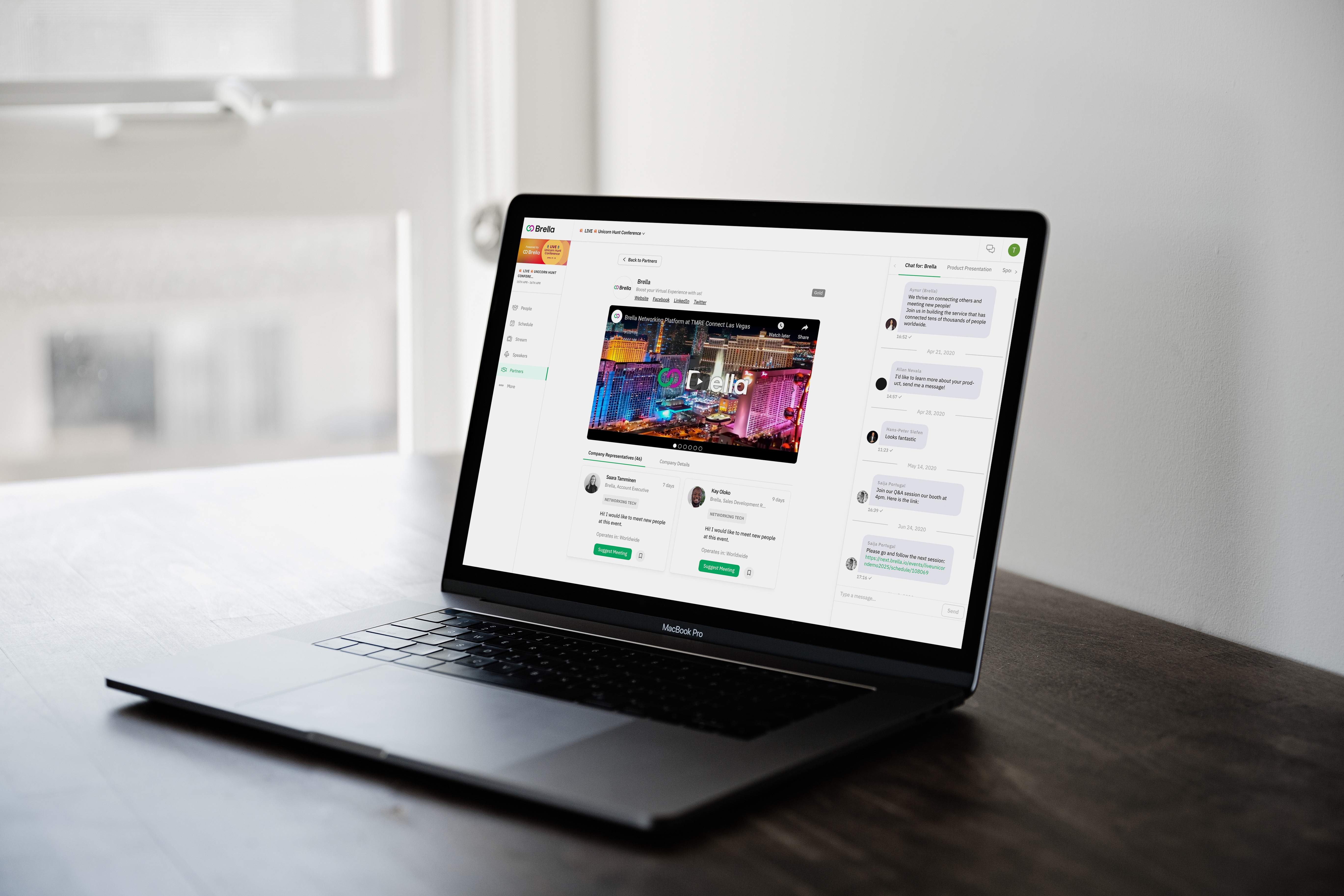 Step 3: Keep your attendees in the know
No attendee will be surprised about a virtual event, but effective and consistent communication is still paramount for maximum engagement.
Virtual event platforms can help keep attendees informed with announcements, push notifications and multitrack agendas. But they first need to join to stay up-to-date.
That's why a solid communications plan is essential. It's much easier to forget to join a virtual event than a real one, so keep a great communication loop going with your attendees.
Use email, social media, your website and more to let them know of the new opportunity and that they can still expect quality connections and content.
Your customer experience should be your first priority, and that starts by keeping your attendees informed of all the incredible content your event has for them.
And in our own experience, we've seen a vast majority of sign-ups to virtual events 24-48 hours before the event begins. So make sure you plan the bulk of your messaging during that time period to maximize sign-ups and engagement!
Step 4: Select the right content types for your virtual event
Normally, virtual events rely on content like:
Video conferences
Livestreams
Live chats
Webinars
You can't go wrong with a livestream, as it's a versatile content type.
Your keynote speakers can address your attendees, present case studies, conduct a brainstorming session, and much more.
As well, if you sync your livestream into a virtual event platform, your participants can:
Adjust their schedule to their time zones
Watch the main livestreams right in the platform
Chat and engage with others during the stream
No matter the area or individual agenda, your participants will enjoy valuable discussions just as they'd enjoy them if they were in the room.
However, it's important to stay professional.
While most of your participants, and perhaps even your keynote speakers, will be working from home, you should still establish a code of conduct and a dress code.
Some recommendations for effective virtual presentations:
Wear headphones to prevent sound echo. If you use your laptop mic and speakers together, your audience will hear what you hear, which is the event.
Have a plain background behind you that is dark, not a window, so you stand out. Proper lighting of your face will help bring your best features out.
Position your camera slightly above your eyes and tilt it slightly down. This presents the most flattering look to the audience.
Turn off notifications and put your phone to silent. Nothing is more distracting than hearing Slack notifications or a phone vibrating on the table during a presentation!
This will keep the formality present with your physical events.
We have a virtual event production kit which includes templates for speaker coaching, sponsor coaching and creating an effective communications plan. Get your FREE kit here.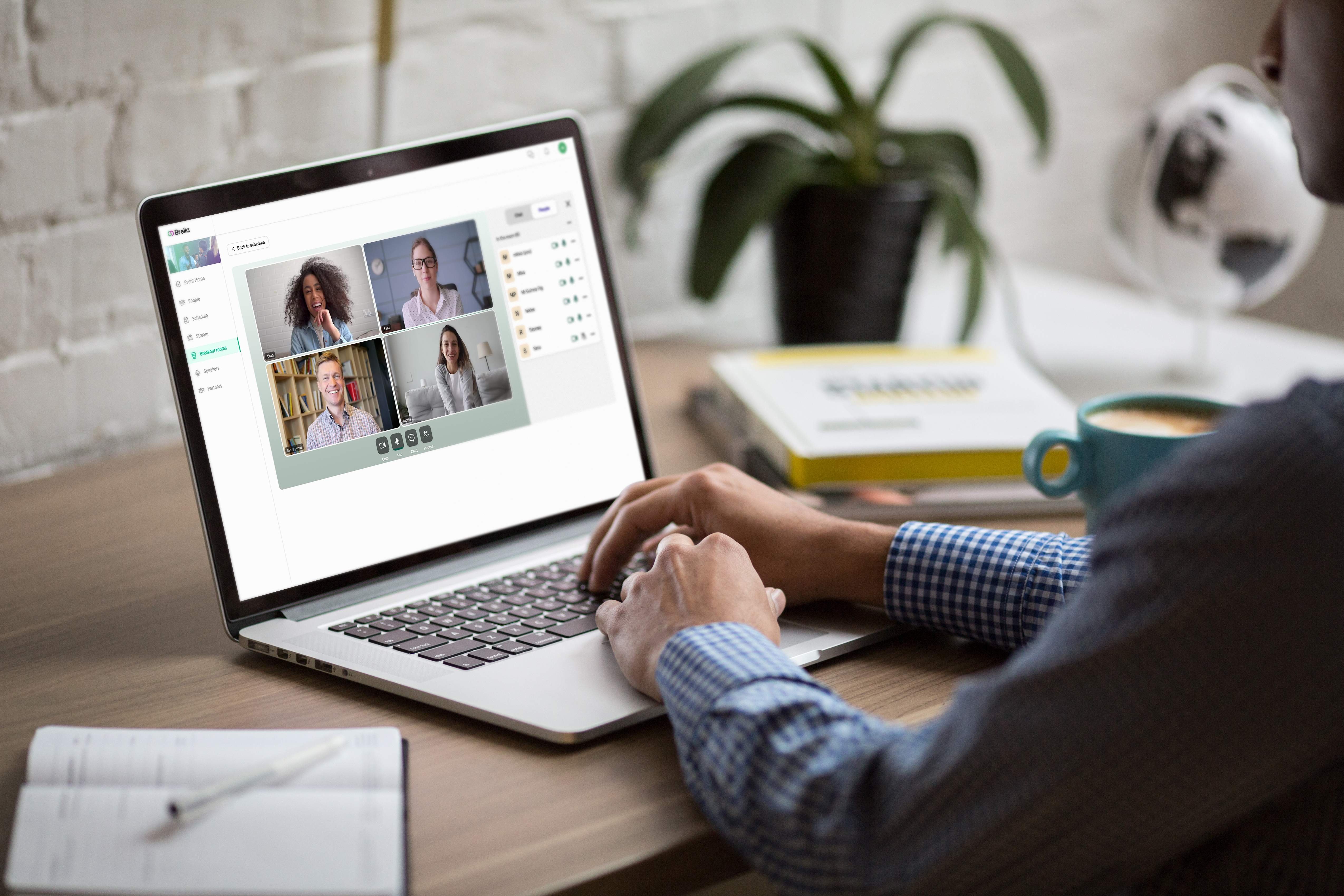 Step 5: Engage your attendees
A physical conference engages all the senses when your attendees are present. However, a virtual event can engage them just as well! It just requires a different approach and plan.
Brella offers multiple ways to engage your attendees, even in the current virtual reality:
Gather feedback through surveys quickly
Gauge powerful insights with our AI
Generate buzz with integrated social feeds
Highlight speaker bios and their content
Understand customer experience as the event unfolds with live polling
And while your main focus should be on your event, you can also engage your attendees through other channels.
This helps you provide them with an omnichannel experience, be that through social networks, or email. If you can leverage personalized email marketing too, your event will be a raging success!
You can share the most important insights to keep everyone in the loop, and keep them motivated to attend your event.
This is where we see another major benefit of virtual over physical events: they provide more personalization opportunities.
And in a market where 63% of consumers expect personalization as a standard, virtual events can help you cater to everyone's needs.
Step 6: Provide networking opportunities
A huge loss when switching to virtual events is the fact that people can't network face-to-face. 74% of participants come to events because they want to meet new leads and potential business partners.
However, that isn't the case anymore. Even if participants can't shake hands, they can still network with the clever use of matchmaking technology.
The easiest way to provide quality networking opportunities is to give your attendees a powerful matchmaking tool, like Brella. With Brella, your attendees can:
Filter attendees, and find meaningful connections
Book virtual meetings in seconds
Join a video call during their meeting to chat face-to-face
Our algorithm understands your attendees' goals, and helps them find the best matches at your event.
Your attendees simply select their interests and their offers to be matched with other attendees.
In a sea of people at a physical event, this wouldn't be possible. The perfect partners wouldn't find each other.
But now, with Brella, perfect event matchmaking has never been easier.
And there is a greater benefit than just providing a good experience. One of the leading business seminars found that their emphasis in professional networking experiences boosted their ticket retention by an average of 18%, and up to 4x in one case.
That's the real power of matchmaking. Learn how they improved ticket retention here.
And if you're looking for a more thorough rundown on creating great networking experiences at your event, enroll in our Event Matchmaking & Networking course at the Brella Academy. Our free course provides you with actionable tips for creating incredible networking experiences that provide real value for you and your attendees.
Step 7: Promote your sponsors
You may be wondering how you'll keep your sponsorship deals if your event is virtual.
This is not a problem. You can make sure your sponsors are still on board by offering them measurable visibility.
Brella helps you attract and retain sponsors for your virtual event with:
Sponsor dashboards for ROI tracking
Partners tab for your attendees
Sponsor promotion space in attendee lists
Attendee interest data
And more!
So even if you go fully virtual, you'll still be able to promote your sponsors, match them with attendees who are looking for offers like theirs, and make sure that the show goes on.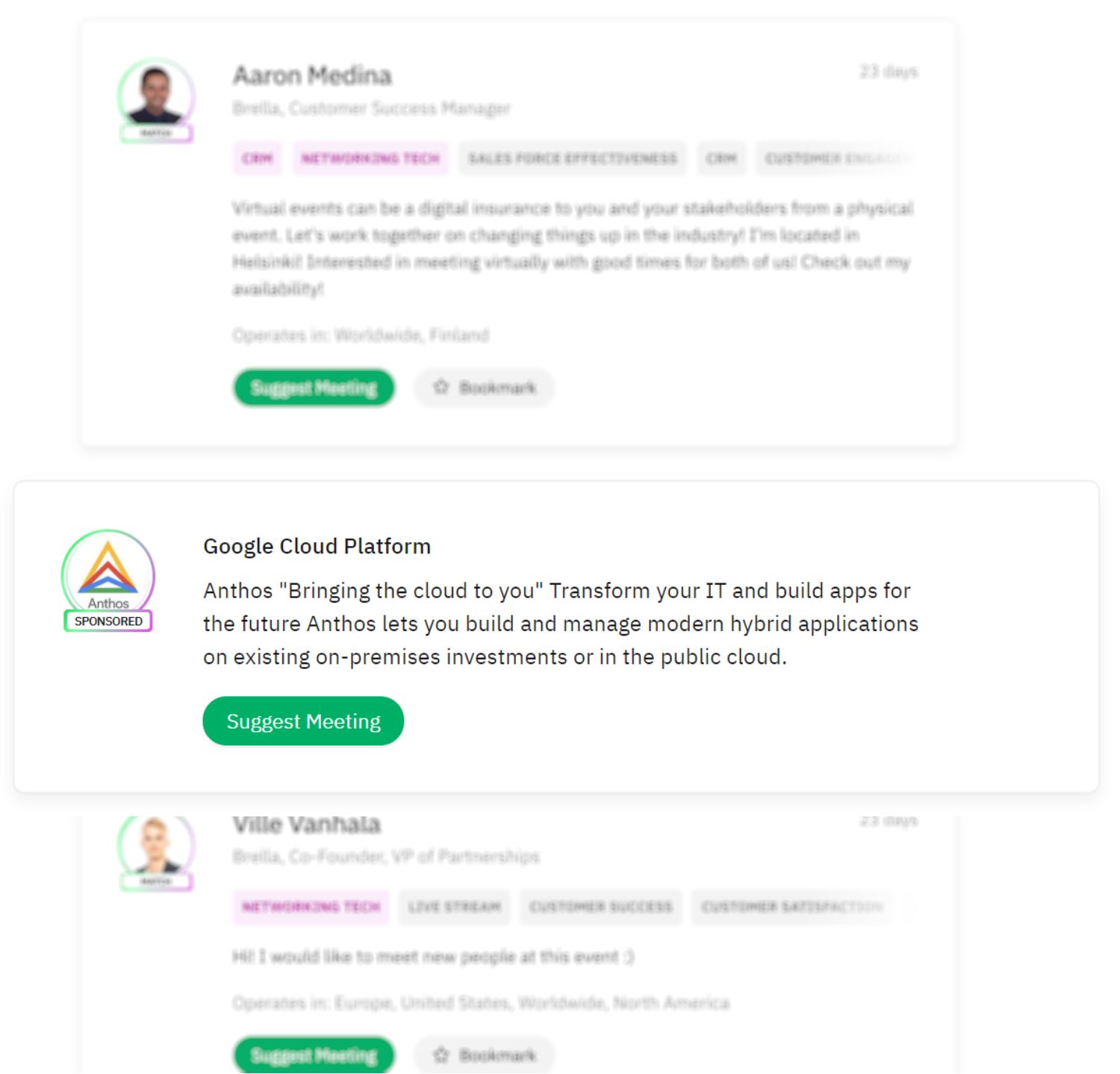 These promotional opportunities are perfect monetization opportunities for you, and excellent awareness opportunities for your sponsors. Make sure you have a thorough discussion with your virtual event platform provider about what options are available for effective online sponsorships.
Step 8: Provide guidance
Depending on your target audience's skills, you may need to provide some form of training.
Embracing customer success skills will be a huge benefit to your organization, and a key differentiator for you in the future. By ensuring your customer finds success as quickly as possible, you increase your own success!
To save time, use virtual event platforms that are intuitive and easy to use. As well, use platforms that can host everything in one place, so there's no need to navigate away or download extra apps.
No matter which virtual event platform you use, we recommend announcing your virtual event and explaining how it will work through channels you've used to announce your physical event.
This event type is still new, so it's important to:
Emphasize the benefits of the virtual event
Tell your customers how it will work and what they will get out of it
Elaborate on the virtual networking opportunities
Make sure you brief your stakeholders, as well:
Tell them you will increase their visibility online
Explain how you will help them connect with attendees interested in their solutions
They can use metrics to measure their ROI and maximize their visibility
And once you've informed everyone properly, your attendees and your sponsors will be excited to hear what you have to say!
To learn more about the basics of customer success for event and conference professionals, we have an excellent primer here.
Watch Deborah Holton discuss how her organization successfully onboarded their customers to virtual events.
Don't fear the switch - we're here to help
For over a year now we've helped thousands of event professionals succeed in their pivot to virtual.
Our virtual event platform is complete with all the features you need for a successful virtual event, whether it's a temporary solution or a new mainstay in your event arsenal.
Our virtual event guide contains all these tips and more, so download your free copy today.