Note: This blog post is will not receive further updates — for the latest estimates on this feature and everything else we have in the works, please visit roadmap.brella.io
Event organizers are hosting more complex and immersive hybrid, virtual and in-person events using Brella. We have always strived to make organizers' lives easier, more profitable and productive.
On that note, we are excited to announce the ongoing rollout of Brella's highly anticipated Access Control features!
Access Control is our take on offering busy event organizers more granular control over their event's sessions, streams and networking options — with minimal effort. This means:
Brand new monetization opportunities — Access control makes it easy to deliver tailored experiences to each attendee, depending on their ticket-type, enabling organizers to get creative with their monetization options!
Unique experiences to sponsor representatives, VIPs and the media — Segment these attendees into groups using Access Control, and provide highly exclusive streams and networking access to them.
Simpler management of complex hybrid events with many moving parts — Access control makes it easier than ever to deliver the right experiences to attendees based on their mode of attendance (hybrid, in-person or virtual).
Release plan
We plan to introduce the first iteration of Brella's Access Control functionality in three parts, which are scheduled for release during the latter half of Q3 2021:
V1.0 User Groups: Out Now
V2.0 Stream Rules: Out Now
V1.1 User Groups (Table Selection & Quality of Life): December 2021 (estimated)
V3.0 Networking Rules: December 2021 (estimated)
Let's take a quick look at what each of these features bring to the table.
User Groups (V1.0)
User Groups empowers organizers to easily segment attendees into two types of groups:
Default Groups: These groups are pre-determined based on the event type selected in Brella (hybrid, virtual or in-person):


For example, a hybrid event would offer six default groups (consisting of separate virtual, hybrid and in-person groups for both attendees and sponsors).
These default groups cannot be deleted (although, event organizers can easily move people between them and custom groups).
Custom Groups: Organizers can freely name these groups, and add attendees to each group based on any custom criteria you may have.


Some potential applications include segmenting attendees by ticket type, having a group for VIP attendees, press / media or even location (for hybrid / in-person events that are spread throughout multiple locations).
At launch, all attendees will be added to a single, default group based on the selected event type.
The addition of user groups will also improve the attendee networking experience by automatically determining whether to offer a pair of attendees a table assignment (if available), or video meeting room for their meeting, based on each attendee's mode of attendance (derived from their assigned user group).
Ultimately, the User Groups feature will form the foundation for applying granular rules and controls that determine attendee access to various parts of the Brella platform.
The ability to actually gate content or networking features to specific user groups is enabled by Access Control V2.0 and V3.0.
Stream Gating (V2.0)
Stream gating is the first real-world application of the Access Control feature.
This release enables event organizers to offer specific user groups controlled access to event sessions. They can sell variably priced in-person, virtual and hybrid ticket tiers, which would have differing levels of access to an event's streams and content — for example, VIP ticket holders could receive access to exclusive sessions to get up close and personal with speakers.
In addition, this feature could be used to onboard / offer exclusive sessions to particular sponsor tiers. The possibilities are limitless!
To set it up, organizers just need to add their attendees / sponsors to the correct groups and head on over to the "Streams" tab.
Whenever creating a new stream, organizers just need to select "Specific groups" for the "Who can watch this stream?" question, and specify which groups are granted access from the dropdown that appears.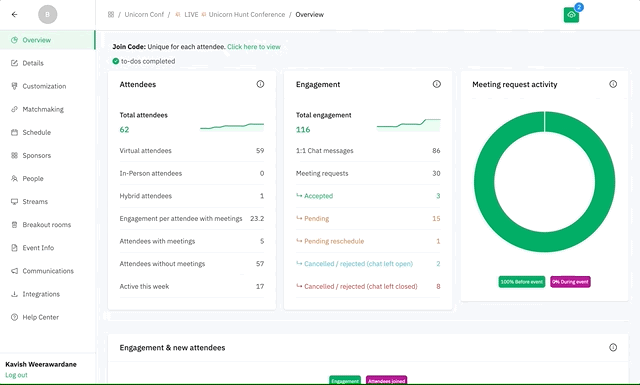 Organizers can change the rules after creating a stream as well — they simply need to click into an existing stream inside the "Streams" tab, and change the "Who can watch this event?" setting.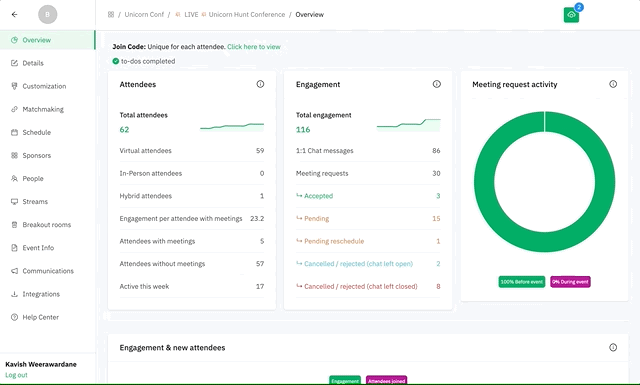 It's just that simple!
Table Selection & Quality of Life (V1.1)
This update will enable table selections that respect user groups and attendance type. In addition, we'll be introducing some quality of life updates, such as bulk group assignment and more!
This feature is scheduled for release in December 2021.
Networking Rules (V3.0)
Networking gating completes our initial implementation of the access control feature, by empowering organizers to offer attendees varying levels of access to Brella's flagship feature: AI-powered networking.
This feature is scheduled for release in December 2021.