Hello! I'm Milla, our People Coordinator!
I'm thrilled to tell you more about life at at Brella, what it's like to be part of the People Operations team (or POps as we like to call it), and why Brella is the best!
Let's go 😊
Could you tell us about yourself and what you do at Brella?
I'm Milla and I work as our People Coordinator. I joined Brella in April 2021 and haven't had a single "ugh it's Monday and I need to go to work" feeling ever since. That's pretty cool right?
I focus on taking care of the employee experience as a whole and I love working with our day-to-day people processes and the operational part of our people work. And our people of course, that's obviously the best part!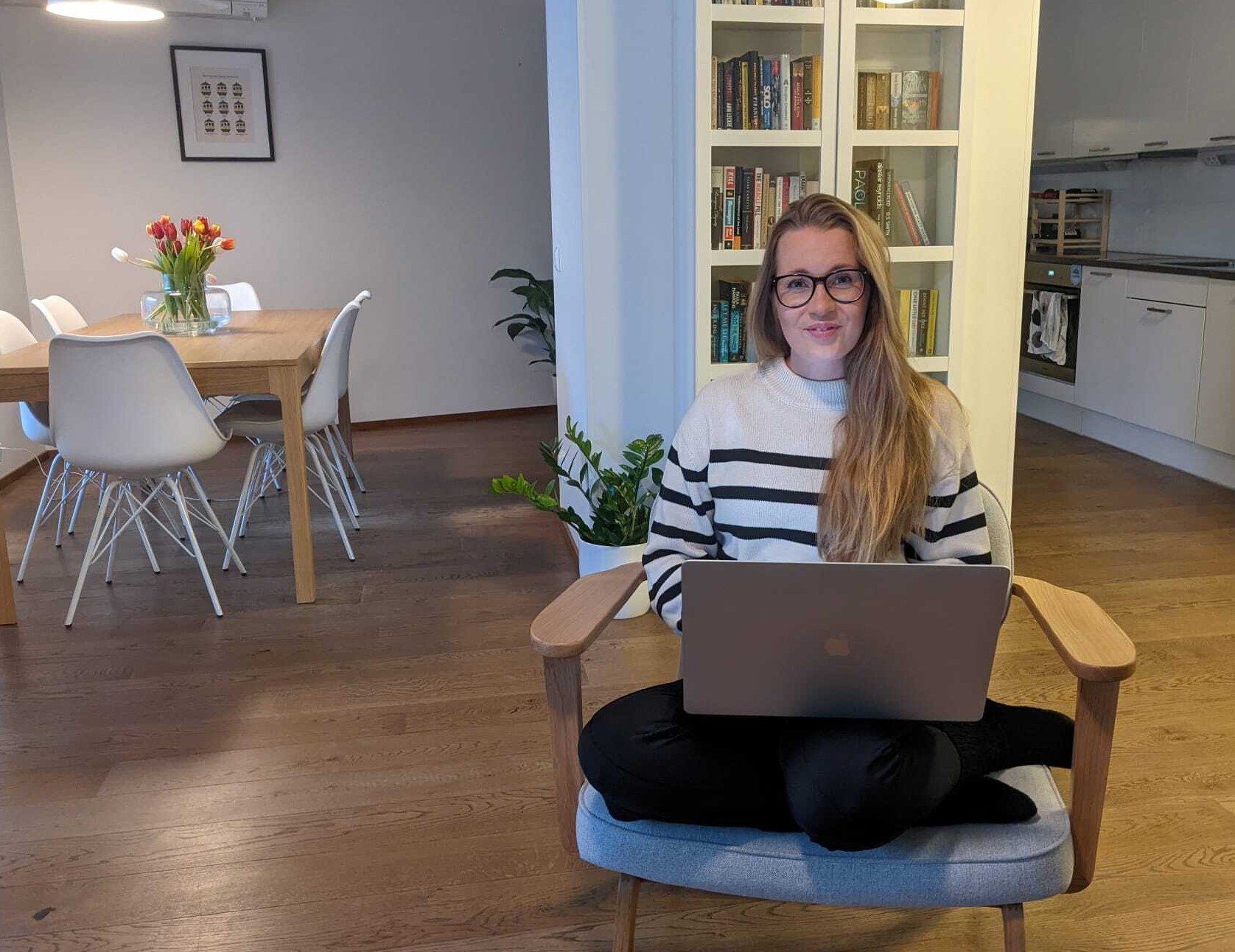 Hello! 👋 This is me and my favorite cozy spot to work from at home when I'm not at the office.
Tell me about what a typical work day looks like for you at Brella?
My manager Hanna was very right to say that this role would be very versatile and I think that's the common factor between my days: they are all a bit different! I might start the morning by answering a colleague's enquiry about vacation accumulation and another question about payroll, then my phone rings and it's the site supervisor at the new office asking me about paint colors and electric sockets. After that I pop into the store to get some valentine's day treats and more milk. Suddenly it's already eleven o' clock which means it's time for our monthly Lunch & Learn session.
In the afternoon I have a meeting with our Brella Ambassador team to discuss the upcoming afterwork, after this I meet with Hanna for our weekly 1:1 to go through current topics. Oh, I'll need to remember to update Instagram with that cute picture of the dogs sleeping at the office. You get the picture… There's a lot going on and that's exactly why I love my job!
How did you end up working as a People Coordinator?
I always knew I wanted to work closely with people. Therefore, I ended up studying my Master's in a field called adult and general education. Many of us with this particular degree end up working in HR and I also found my calling there!
I started my career in recruitment but after a few years I found myself being more interested in working with the existing staff instead of only focusing on finding them new colleagues. I love that the People Coordinator role at Brella entails many areas of HR that I've found really interesting such as onboarding, employee engagement, internal event organizing and employer branding. I also find the event industry really intriguing so it's fun to work in a company where people are passionate about this.
What are the most rewarding and challenging things about your work?
The most rewarding moments in my work is when I can provide a colleague with the support they need and to see the end product of a project. By the end product I mean for example an internal event that we've been planning for a long time and then the day is finally here or seeing people enjoying their time at our new office that I've worked hard on.
However, staying focused can sometimes be difficult as you might have guessed based on my explanation of a typical workday. There are a lot of things happening at once and I wear many hats as many of us working in HR do. My to-do lists help me keep track of (almost) everything and my favorite thing ever is Slack's "remind me about this" functionality. Oh, and also that Brella lets us make mistakes. No one is expected to be perfect and remember everything.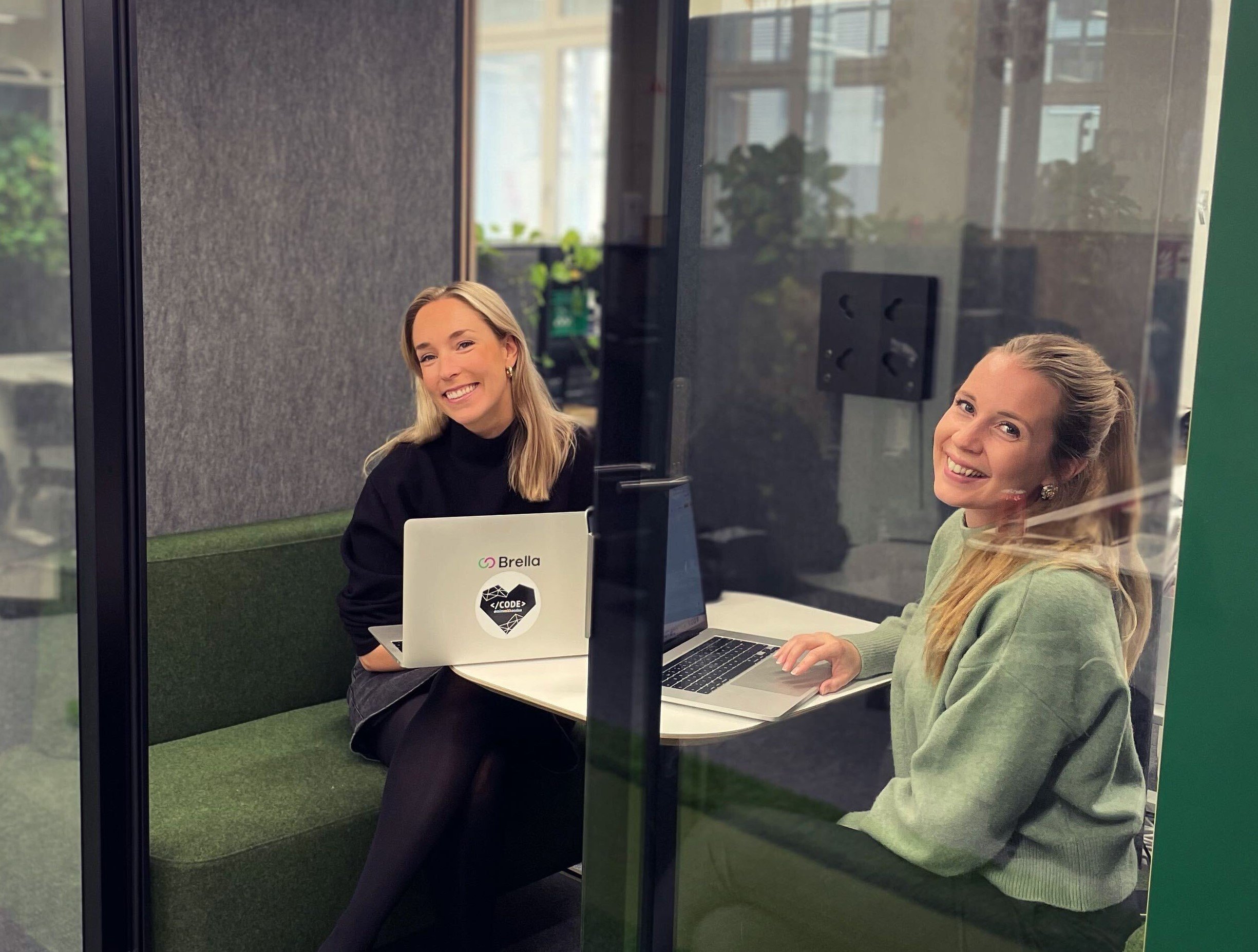 My wonderful manager Hanna and I enjoying one of our weekly 1:1 meetings! ☕
How would you describe Brella's culture and your colleagues in your own words?
I know many companies say they have the best people… and guess what? So does Brella! I personally would be very happy if every company would feel that way because it's not a competition. It's about finding the right diverse mix of people with great minds, eagerness to develop, hunger to succeed, and a lot of kindness. Never forget kindness; both towards our customers, colleagues, and ourselves.
In my introduction session with our newcomers, I like to mention that psychological safety is really important for us here at Brella and you should always be yourself. However, the only non-negotiable is that no assholes are allowed. Always be kind!
And the beauty of all of this is that people are kind here, they help each other out instead of competing and always think like a team.
Any tips you would give to someone who is starting in your field?
My tip would be to start somewhere if you're interested in working in HR! Your first job does not need to be your dream job. My path to what I pretty much can now call my dream job took a few twists and turns. Working at a recruitment agency is often a great way to get started and that's also how I started my career. From there I was able to move towards an in-house talent acquisition role and now I'm working in an operational HR role with a focus on employee experience.
And who knows what the future holds? That's why the HR field is so exciting, there are so many different areas to focus on and a wide variety of opportunities waiting for you!
Anything else you'd like to share or any greetings?
I hoped you enjoyed getting a glimpse of my work at Brella and were able to feel the vibes through the screen of how great my colleagues are. Make sure to surround yourself professionally with people who make you feel good and I hope most of your Mondays are as great as mine are. Feel free to connect with me on LinkedIn and thanks for reading the blog!
And if you think it would be fun to join us then connect with us to be the first to know about our new job openings!