Your event app of choice should always match the same incredible UX of the most popular consumer apps in the world.
If your event app is clunky or outdated, your attendees won't use it, and this is totally understandable. An event app worthy of the most memorable in-person events in 2023 should be nothing but engaging, beautiful, and intuitive.
Last October, we announced our biggest release of 2022: Brella's new event app.

In a recent blog post, we gave the stage to Brella's founders and asked them to reveal what lies at the heart of this new revolutionary release. The founders told all about the new event app's gorgeous design and extraordinary UX mentioning how it will serve the in-person market, and finally, they shared their own vision of the future of the event industry.

You can read the full interview right here! 🎤


In this article, we will focus on the HOWs. So, get ready to learn the 5 game-changing ways a modern event app like Brella will engage your audience on-site and make your job much easier and hassle-free.
Let's start with a question: what do event organizers get with a modern event app like Brella?

You can dive straight into point #1 or select another interesting option from the menu above!

1. An event app designed for its end users
Event apps have become the new standard of in-person events, and your attendees and sponsors not only want them but also expect them as part of a great event experience.

Nowadays, there are many different solutions on the market you can choose from, and based on your event type, some event apps will serve you better than others. Yet, there is one crucial aspect that should always be at the forefront of your selection process: usability.
That sounds like a no-brainer, right? However, most event apps available right now are in fact clunky and obsolete.

Usability and digital adoption are the foundations of a top-notch user experience, and they have always been at the heart of everything we do at Brella.

That being said, our team of designers set their minds to taking them to a whole new dimension in the new event app design.

"The aim of the new design is to position us as the design leaders in the event industry," says Raunaq Patel, Head of Design at Brella.
"Our vision is for Brella to reach the status of best event app to empower attendees to network, and engage with content and sponsors in the most efficient way possible."
"The homepage was thoughtfully designed to allow users to focus on the right thing at the right time." - Raunaq Patel, Head of Design at Brella

So, no matter whether your attendees have used Brella before, and no matter whether yours is their first event experience or the 50th, the new Homepage has been engineered for its end users and maximizes instant user adoption and focused engagement.

How?

First of all, the new Homepage matches the same UI of the most popular consumer apps in the world all of us have come to love. We're talking about apps like Instagram, LinkedIn, Spotify, you name it.

The design is so neat and familiar, every new and old user can hit the ground running and jump straight into the event experience.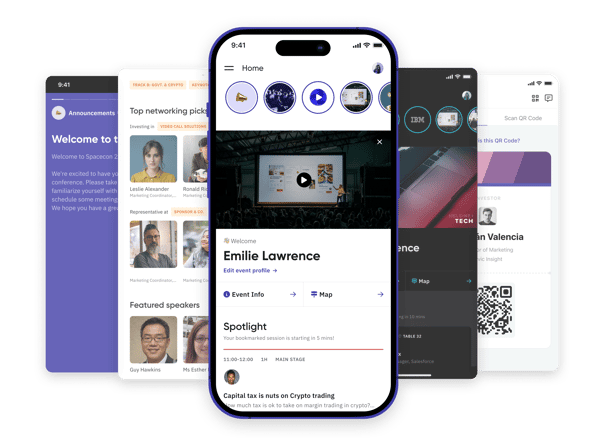 Delight your audience with a world-class design that matches the best consumer apps in the world.

"The event experience can be quite chaotic if not planned well, that's why the new Homepage was thoughtfully designed to allow users to focus on the right thing at the right time," says Raunaq.
So, we removed the chaos.
The tab bar at the bottom has evolved into a neat Navigation Bar that offers an immediate overview of all the "global actions" your attendees need at hand at all times during the event.





The new intuitive Navigation Bar will have your attendees & sponsors breeze through the event.

But what if your attendees are looking for a specific item that can't be found right through the Navigation Bar?

We're glad you asked!

Brella's new event app features a global search that emulates the same top-notch global search function of an app like Spotify.
Everything your attendees need to do is type what they're looking for (e.g. attendee name, speakers, companies, sponsors, sessions) and the app will instantly find it.

The new global search makes searching and finding easier than ever!
2. An event app that matches the social media experience
Let's face it, social media apps have become part of our everyday life with users spending on average two and a half hours on social media every day in 2022 (which is the highest time on social media ever recorded).

Among the top 3 reasons why social media has become so popular - and at times quite addictive - we're not surprised to see the opportunity of meeting new interesting, and like-minded people.

Social media is all about creating connections in an intuitive, engaging, and interactive space. Plus, if we consider professional social media platforms like LinkedIn, there's the added bonus of boosting visibility for your brands and meeting new business partners, clients, and employees.

Does it sound familiar?

Facilitating meaningful connections is the cornerstone of everything we do at Brella, and our event app has played a major role in creating millions of connections around the globe.
Attendees, sponsors, and organizers alike have praised Brella for its effectiveness in connecting like-minded professionals in seconds thanks to our AI-powered matchmaking algorithm, but our design team saw a gap and decided to bridge it once and for all!

When you think about sharing interesting updates on popular apps like Instagram, what is the first tool that comes to mind?

If you answered stories, you guessed right!
A smooth communication system is crucial to any event no matter the size, and your event app of choice should allow you to manage your event comms easily and efficiently. But why not also make it fun and entertaining for your audience?

With Brella's new event app function Stories & Announcements, there's no limit to what you can do: share important announcements, highlight the best moments of your events, and why not, leverage sponsored stories to boost visibility for your partners.

"We want to give event organizers all the best tools to curate their content and cater it to their attendees," says Raunaq.
"And we also want them to leverage new and unique opportunities to monetize their event and gather useful attendee feedback. Stories are an efficient never-seen-before way of doing it!"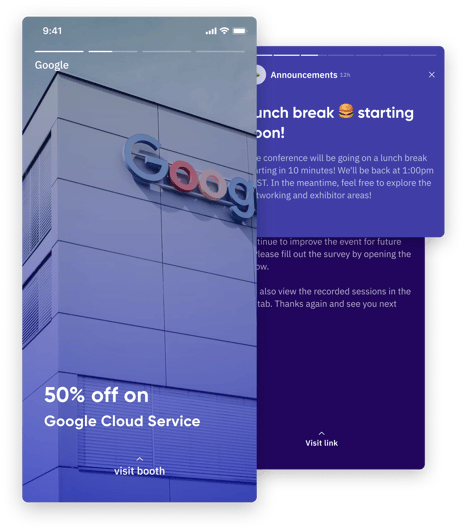 Smash the benchmark for in-person events with the most popular feature in the social media landscape!

But there's more!

The social media experience is all about the people we meet and interact with. Since 2016, Brella has always been there to make it as easy as possible to find the best people to connect with, but once again, why not also make it even more fun and engaging?

So, here comes another brand new feature, Top Networking Picks, where the magic of Brella's AI-powered matchmaking meets the appeal of social media.

This new section of the Homepage displays all top networking matches and selected sponsor representatives tailored to each attendee's networking interests and goals.

What's more, we've introduced a new shuffle button that refreshes the selection and brings new faces to the screen at each click. There's almost an addictive quality to the experience, the very same feeling you get from social media!




Engage your attendees with all their fresh top networking picks - at the touch of a fingertip!

3. A white-labeled event app
"Branding is vital for any company in the world, but especially for event organizers," says Brella's VP of Customer Success, Ville Vanhala, in our recent interview: Behind Brella's New Event App.

"With thousands of events happening around the world every year, what sets you apart?"
As an organizer, you spend countless hours planning extraordinary events, making sure your attendees and sponsors will get the high-quality networking experience they deserve.
Your event supplier of choice should give you all the tools to make that event happen, but ultimately, the stage should be all yours. That's why advanced white-label capabilities should be a must, not a bonus.

Brella's event app is fully customizable, from your own event app icon all the way to your own personal URL. So that your attendees will know and remember who's behind that fantastic event experience.

"Even though Brella is a great brand and organizers want to advertise the app as it's a synonym for a great networking experience, we also understand that event organizers have invested everything into building their brands," says Brella's CPO, Mikko Matikka.

Watch the video below to see Brella's white-label capabilities in action! 🎥
4. An event app that supports unlimited 3rd party integrations
Every team is different and your event app should operate seamlessly with your existing tech stack, not the other way around.

Organizers have one of the most stressful jobs in the world, and there's no need to catch an additional headache trying to juggle multiple apps at the same time.
With custom 3rd party integrations, there's no need to alter your workflow, you can simply connect all your tools and bid farewell to manual data transfer (which is time-consuming and error-prone).

3rd party integrations will bring you all the peace of mind you and your team need, not to mention a great deal of extra time you can invest in planning a phenomenal event.

The best event suppliers will provide you with a vast selection of integrations (at Brella, we're proud to integrate with 5,000+ apps and tools) and different packages to choose from based on your available resources, timeframe, and much more.
What could possibly take you months to develop on your own, can simply be delegated to our team. How does that sound?
You can browse all our integration plans and find the most suitable for you on our official Integrations webpage!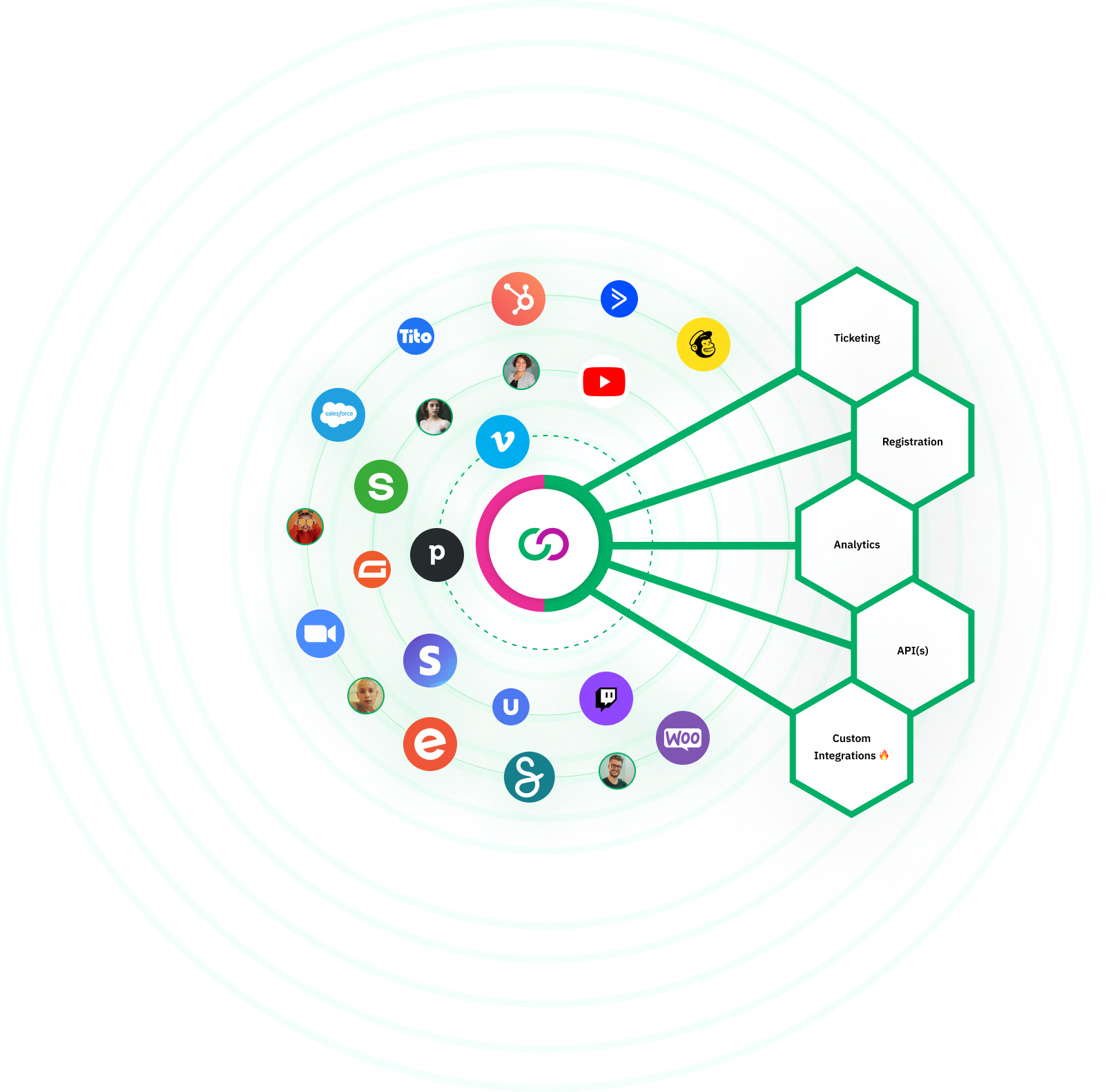 5. An event app built for networking
Event networking is still the core attendance driver at any event, and after years of social distancing and meetings behind a screen, your attendees and sponsors are craving meaningful face-to-face connections like never before.

What's so exciting about in-person events is the chance to bump into unexpected new great connections. However, relying on serendipity alone is not the best option for everyone, and your attendees are now expecting nothing less than a functional event app built for maximizing networking.

We already covered all the game-changing features that will recreate the same compelling experience of the best consumer apps, but your event app can do a lot much more to facilitate the exchange of contact information and a smooth networking experience on-site.
Let's start with the former!

Business cards and badge printing are a thing of the past, and not the most eco-friendly option for your in-person event. Right now, what your attendees and sponsors want is an instant digital information exchange. For this, you can rely on a contact scanning feature.

Thanks to this function, your attendees and sponsors can easily scan a unique QR code to connect with interesting leads, prospects, and meeting partners in seconds. All of this is directly from their mobile devices.

Bonus points?

QR Scanning isn't only a practical tool for your attendees but also a cost-effective and green alternative to printing expensive badges. Environmental awareness in the event industry is on the rise, and both your attendees and sponsors are being drawn to organizations and events that put sustainability at the forefront.
Now, concerning the smooth networking experience on-site.

Of course, with Brella it all starts with our AI-powered matchmaking algorithm that brings all top networking picks to each attendee and sponsor based on matching networking intents and interests.

But what happens once your attendees have filled their schedule with valuable meetings?

There's nothing more energizing than a wonderful venue full of entertaining spots and items to discover. The downside is that your attendees can get easily distracted, and you wouldn't want them to miss any of their precious 1:1 meetings.

That's why we've created Brella's new feature: Spotlight!

Event app users can stop wondering "what's next?" as the information will always be on their homepage right in front of their eyes.

Meeting with another attendee at table #44 happening in 10 minutes? Meeting with a sponsors representative at booth #115 at 2:00 PM? Or perhaps a fireside chat at stage #3 starting at 4:00 PM?

No need to write a separate reminder or browse through a packed event agenda, the event app will always be there to remind you!

Spotlight works as a real-time reminder so that your attendees will never miss an important meeting or session!


Conclusion
Event apps have become the new standard of in-person events, and that's why you should never settle for anything less than a truly modern event app built for what its end users need and deserve.

So, when choosing your next event app, make sure you pick:
Want to discover more about Brella's new event app? Click on the button below and dive into a new way of doing in-person events!