Introduction
sTARTUp Day is bringing together startup-minded people to celebrate entrepreneurship in the smart city of Tartu, Estonia.
Bringing together more than 330 startups & 160 investors together from 67 countries around the globe, this group touts themselves as "the most startup-minded business festival" - and it shows.
Since 2018, Brella and sTARTUp Day have banded together to provide a festival-worthy experience to these young businesses, both giving them the leg up they need and proving that Tartu has everything an ambitious entrepreneur needs to succeed in today's business world.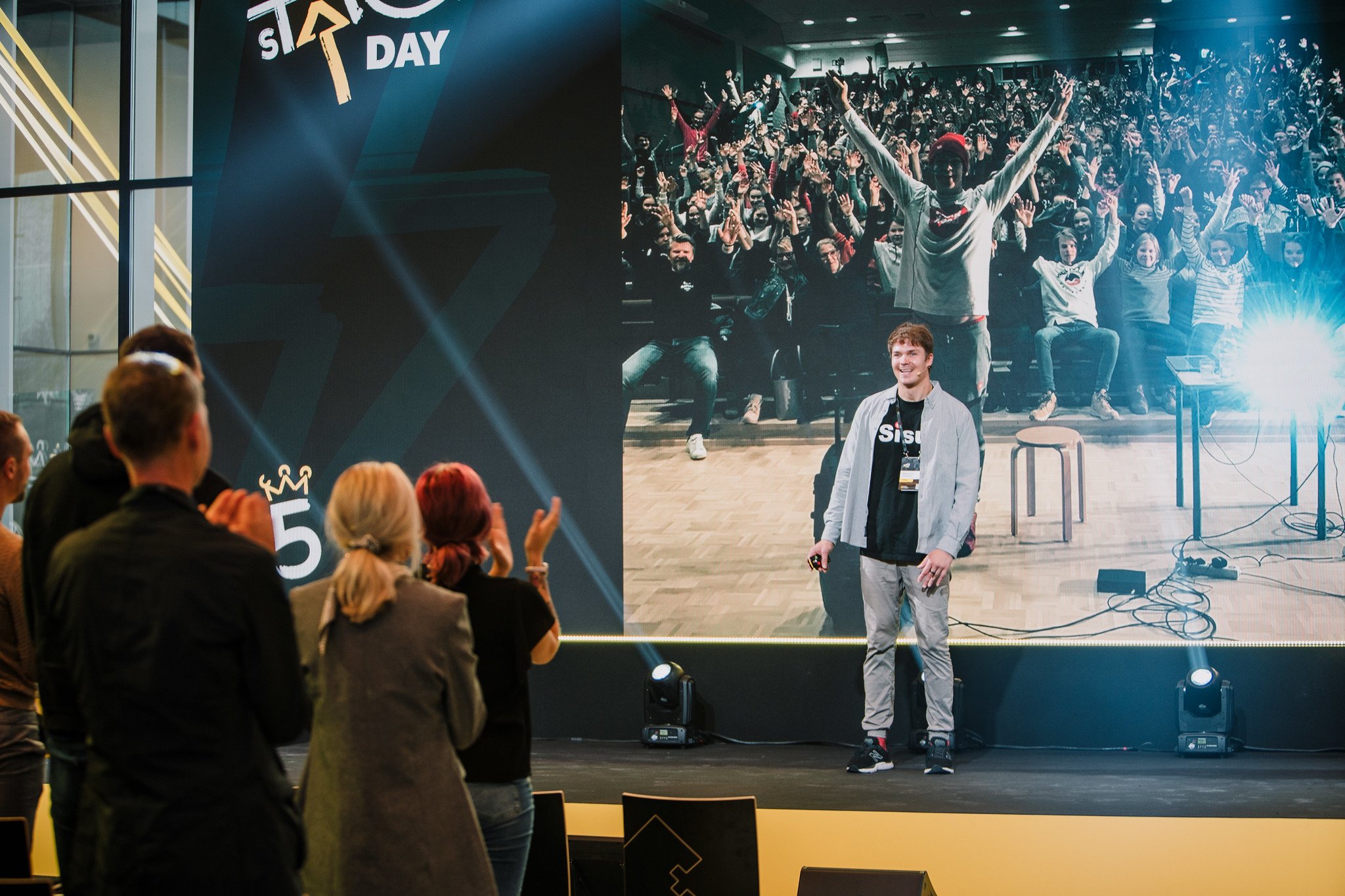 The challenge
The sTARTUp Day team yearned for a business festival that was equal parts business and festival, to show the rest of the world that you can host an amazing experience outside of Tallinn, the capital city.
And in typical Estonian fashion, the first sTARTUp Day was conceived in a sauna, where they wanted to take the smaller events happening throughout the city and turn them into something big, with a true startup mindset at the forefront.
What does a startup mindset mean? Well, to the team, it's a way of thinking that includes:
focusing on growth
working smarter, not harder
being biased towards action
being adaptable when situations are uncertain
However, startup events also need the tools that can keep up with their constant innovation and growth. To achieve the results they desired, the sTARTUp Day team knew they would require a virtual component to complement their large, but still regulated, in-person experience.
And Brella fit the bill, having hosted events of all formats and types for the past 5+ years. Whether as a matchmaking-focused event app for in-person events or an online platform for virtual & hybrid events, Brella has the flexibility to accomodate the format your event demands.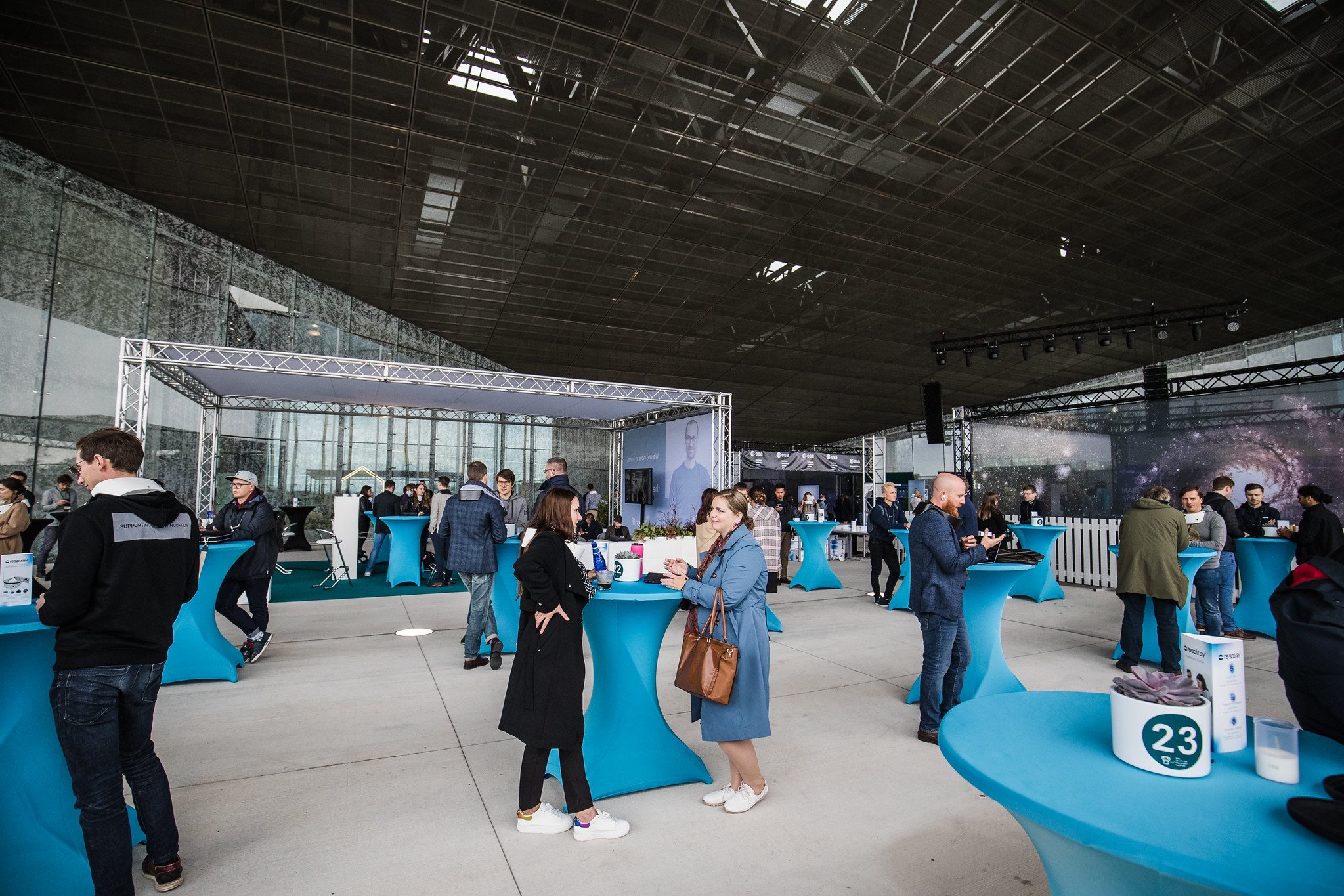 The networking area at sTARTUp Day 2021. | Photo credits
The solution
The sTARTUp Day team embraced Brella as their matchmaking provider of choice back in 2018, and they have continued the partnership as their event has grown.
"Brella is one of the best matchmaking solutions on the market," says Marili Vihmann, Head Organiser. "The matchmaking is more logical than other platforms, and the design is incredible."
It shows in the attendee feedback and numbers: more than 1,300 meetings were organized between startups and investors (without the team having to manually schedule a single meeting).
However, as events change and evolve, so must their tools. sTARTUp Day's previous event was in January 2020, fully in-person, and evolved into a heavily in-person experience, with a strong virtual component.
Brella has evolved alongside the needs of the team, from an in-person only event platform to a comprehensive event platform capable of hosting not only virtual events, but hybrid experiences too.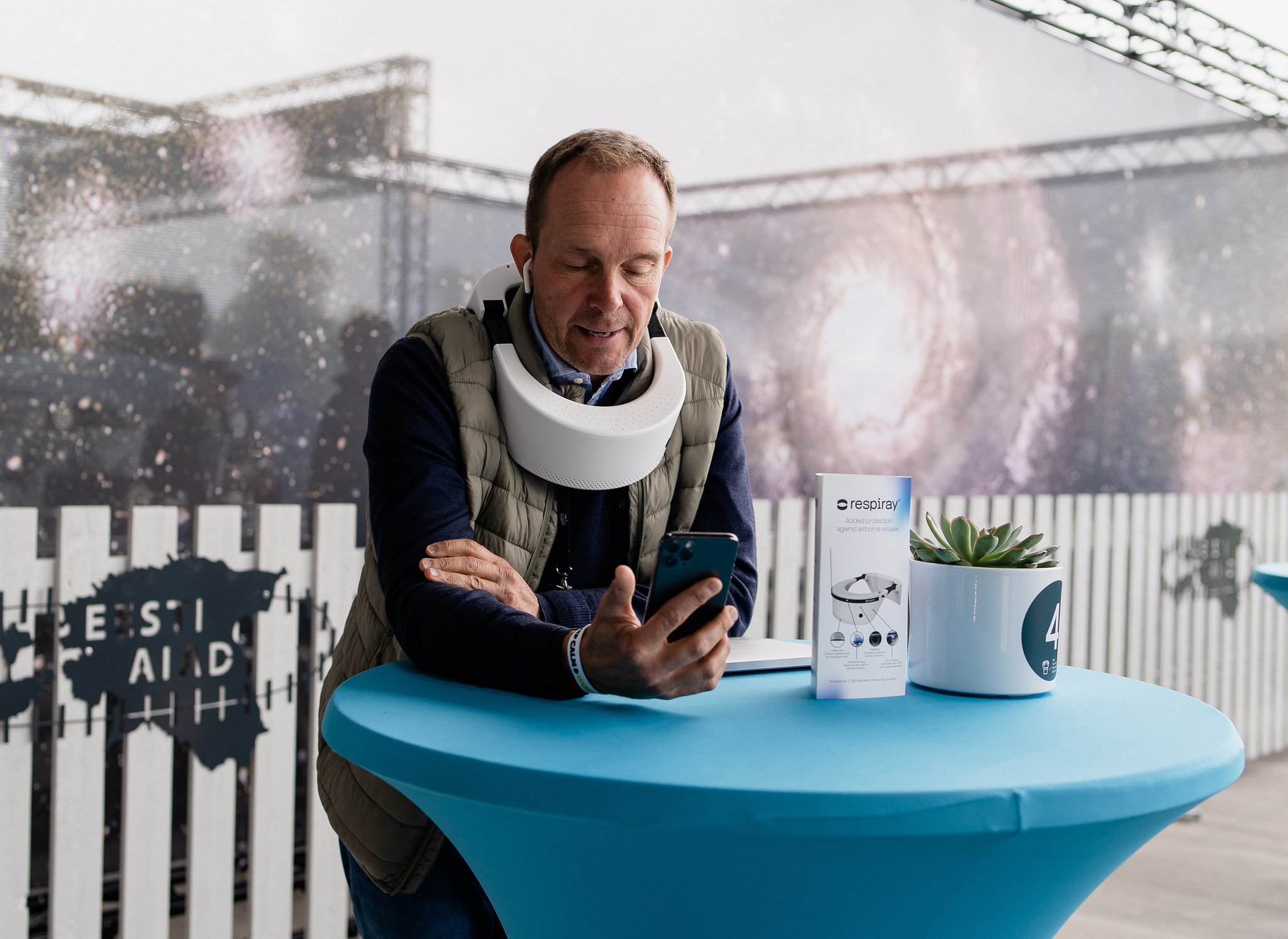 An attendee takes a hybrid networking meeting on Brella's hybrid event platform. | Photo credits
"There are so many new features coming out all the time. Brella is constantly growing and developing, and we love to see that startup mindset in the company and the team," says Jana Saastamoinen, Head of Marketing. "When Covid hit, the whole platform pivoted and it was amazing to see how fast things happened in Brella. They really knew what event organizers needed."
And the sTARTUp Day team made excellent use of Brella's vast array of features to streamline the event management experience, saving them hours of valuable time.
"The schedule feature is amazing. We can add our agenda to Brella and sync it to our website, platform, anywhere we need. So if there is a change, instead of updating it on 4 different platforms, we can just use Brella," says Saastamoinen.
Managing the same agenda on multiple platforms is a constant time-waster, so save time with our schedule widget. No development expertise is required to add it - our great Help Center article shows how easy it can be.
Take a look at sTARTUp Day's previous schedule to see how it looks.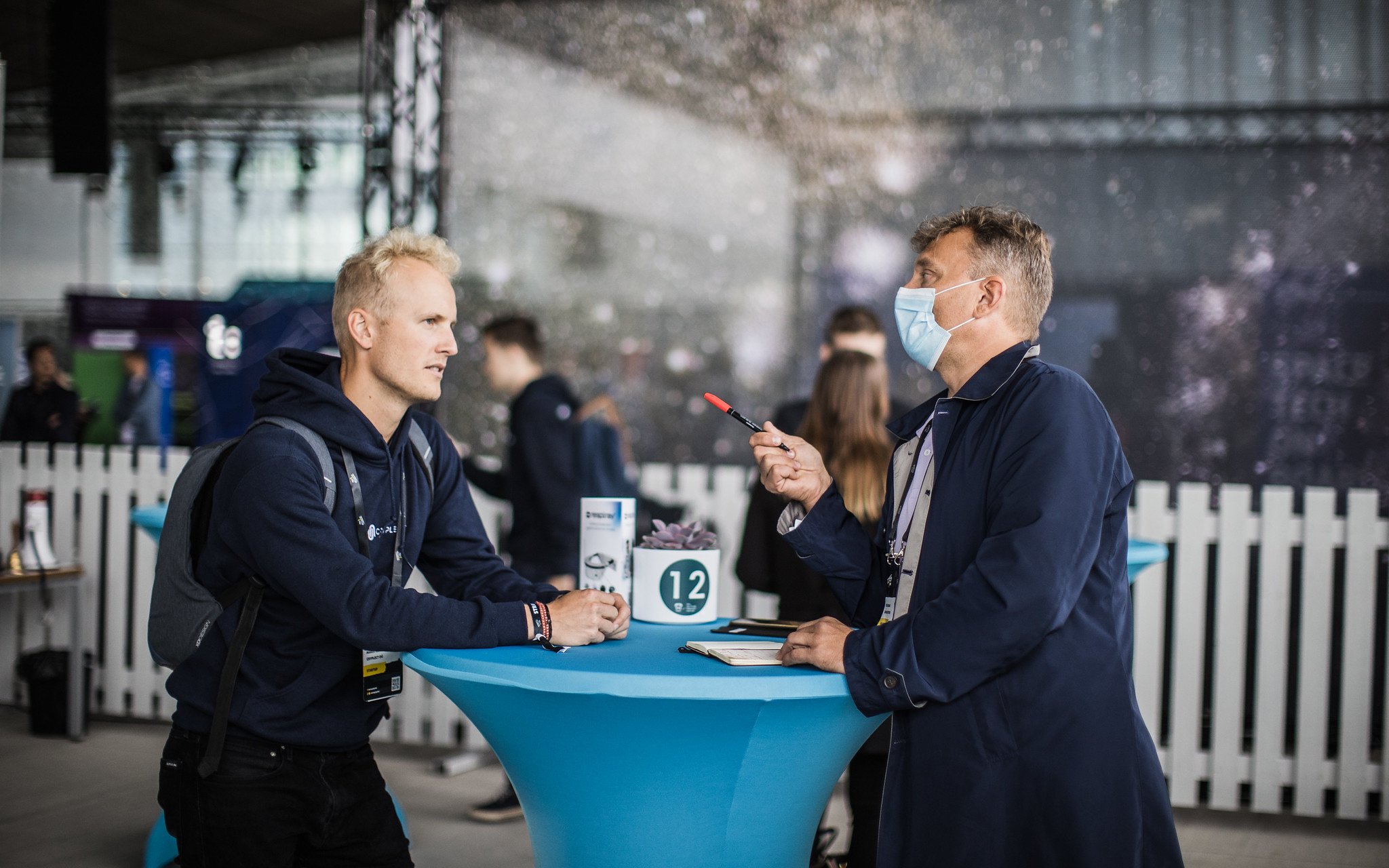 Just one of the 1,300+ 1:1 meetings that happened at sTARTUp Day 2021. | Photo credits
And your attendees are the biggest focus for us - it doesn't matter how fancy the tools are if your attendees don't use them! Brella ensures that the attendee journey is simple, especially in matchmaking.
No swiping, no continuously searching for new matches - simply join the event, create your profile and your best matches are provided through our AI-powered matchmaking algorithm.
"Brella was the most logical option because the matchmaking was excellent, the design was great, the customer journey was easy to understand and overall the experience it provided was the best," says Vihmann. "Organizers go through a lot of hassle to find the best matchmaking platform for their event, but Brella was by far the best platform for us."
Perhaps most importantly of all, event organizers have too much on their plates already, and tech woes should be the least of them.
Our customer support and success teams have one thing in mind at all times: helping you achieve a great event with minimal roadbumps or blockers.
"We've never had such a great experience with customer support as we've had with Brella. All of our success managers have been incredibly knowledgeable and helpful. If you have a problem, you can get ahold of someone and talk to someone fast. It's one of the main reasons why we continue to use Brella, honestly."
"We've never had such a great experience with customer support as we've had with Brella."
So what's next for sTARTUp Day? In late January, sTARTUp Day 2022 is coming once again to Tartu! Learn more about their event here.
And if you're looking for a complete event platform with a clear focus on and dedication to networking, take a look at our pricing options and schedule a demo call with our experts - we'll walk you through the platform and create a plan to ensure Brella will help you achieve your event goals and provide the best experience possible.
Company
sTARTUp Day is the most startup-minded business festival, bringing together startups, traditional entrepreneurs, investors, innovators, and students. The aim of the event is to connect like-minded people and celebrate entrepreneurship in the smart city of Tartu.
Headquarters: Tartu, Estonia
Industry: Startup & investor matching
Type: Hybrid event
Numbers
1,300+
networking meetings
Subscribe to our monthly newsletter