Ayubowan & hello everyone! 👋 I'm Dinuka.
I am excited to share how we do things here at Brella. I am the official barista at the Helsinki office and a Product Designer when I am not making coffee. But let's focus on what it is like to be a Product Designer at Brella!
Could you tell us about yourself and what you do at Brella?
I am a product designer in a fantastic design team of five members, and each member of the team individually focuses on a particular product area.
In my case, my focus is on
Matchmaking & Networking
Sponsors & Partners
I could call them my babies because I always try to make them better, and I feel proud when I see them doing great and growing.
Tell me about what a typical workday looks like for you at Brella?
For me, a typical workday starts from home. I am more of a night owl than a morning lark, so I wake up at around 08:30 and open my laptop to see the day's schedule and read Slack.
I usually spend about an hour at home working (unless I am working from home), mainly ideating and replying to messages while sipping my morning coffee. I always find it best to brainstorm with a fresh mind in the morning.
When I go to the office, I often catch Markus, our founder, returning after lunch around 11:30. He is also the founder of "the 11 o'clock lunchers" group.
My first task at the office, every day, is making myself a cup of cappuccino, and I am ready for the rest of the day. Every day is new and exciting at Brella, and it never feels boring, or like I am doing the same thing. I catch up with my squad at 12:30 for a quick 15 minutes, and we discuss what we are working on.
Pretty much everything else is agile. As I said, every day is a new day here at Brella!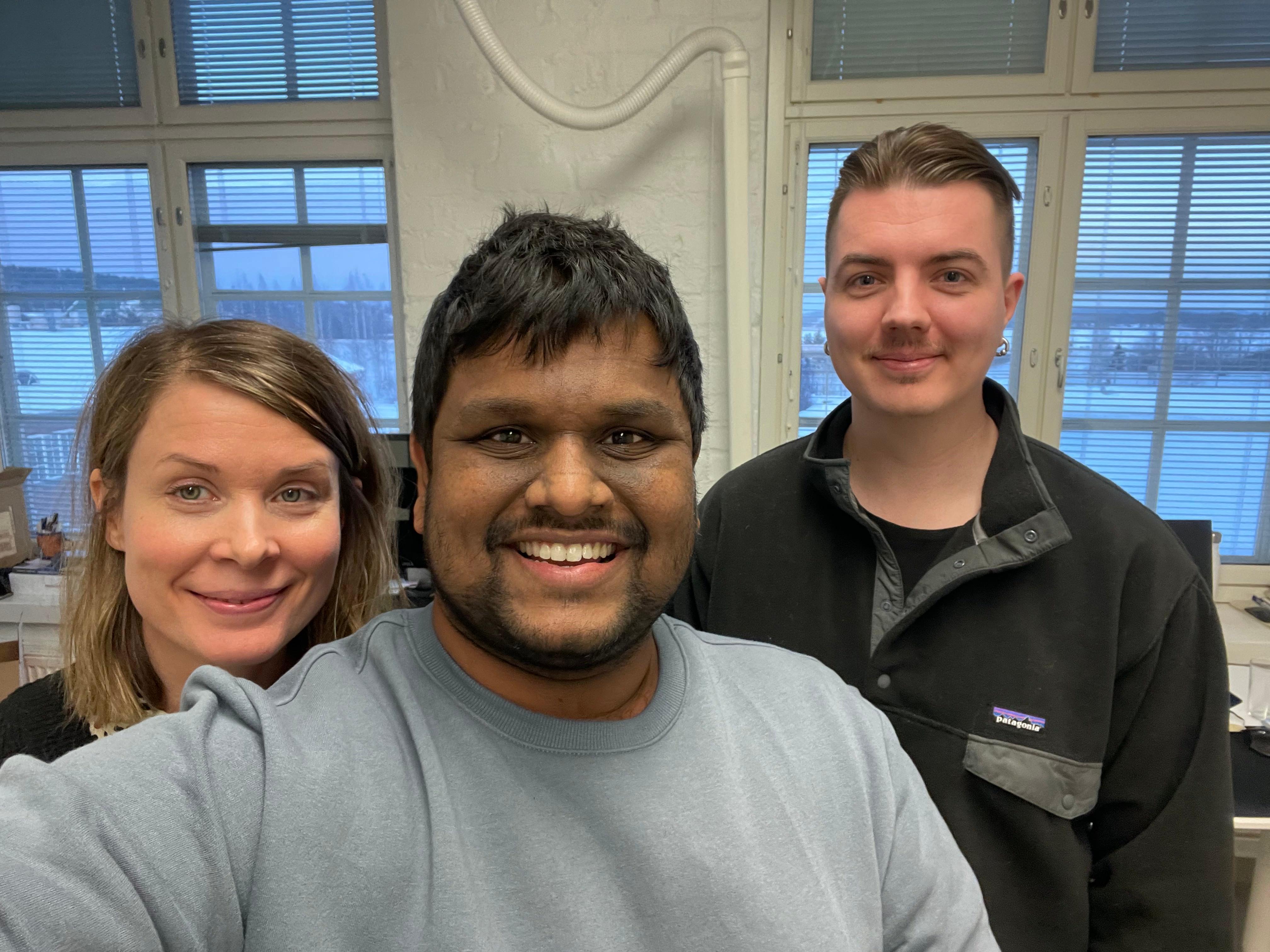 A quick photo after an extensive brainstorming session in Jyväskylä with Mikko and Terhi
How did you end up working as a Product Designer?
I was a Frontend Developer (a bit of a Backend, too) before, but what made me a Product Designer was my never-ending desire to make things simpler and better.
As I graduated with a Computer Science degree, I naturally took the engineering path. However, as a developer, I was unhappy about certain things. I found myself constantly asking questions, like, why does this have to be this complex? Why can't it be better?
To find solutions to all my questions, I became a Product Designer! Now I use my knowledge to create solutions. I am very proud of and happy with the decision I made.
What are the most rewarding and challenging things about your work?
As a professional problem solver, each new task is a challenge for me. That is what I like most about my work, and it never gets boring!
The most common reward is when I see a solution I created benefiting customers, their business, and making their lives easy. And the best reward is when I receive kudos from my fellow Brellaneers!
How would you describe Brella's culture and your colleagues in your own words?
In simple terms, Brella is the best! But let me elaborate.
We have a remarkable team here. Kind, diverse, fun, cheerful, welcoming, happy, and helpful would be a few adjectives to describe Brellaneers.
I always enjoy working with my fellow Brellaneers. They are all experts in their fields and are always willing to help me by sharing their expertise and knowledge in the domain. I enjoy connecting with cross-functional teams and working together to create better solutions.
We also enjoy brief chats over coffee, lunch, and snacks. When I'm not working, I enjoy giving tutorials on using the coffee machine. That is an art!
When I joined Brella and moved to Finland, the support I received from everyone at Brella was impressive. Almost everyone supported me, and some went the extra mile to help me settle in. I recently wrote over 600 words about how amazing it was in our awesome #high-five-land Slack channel, so I will stop at that.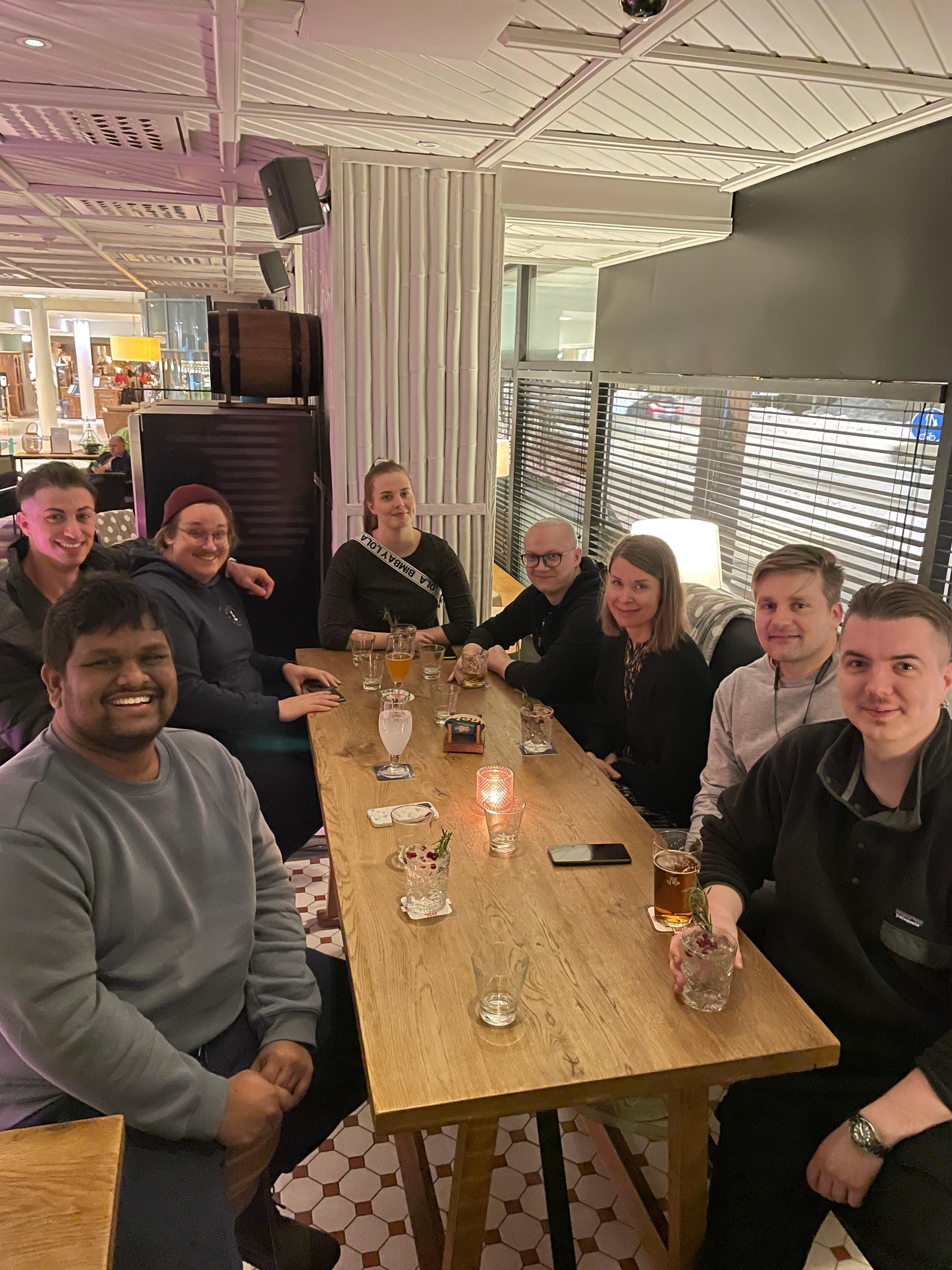 After work drinks and dinner at Jalo Kitchen & Lounge!
Any tips you would give to someone who is starting in your field?
Though it's not specific to my field, I give everyone a common piece of advice: nothing comes easy. You have to work for it. But you will never feel like you are working if you enjoy what you are doing!
Always choose what you love to do, and you will not have to force yourself to work a single day in your life.
Anything else you'd like to share or any greetings?
By the way, if you wondered about the strange word in the title, it is a greeting in my mother tongue, Sinhala. I hail from Colombo, Sri Lanka, a beautiful tropical island. In Sri Lanka, 'Ayubowan' means 'May you live long'.
Back in Sri Lanka, after college, my friend and I started an event company. From birthdays to anniversaries to huge live events with over 5,000 attendees, we created events.
After so many years, once again doing work related to the event industry brings back memories of all the fun we had. I am leaving some old behind-the-scenes photos of our events.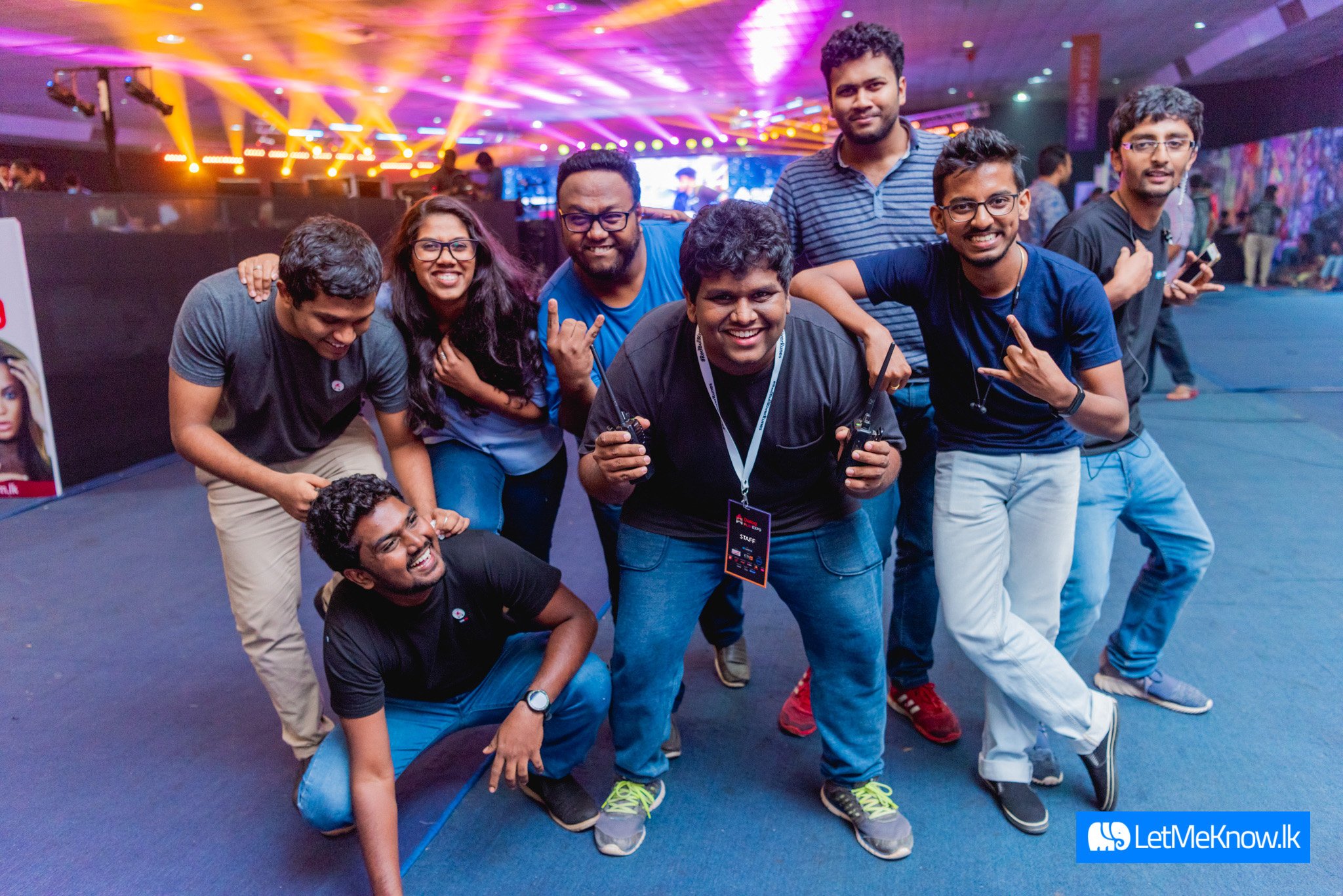 Connect with Dinuka on LinkedIn!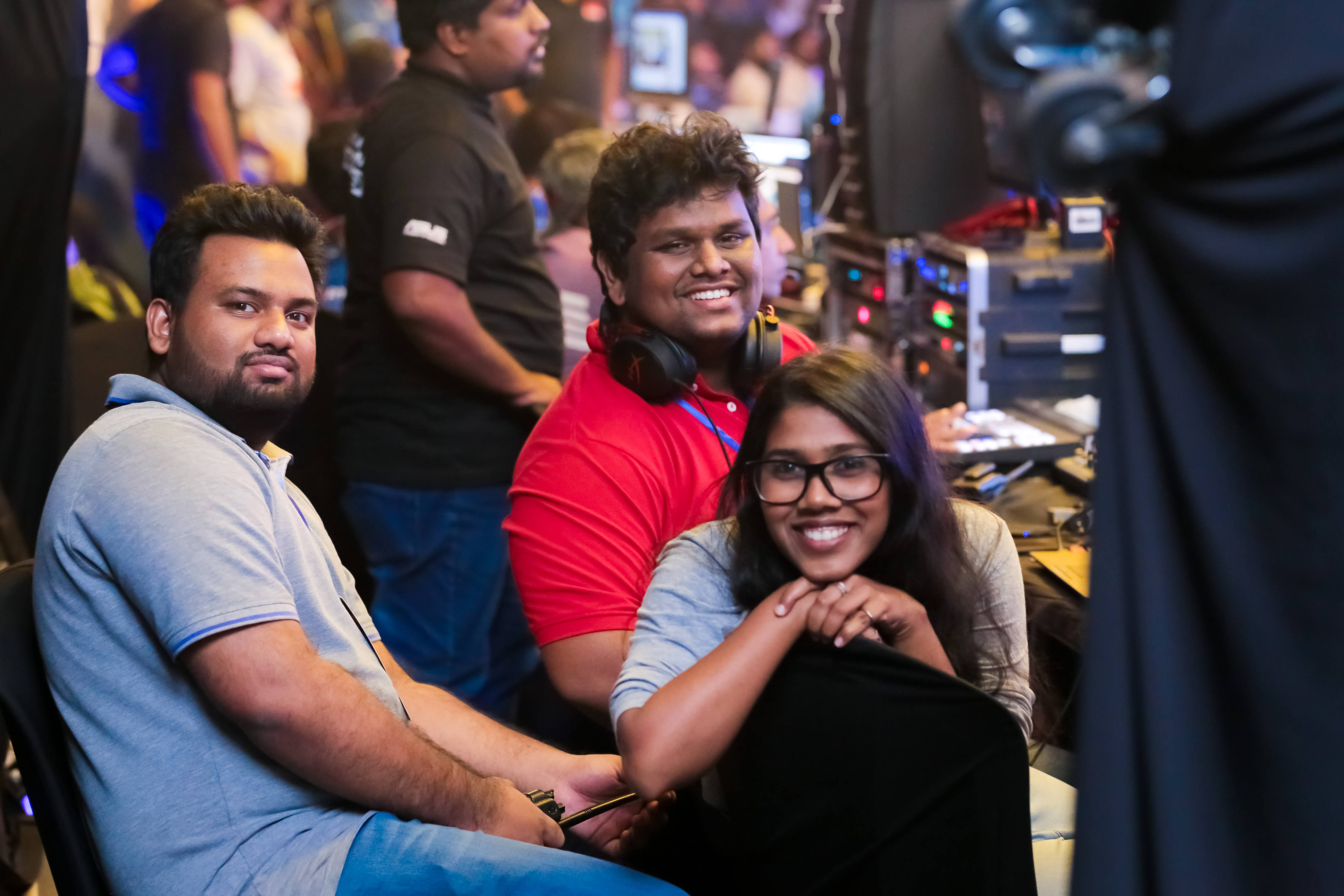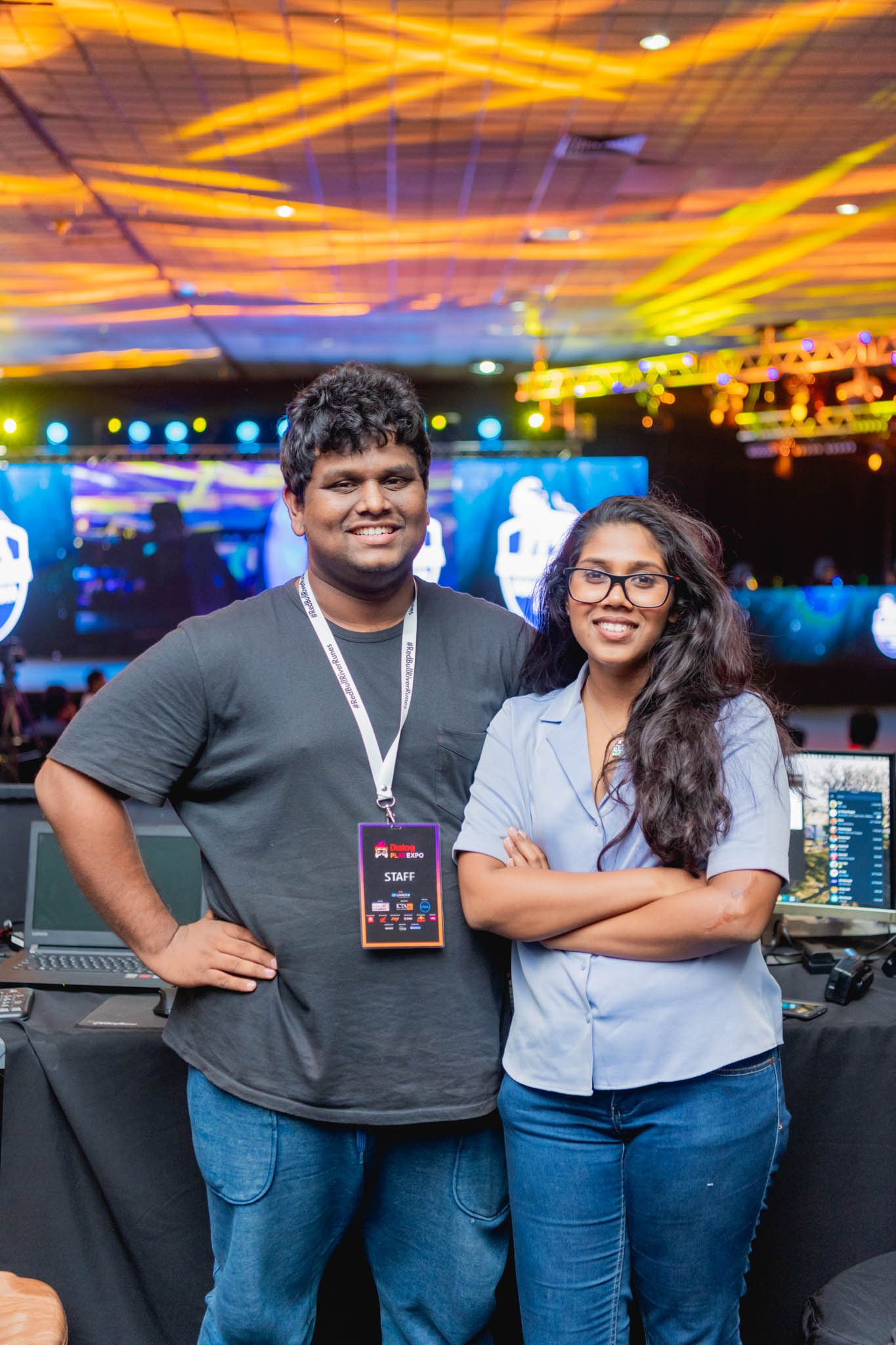 I hope you have enjoyed reading so far. If you want to know more, feel free to connect with me on LinkedIn.
Be sure to read the rest of the articles from this series for more fun and exciting facts about Brella and Brellaneers!
Also, check out the Careers page if you are interested in joining this fabulous team!