Editor's note: this post was originally published in February 2021 and updated in March 2022
The title is a bold statement, and to be clear, this is not an "outbound is dead" post.
You may struggle to generate maximum value while sponsoring an event. But believe me when I tell you events offer immense business potential for you.
For this, I'll let the numbers do the talking.
After two years of social restrictions impacting the whole event industry, we decided to assess exactly how much the pandemic has affected the way attendees and sponsors network at events.
In the search for an answer, we gathered the data from tens of thousands of events hosted with Brella from 2016 to 2021. What we found were indeed some invaluable insights on the present state of networking and all the relevant networking trends for 2022.
Additionally, while conducting our research, we were also able to gauge exactly how much the right event tech can benefit sponsors and dramatically boost your ROI.
In this post, I'll walk you through our most groundbreaking findings, and if you want to learn more, don't forget to download your free copy of our full State of Networking report.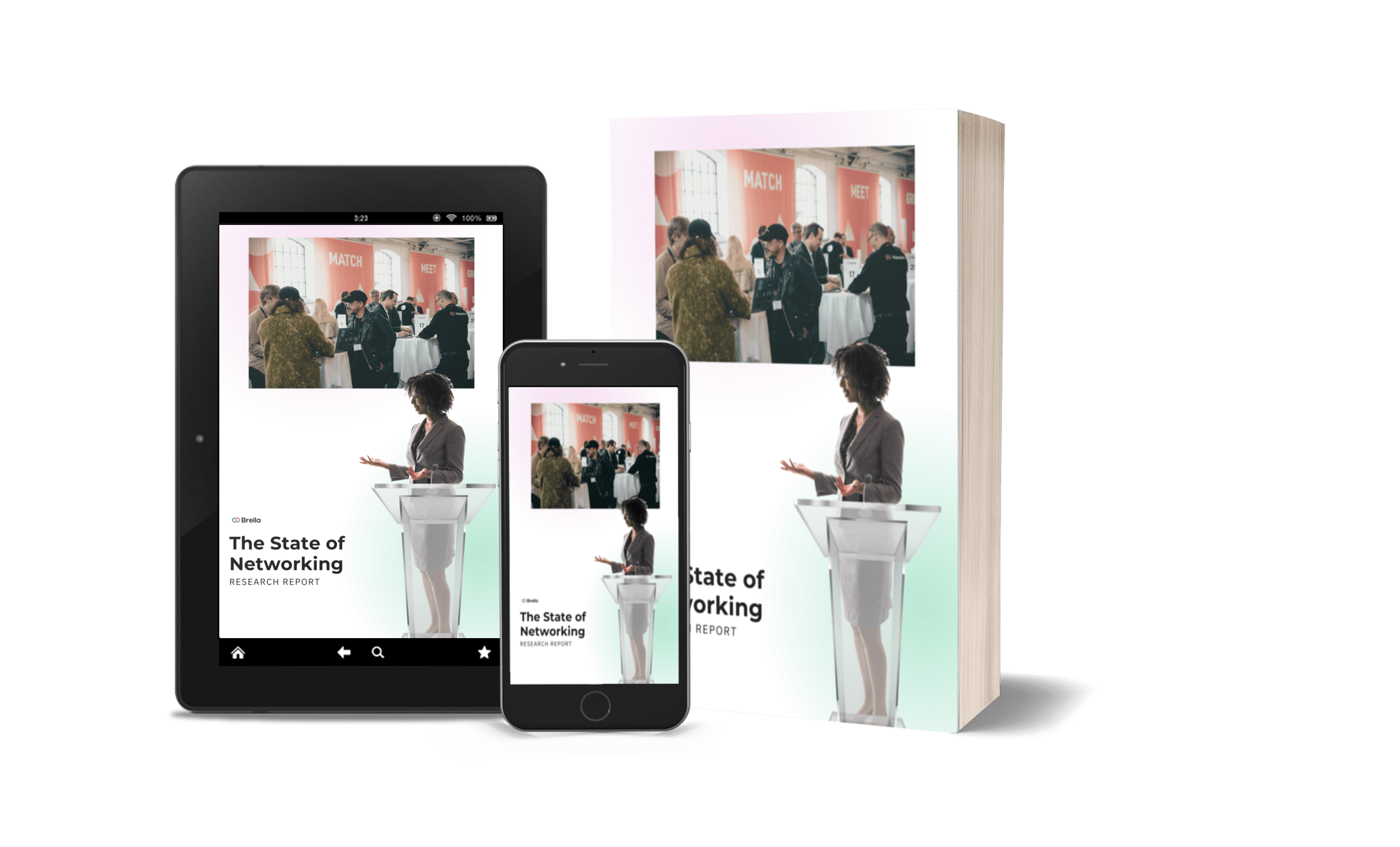 Lead generation for sponsors in numbers
To start things off, let's compare some common lead generation methods, starting with outbound.
Are you tired of bad results on your outbound campaigns? That makes two of us.

If you send 10,000 emails (with good content), you can expect around 56 clicks. With those numbers, you end up with a 0.56% success rate on getting people to click your CTA.
You got the clicks - great! Now for the next step.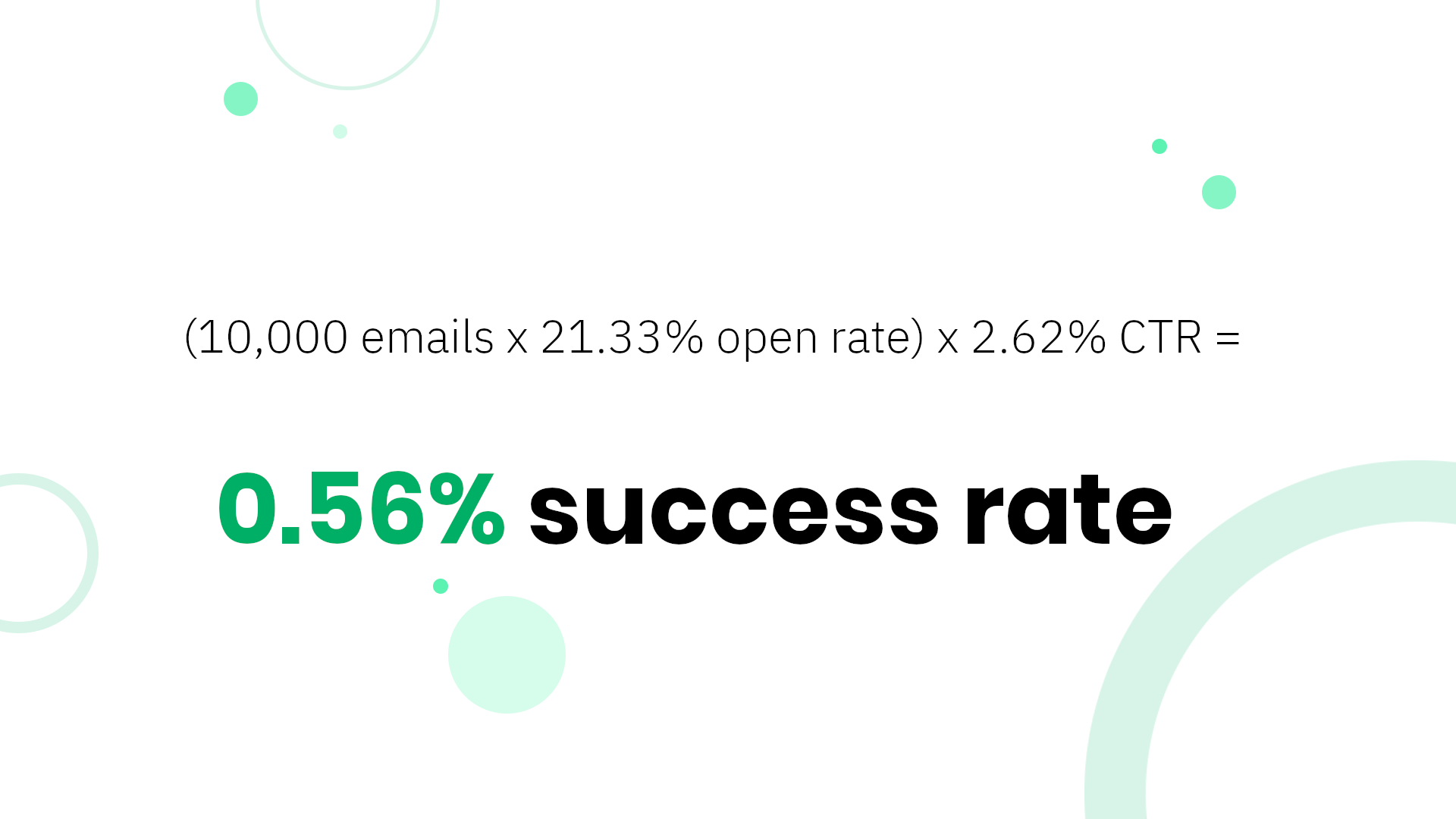 Let's say your CTA was to get people on your website to book a meeting with sales. Now, let's be optimistic and say that 10% of those people are willing to book a meeting with your sales team. So you end up with 5.6 meetings per 10,000 emails and a success rate of 0.056%.
You got the meetings - congrats!
Now let's examine the other side: event sponsorships.
Event sponsorship in numbers
Without the right technology, it's a flip of a coin whether or not you meet relevant people.
To be fair, you always meet interesting and memorable people at events, but for this purpose, I'm talking about those who need your services or solutions.
Let's say that there are 6,000 people attending and 100 of those are potential prospects for you. So your chance to meet those people is around 1.7%. In one event day (7h) you can have around 80 five-minute intro meetings in your booth.
So if we do the math, 80 x 1.7% = you probably end up meeting around one possible prospect in one day.
These options sound bad, don't they?
Well, I have a secret to tell you: it doesn't have to be this way.
Events are actually one of the most potent places to find new prospects and meet relevant people.
86%

of attendees go to events to network.

This right here ☝ is your moment.

Attendees want to network. So if you can be present where attendees are networking, it's so easy to find the right people.
Intent-based networking for sponsors in numbers
With a networking tool like AI-powered matchmaking, you can find the right people in minutes and have your calendar full of relevant meetings even before the event starts.
Finally, we come to the best part, so let's go back to our State of Networking report!
First things first, what we found is that between 2020-2021, one 1:1 meeting out of 5 at virtual, in-person, and hybrid events was sponsor-driven.
This is a clear indicator that sponsors still crave networking opportunities and the right prospects are there to be found.
Yet, the most amazing trend our stats have shown is that to get 1 relevant meeting with a prospective buyer, sponsors only need to send 3 meeting requests.
And do you know how many cold emails those 3 meeting requests equal on average? 50!
3

meeting requests =

1

relevant 1:1 meeting
or
50

cold emails


Now, imagine what would happen if you sent out 50 meeting requests to your prospective clients? Based on the stats, you could expect 12-13 relevant 1:1 meetings with qualified leads.

Just to translate that into numbers, do you know how many cold emails those 12-13 meetings equal to? 650!

Now you can see how virtual events can help you maximize your limited networking time by giving you more meetings.
50

meeting requests =

13

relevant 1:1 meeting
or
650

cold emails

Let's analyze the same event mentioned before: there are 6,000 people, and because of AI-powered matchmaking, the 100 prospects are all but handed to you on a silver platter.

Instead of looking for the prospects, the hardest part is simply sending personalized meeting requests to all 100 people so you ensure your schedule is filled with relevant meetings.

That means you can meet around 35 prospects in one day, compared to just 1 in the previous example. So with a 35% average acceptance rate, you can meet relevant people the whole day.

(And these are just outbound requests. This doesn't count the inbound requests you're sure to receive with a solid offering and messaging.)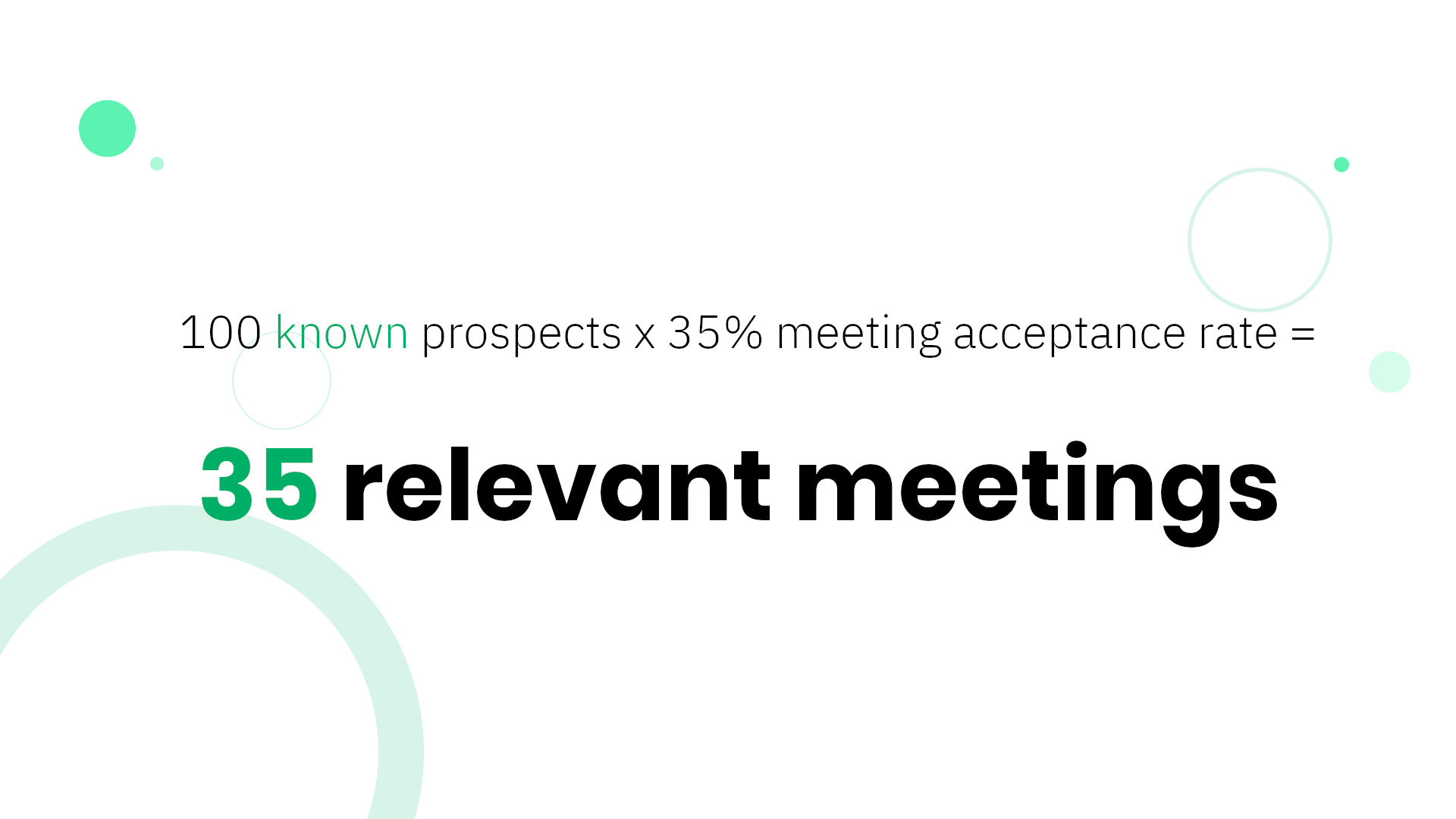 Post-event data for sponsors
After the event, you can hold your head high while you prepare for the post-mortem call with your boss.
How?
Well, with the right event tech everything can be measured, including (and especially) your return on investment.
Thanks to robust event data & analytics you don't have to speculate if the event was successful for you as you gather business cards to prove you met people - you can have the data that shows exactly:
how many meetings you and your team had
ratio of inbound to outbound meeting requests
who visited your virtual booth space (and for how long)
And many, many more relevant metrics.
Conclusion
With event sponsorships, you can increase your success rate in events by 3,500%. Not to mention the outbound success rate, where the increase is 62,500% compared to more common or traditional lead generation methods.
Of course, you can't compare outbound email sequences to event sponsorship directly. However, the general idea behind both is the same - you are reaching out to people 'cold' and hoping to get a meeting.
Hopefully, this shows you the massive potential of event sponsorships.
So if you're looking for the best direction for your sales efforts, I strongly encourage you to look into event sponsorship.
With the right event platform equipped with intent-based matchmaking, you can truly make a big impact on your bottom line by getting in front of the right people - and meeting them hassle-free.
For more exclusive networking stats and event networking trends for 2022, don't forget to download our State of Networking report!