Sponsors are vital to the success and durability of any industry event.
They are the lifeblood of your continuing growth, while adding value for attendees, both in-person and virtually.
At the same time, circumstances caused by the Covid-19 pandemic have led to an acceleration of the trend towards moving events online. In an AIM Group report published in May 2020, sponsors were asked how they felt their strategies would develop through the pandemic.
72% expressed an interest in being involved with hybrid events and 78% said they would sponsor a fully online event.
This is not a temporary fad, however. Hybrid events are very much the sponsors' ideal model for building increased engagement and developing lasting relationships with customers. The online aspects of such events leverage unique technologies to generate leads and sales in bold new ways.
A December 2020 study run by events research specialist Explori and industry body UFI, concluded that "Future digital events will not seek to replicate the in-person experience, but instead leverage their strength at delivering against singular objectives. They will contribute to engaging communities, guide audiences through unfamiliar territory and meet customers where they are."
And after analyzing the results of over 10,000 events from the past 5 years, we discovered that sponsors took a larger share of 1:1 meetings virtually and at hybrid events than they did pre-pandemic.
Evidently the hybrid or online event is here to stay as a source of sponsor investment.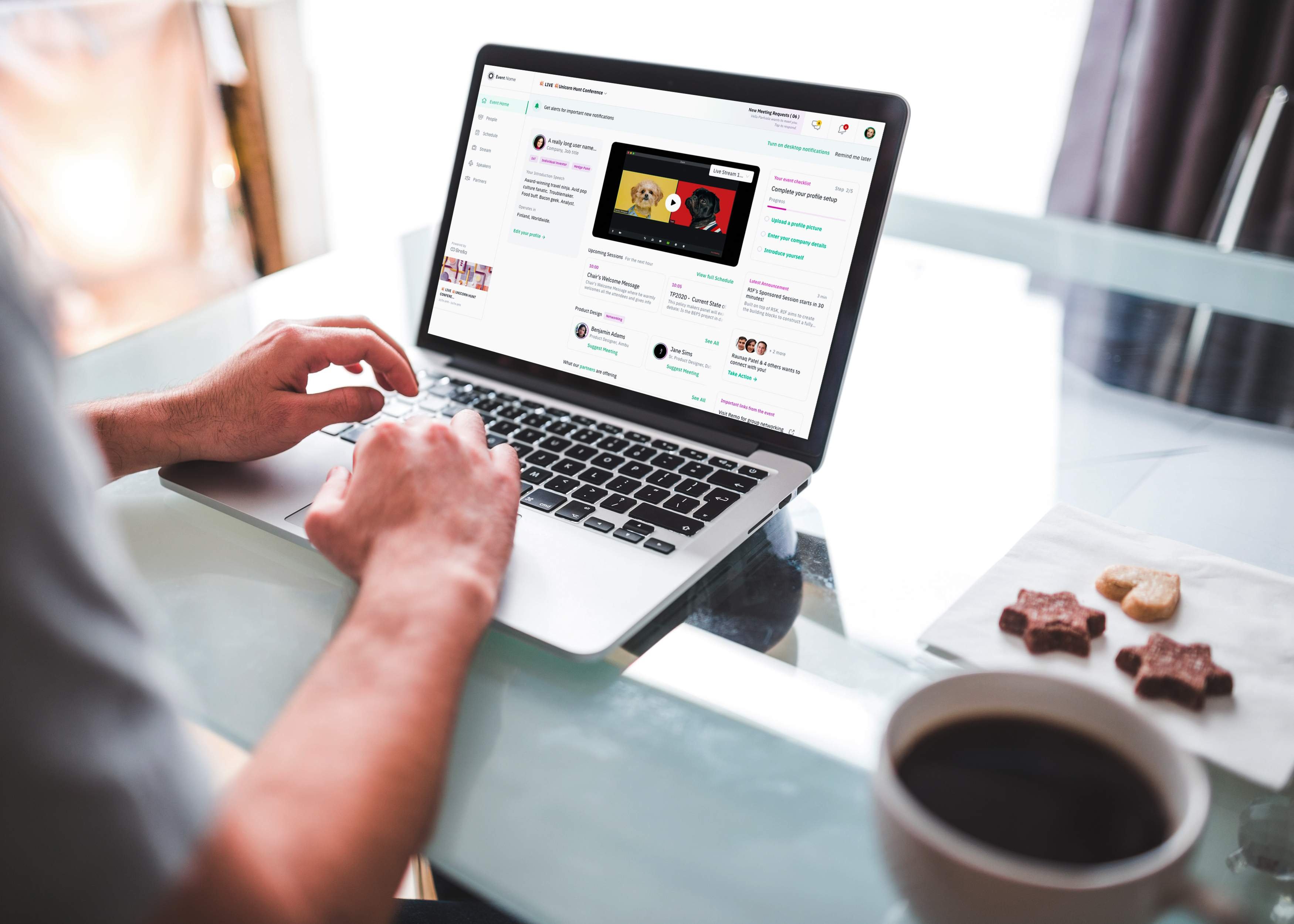 However, sponsors will only come on board and stay committed if by doing so they can:
Gain access to potential new markets and/or
Generate qualified leads at your events
It benefits you as an hybrid event organizer to find ways to engage your sponsors and maximize their successes in both live attendance and virtual spaces. You can't just leave it to sponsors to find their feet, set out their stalls (either literally or virtually) and capture leads.
Fortunately, there are now platforms with functionality that reduce the hit and miss nature of these encounters, as well as providing value to both sponsors and attendees alike. There are a number of key techniques you can employ, both at the physical event and online, to bring these two vital parties together in mutually beneficial ways:
In-person attendance
Virtual attendance
This may sound a daunting challenge, but the good news is that monetizing hybrid event sponsorships is easier than ever before. Let's look at some of the ways in which you can do this, in both the physical and virtual components of your event.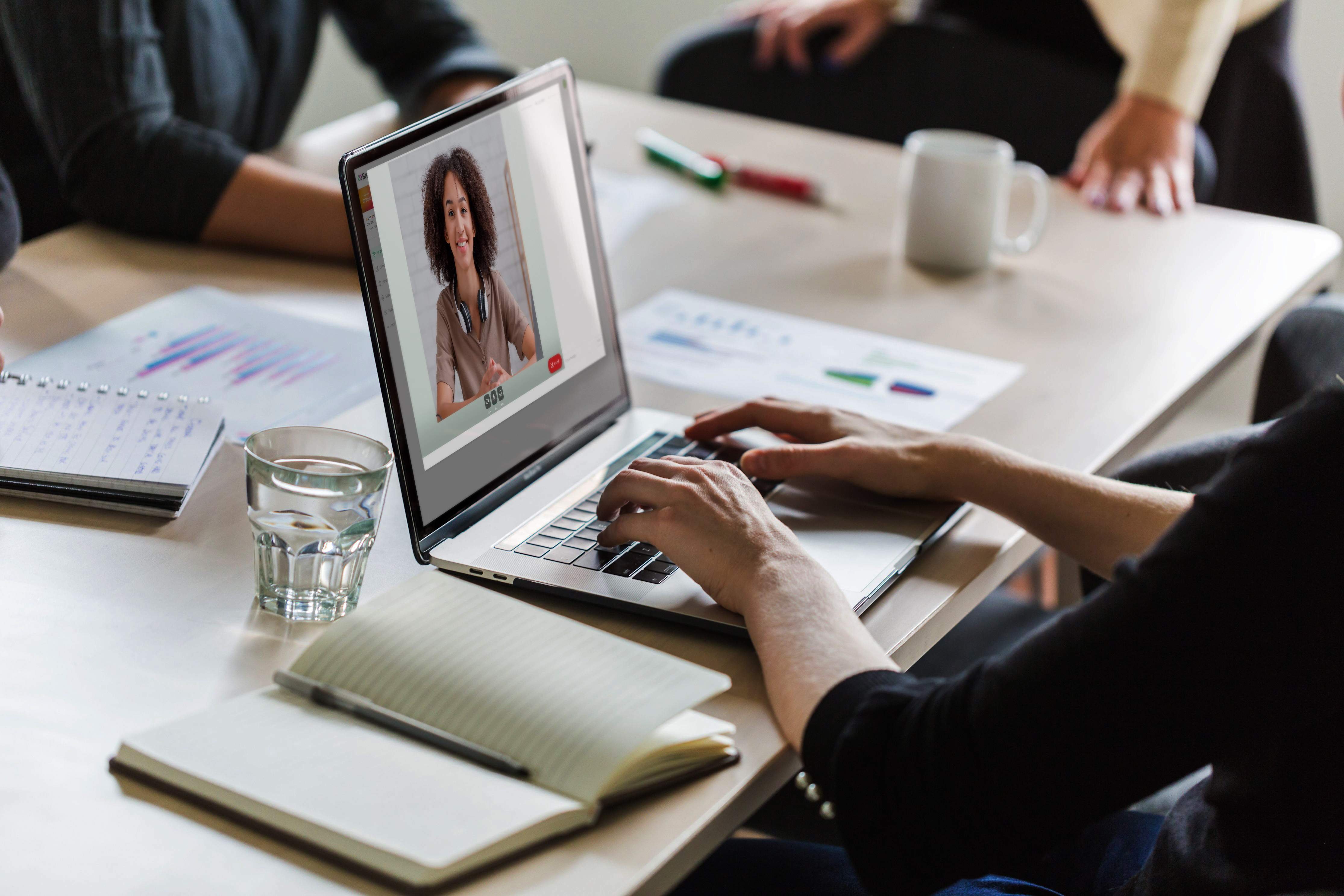 In-person attendance
Encourage proactivity
Attending conferences and industry events in person can be a daunting experience. There may be hundreds, even thousands of strangers, who may or may not want to talk to you. If in an attendee is of a more introspective character, this can be a highly stressful environment.
Even extroverted attendees can waste time talking to delegates who cannot advance their aims in any meaningful way. Delegates often agree to various forms of self-identification (ID badges, delegate listings) and matchmaking, often enhanced by AI that can identify links between delegates and even propose and schedule encounters.
Similarly, it can be hard to drive the right delegates to the booths of appropriate sponsors if those booths are located in an annex that may be a little way off the main drag.
Sponsors should be encouraged to get out from behind their desks and mingle with delegates. They can offer free one-to-one consultations, or advisory sessions. They can brand program strands, panels, or break-out sessions. They can have a presence that is aligned with the subject matter of the individual session.
In these and other ways, whilst maintaining a visible on-site presence, sponsors can insinuate their branding and offerings subtly and more proactively. The Field of Dreams tagline is NOT true in all cases: if you build it, they may not come. But if you take your product or service to the right people, they may be inclined to listen.
Being proactive pays off in more ways than one, too. The leading business conference in the Nordics found that after encouraging their exhibitors and sponsors to reach out and schedule meetings with leads, their ticket retention improved by 300%!
Meet and greet
It's vital to delegate one representative to meet delegates in person, either at the sponsor's booth or at networking events. This individual should be confident, presentable, and friendly, without being overbearing. This is often a good role for CEOs or founders of small businesses, senior managers who can claim a degree of ownership of the brand, or key stakeholders in its success.
What's important here is to forge connections, swap business cards (physical or virtual) and establish relationships, not to ply the hard-sell. It is a particular skill that would probably not suit a novice.
Event coordinators should likewise ensure they make delegates aware of any sponsor booths and advise them to visit, stressing any free offers or services available. This should be a required part of a greeter's role.
Don't overlook the online
Sponsors should also have someone at the booth to talk interested parties through the online events and facilities they are facilitating. This person needs to be friendly and tech-savvy but need not be as senior as the sponsor's "meet and greet" representative.
If this person can book attendees into one-to-one meetings or other sessions, so much the better, although this will have to be coordinated with the event organizer. There are technologies to facilitate this interactivity when you are running a hybrid event, so do ensure you plan this aspect very carefully.
Sponsors may find that booking an attendee into the online component of a hybrid event can generate more successful leads and drive attendees more efficiently down the sales funnel. It can often feel more of a soft sell to participants than being accosted in person and given a sales pitch.
Hear how other organizers shifted to hybrid and their thoughts on its future.
Virtual attendance
This is where modern algorithmic and AI technologies take your sponsor's successes to remarkable new levels. Attendees can ignore a physical booth at a physical event, but they can't easily avoid the branding and sponsored offerings that present themselves to attendees online. For this advantage to be understood by sponsors, you should be ready to answer the questions they will inevitably have.
Clarify the differences
Walk your sponsors through the range of benefits presented by an online presence:
Data-driven lead generation
Data-rich circulation lists for future campaign construction
Easy routes to offering product trials, discount codes and free gifts
Visual branding possibilities and pop-up advertising
Production of content (VoD) that can livestreamed, made available later on your platform and shared on social media, generating additional traffic
Data on interested customers, as well as conversions
Face-to-face meetings in the virtual space to augment your in-person encounters
Do stress how much more data can be gleaned from the online aspect of your event. This data on potential customers can work alongside face-to-face meetings facilitated on virtual platforms or in-person to create a two-pronged approach, leading to improved conversions.
There are key tricks and tools that sponsors can use to add value to their online offering. These include providing virtual booths, hosting sponsored one-to-ones, creating branded content, or enabling downloadable samples, discount codes or free offers.
Engaging digital marketing teams
If your sponsors have a digital marketing division, these employees could be key to the success of a sponsor's online presence at your event. They should be informed of all the possibilities and may be the best people to mastermind online engagement.
Your platform provider can work alongside sponsors' marketing teams to explore the possibilities and put together a bespoke package that suits the sponsors' budgets and goals. One of the key benefits to stress with the online aspect of any hybrid event is how flexible such sponsorship is.
There are many more opportunities in the online space than can be realistically offered at an in-person event. Some sponsors may not want to be involved with any physical presence at your event, and that's okay. Sponsorship of one strand or element of your online offering is a viable alternative for sponsors with smaller budgets, who nevertheless want to obtain maximum visibility and value.
Watch how LendIt Fintech successfully monetized their virtual events by zeroing in on the ROI of their sponsors.
Grab their eyes and ears
While focusing on visual branding it's vital not to neglect the written word either. You can hook sponsors to your event by making sure your pitch headlines include:
Action Words – strong, positive verbs such as "Grab", "Drive", "Capture", "Win", which emphasize conversions and actual results, rather than possibilities or aspirations.
Unusual Expressions – such as the headline to this section, rather than bland and formulaic expressions. Be willing to surprise your audience and even confound them.
Focus on Desires – humans are simple in some respects – food, power and humor always sell because these approaches align with basic human needs and desires.
Brevity is Key – There's no need to be prolix or overlong. Make the point and go.
Sponsored announcements
An often-overlooked item that can be easily branded and leveraged are the announcements pushed to attendees' phones or email accounts. When you consider just how many of these are issued by an event coordinator during in-person or virtual events, utilizing this strategy can be surprisingly successful.
Every time a new session is scheduled or rescheduled, content is uploaded, or a panel is about to commence, attendees can opt to receive alerts. These can be branded by sponsors, producing thousands or tens of thousands of impressions.
Networking & matchmaking tools
Many platforms for hybrid events offer matchmaking or networking tools to link people together. These can be branded, so that the sponsor becomes a facilitator of connections. But perhaps more importantly, when attendees use such tools, they provide key pieces of information that can be especially useful to sponsors.
When names, contact details, employment information and attendee roles are provided, this can help shape a sponsor's approach. However, for such software to work well, attendees will often provide information about their own goals and aspirations.
Where these align with a sponsor's business model, these generate highly qualified leads. Much will depend on what information attendees consent to sharing with third parties, but this is often sufficiently substantial to add real value to the attendee lists available to sponsors.
Meetings can be measured using online tools, which help sponsors' reps manage follow-ups and initiate leads. Return on investment is key for sponsors and this is an area where the online components of hybrid events really shine.
Remember that sponsors are investing time as well as money and that they will continue their engagements with attendees after the event has concluded. It's all the more important that these leads have a high probability of conversion and networking tools minimize the potential for wasted time.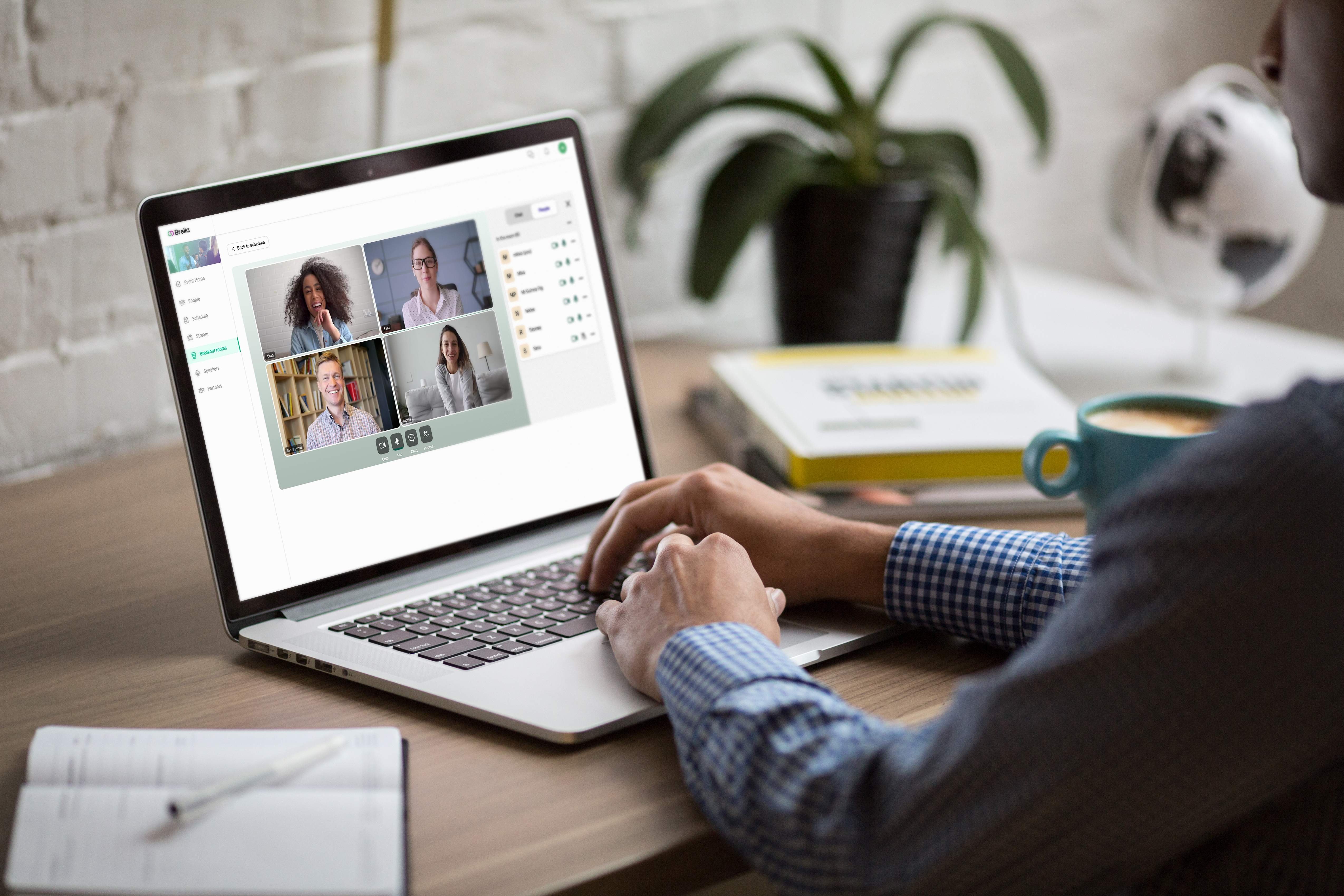 Download The State of Networking Report 2022 for in-depth research on how the pandemic affected sponsor meetings
The bottom line
Hybrid events are the future. Covid-19 has simply forced the pace of change, as well as altering the habits of a whole host of people who might previously have been sceptical about virtual or hybrid attendance. Sponsors are learning that there is tangible value in providing content, meeting spaces and events online, in addition to maintaining a physical presence where possible.
Sponsors may be a little wary at present of over-extending their budgets due to financial constraints. However, we all know that targeted marketing and lead generation are vital components of any successful business. Businesses don't grow by treading water and refusing to embrace new technologies.
The good news to impart to hesitant sponsors is that they can measurably increase their ROI in virtual events though working with platforms that intelligently leverage data and attendee contacts.
Hybrid events offer something for everyone. For people who thrive in a face-to-face, in-person environment, they offer time away from screens, algorithms, and data. For those who are more efficient online, the virtual aspect of these events can provide focused content and data-driven matchmaking that promotes good time-management and successful conversions.
Hybrid event sponsors should be encouraged by the smorgasbord of possibilities for branding and lead generation and by tailored engagement with ever-larger audiences. Event organizers should feel confident that they are offering more value than ever before to sponsors who can continue to engage with their audiences beyond the confines of the event.
When the floors have been swept-up and the coffee cups stacked in the industrial dishwasher, the conversations continue online. Sponsors can be a part of these conversations, long after the scheduled events have ended, thanks to online engagement which builds upon in-person meetings.
If you're interested in increasing the amount of sponsor meetings at your event, our AI-powered matchmaking & networking functionality may be exactly what you need to drive more relevant leads to your sponsors.