There is a whole new world of opportunities to monetize virtual sponsorships thanks to the digital nature of virtual events.
However, exploring a new world comes with risks. It's hard to tell the good ideas from the bad.
And there's a lot of pressure on you to get it right. Sponsors are an integral part of your event, so it's vital that they generate value from their participation.
But there are no second chances. And with the new demand for shifts to virtual events, you need to learn fast.
Don't worry. This blog post will cover the 5 best practices to help you provide quality online event sponsorship proposals, both for your current virtual events and for the future.
And if you're interested in how Brella can make your virtual sponsorship dreams a reality, download our guide here.
Ready?
1. Offer virtual booths
Instead of offering physical booths at live venues, you can offer your sponsors virtual booth spaces within a virtual event platform.
Your virtual event platform can be either an event app, or a complete online platform like Brella.
They're perfect for promoting your sponsors and helping them drive business, even when they can't participate in person.
How do they work? Well, the specifics depend on your provider, but here's a general overview:
You can create online spaces with the brand identity of your exhibitors and sponsors. These will act as booths where your participants can browse the options your sponsors provide.
You can offer different categories, sizes and prices to accommodate all your exhibitors and sponsors
You can provide other benefits in tiered packages, like access to live chat, sharable content and more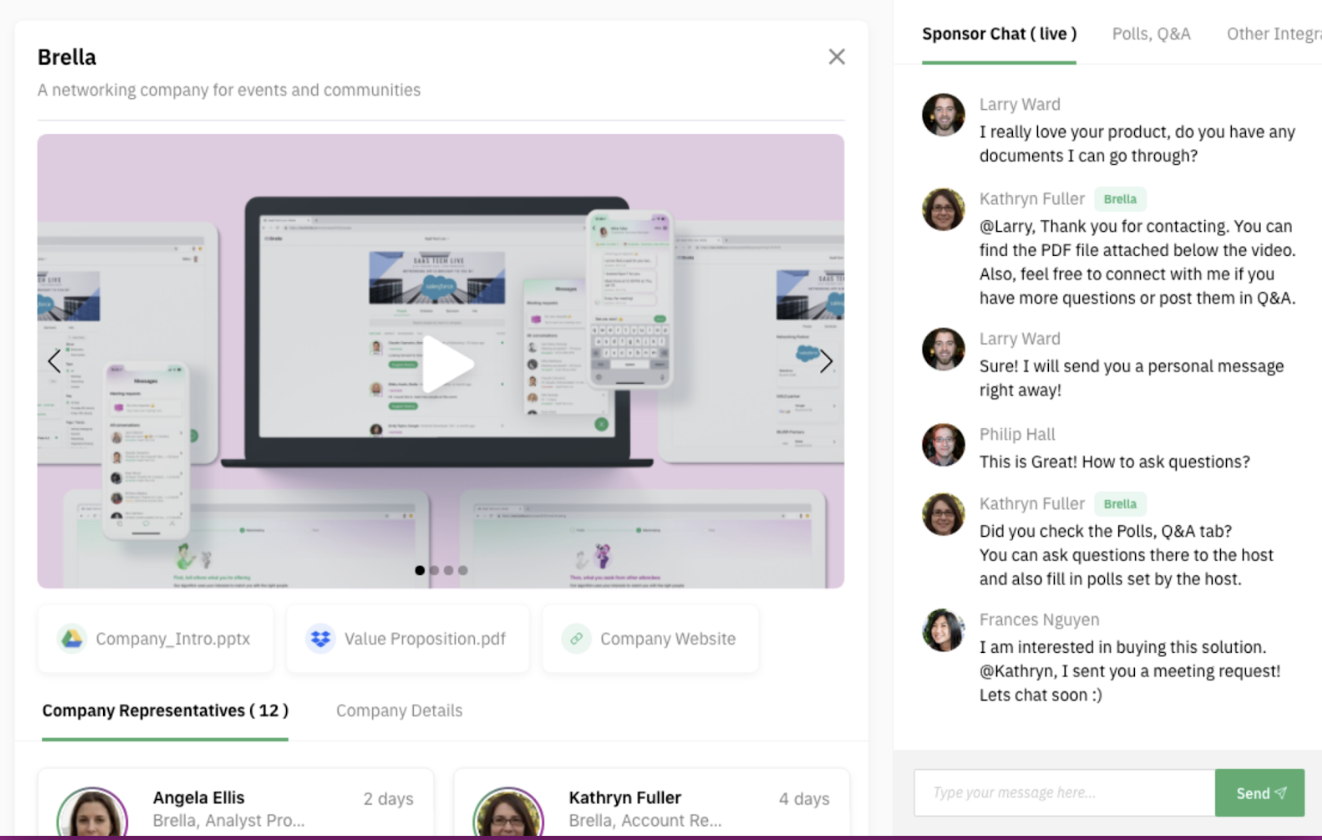 All of this helps your sponsors connect with your attendees.
Best of all, your sponsors will have a far easier time finding attendees virtually than in-person, and virtual booths are a great addition to your next live event.
For those who are able to attend, they can view all the sponsor info beforehand and head to their booth prepared.
And for those unable to attend, they can still interact with your sponsors (and your sponsors can drive new business).
2. Sponsored rich content, demos & sessions
Sponsored content is a perfect way to get your sponsors involved and in front of your attendees. They can provide quality knowledge, showcase a demo of their product, or simply sponsor a session.
Instead of passively waiting at booths (virtual or physical) for leads, virtual sponsors can take the initiative at your event and get in front of their target audience.
Encourage your sponsors to share their content at their virtual booth, but also consider asking them to host or sponsor a session on a relevant topic. This gets their name out there while also providing quality content to your audience.
And due to the highly customizable nature of virtual event platforms means you can highlight your sponsored sessions in your agenda or schedule, typically through locations or content tags.
Plus, it's far easier to track attendance numbers during livestreams online. This helps you give accurate reports on impressions.
3. Offer 1:1 virtual meetings
So, your sponsors can get great and measurable visibility through virtual events. But how do they translate those views into business?
Well, just like at live events, you offer quality networking opportunities so sponsors can meet 1:1 with potential leads. Only this time, you use video conferencing instead of booths or a networking area.
Most likely your sponsors are already familiar with many conferencing tools, as their download growth has skyrocketed. During just one week, 62m people downloaded different video conferencing tools.
Having 1:1 virtual meetings is excellent for drumming up business for your sponsors. It allows them to strike when the interest is highest and offer the right solutions to the right people.
If you're looking for the best virtual event platforms for your online event sponsorships, look for platforms that offer hosted video conferencing. This streamlines the networking process and means no extra downloads for your participants.
After the event, you'll have much richer data than live events. At a live event, a sponsor may have a rough estimate of how many meetings they had, if they took time to keep count.
With technology, you can let them know exactly how many meetings they had, plus many more metrics to quantify the value of their participation.
4. Promote sponsors within your virtual event platform
A great virtual sponsorship package includes promotional opportunities for your sponsors, like push notifications or adverts within the attendee list.
You can sell these promotions in your package, or offer it a la carte to any sponsor wishing to purchase. And they work far better than a banner at a venue, because you can report on exactly how many attendees saw it and, even better, how many attendees took action because of it.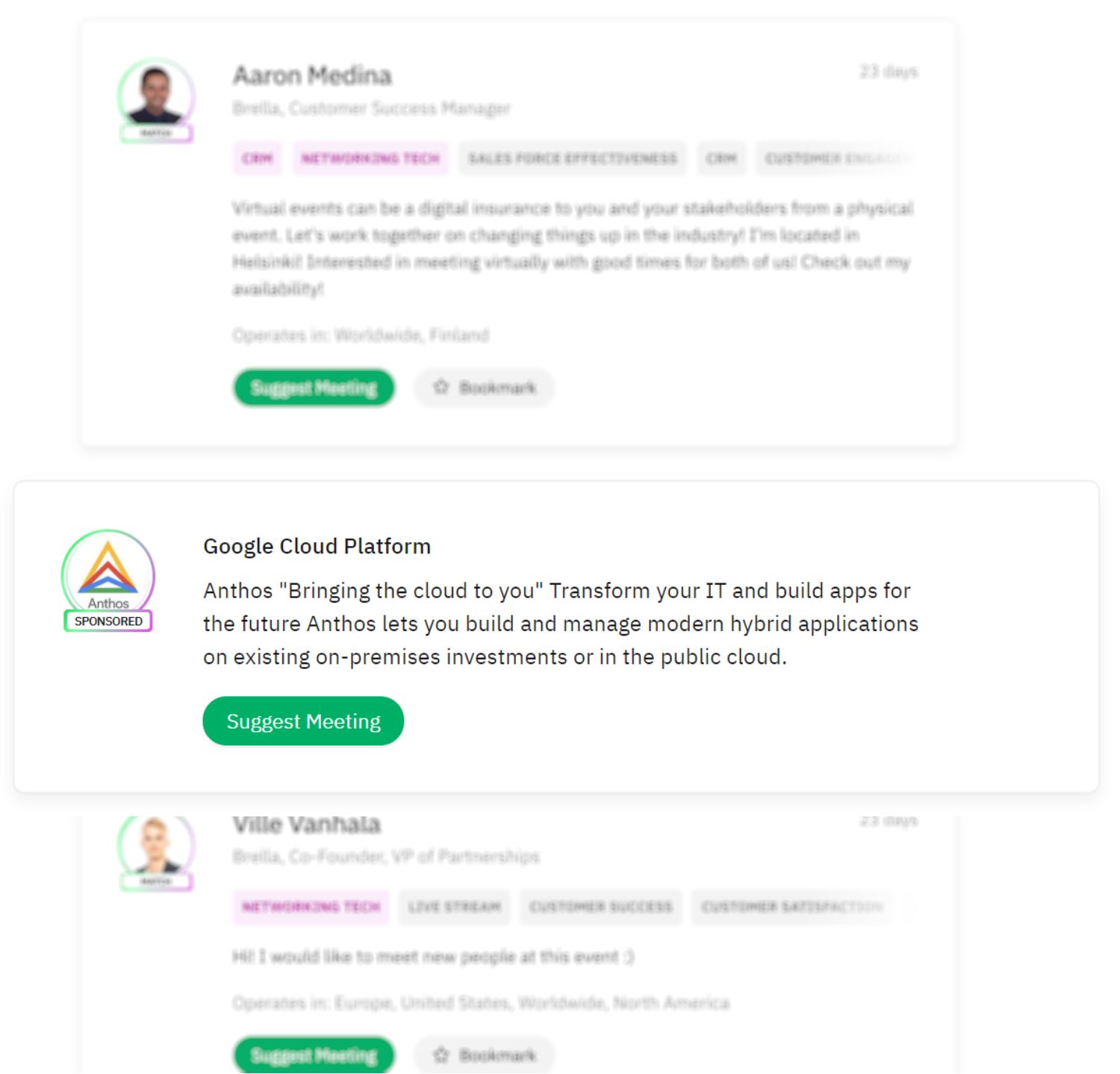 Sponsors can also purchase air time on your livestreams, push notifications or event pages. It's a cost-effective way for you to monetize the different features on your platform.
We recommend asking your provider what options they provide for virtual sponsors, and how to monetize them best.
5. Sponsored matchmaking categories
If you invest into facilitated matchmaking for your event, there is also an extra opportunity for your virtual sponsors. However, due to its highly valuable nature, we recommend using it for as few sponsors as possible.
Event matchmaking platforms typically have participants choose from a detailed list of interests to complete their profile, then the algorithm does the work to sort the attendee list and provide the best matches.
As well, if you use an intent-driven networking platform, you can connect attendees on a deeper level by understanding their intents for your event, like:
The services they are selling or wish to buy
If they are recruiting or looking for jobs
Seeking investment or are an investor
By adding your sponsor's name and their solution as an interest, you offer your sponsor:
Amazing visibility to all attendees
Real information on demand for services
We recommend making an agreement with sponsors, and preferably limiting it to a few top sponsors (like a networking sponsor). This reduces clutter on the matchmaking page for attendees and allows you to charge a premium for the service.
Give your sponsors the opportunity of a lifetime
Your sponsors come for one reason: your attendees. This doesn't change, no matter if the event is live, in-person or a mixture of both.
Now you can connect your participants together - virtually - and prove the value of your virtual event to your sponsors.
This is a new era, and there's lots of uncertainty.
But we're always here to help.
If you want any assistance in taking your event online, our representatives are here to assist you.
and we'll contact you as soon as possible!