Virtual conferences are the new norm.
Thanks to the pandemic, the days of traveling to a hotel to immerse oneself in the conference environment are a thing of the past. Now, businesses all around the world must rely on technology to bring like-minded people together to share ideas and network.
But even when the day comes to put this pandemic behind us, virtual conferences are likely to remain a popular option.
Why?
Because virtual conferences can offer so much more than in-person events. Here are just a few benefits of the new virtual norm:
Larger audiences. Assuming you choose a virtual event platform that can handle the volume, there truly is no limit to how many people can attend your virtual conference. This means more opportunities for attendees to network. And more participants for clients to market to.
More data.

With in-person events, you are limited to the participant information provided at registration. Virtual events, on the other hand, allow for multiple avenues of data capture.

More engagement.

Virtual attendees can continue to access conference tools between sessions and after the event has ended. This means extended repeat exposure to your brand.

Wider appeal.

Virtual conferences don't require travel or hotel stays. Anyone with a computer and an internet connection has the power to attend. This means you are more likely to see an increase in international participation and an overall increase in those interested in participating.

Lower cost.

Virtual means there is no need to rent space, to fly out speakers, or to pay a catering company. Your upfront cost is limited to the platform you choose. And if you choose the right one, your profits will exceed that of a traditional conference while your expenditures remain low.
The sooner you accept and embrace the virtual conference, the sooner you will be able to use it to your benefit.
But you cannot do this without the right virtual event platform to support you.
So how do you know the difference between a good platform and the right platform?
The right platform will check off multiple boxes in each of these categories:
Content hosting and distribution

Audience participation and engagement
Revenue generation
Analytics
Within each of these major categories are a number of essential features that should be accounted for. We will briefly walk you through the first two below, and you can discover the other two here.
But if you need more information, our
provides an in-depth look at these and other areas of virtual events to help you further. We'll also cover revenue generation and analytics in next week's blog post.
Ready to get started?
Content hosting and distribution
At the heart of your virtual conference is your content. Your conference is nothing without it.
And you are nothing without a platform that can deliver that content seamlessly to your audience.
In order to assure your platform can perform, you should ask yourself the following questions.
Does the platform offer livestream hosting and embedding?
Live speeches and panels are what make a conference. This shouldn't change just because you're going virtual.
Presenting your speakers live allows your attendees to interact with them the same way they would at an in-person event.
Q&A sessions, live polling, and other features keep your audience engaged and interested, even if they are attending from the comfort of their couch.
The right platform can host not just one livestream, but multiple live broadcasts at once.
This provides your attendees options in what sessions they want to attend without having to settle for pre-recorded classes.
Being able to embed live videos and conference-related widgets easily and seamlessly into your site and promotional material is also a must.
Can the platform support multitrack agendas?
Multitrack agendas allow your attendees to create their own path by choosing the sessions that are most valuable to them.
In the old world, putting on a multitrack conference meant having enough rooms to support simultaneous classes. In the new, it means using a platform that can support multiple livestreams and complex schedules.
Of course, having multiple tracks only works if your audience can seamlessly navigate between your sessions.
Your event platform should be clean and intuitive. It should allow your audience not only the ability to choose between sessions but to move in and out of them with ease.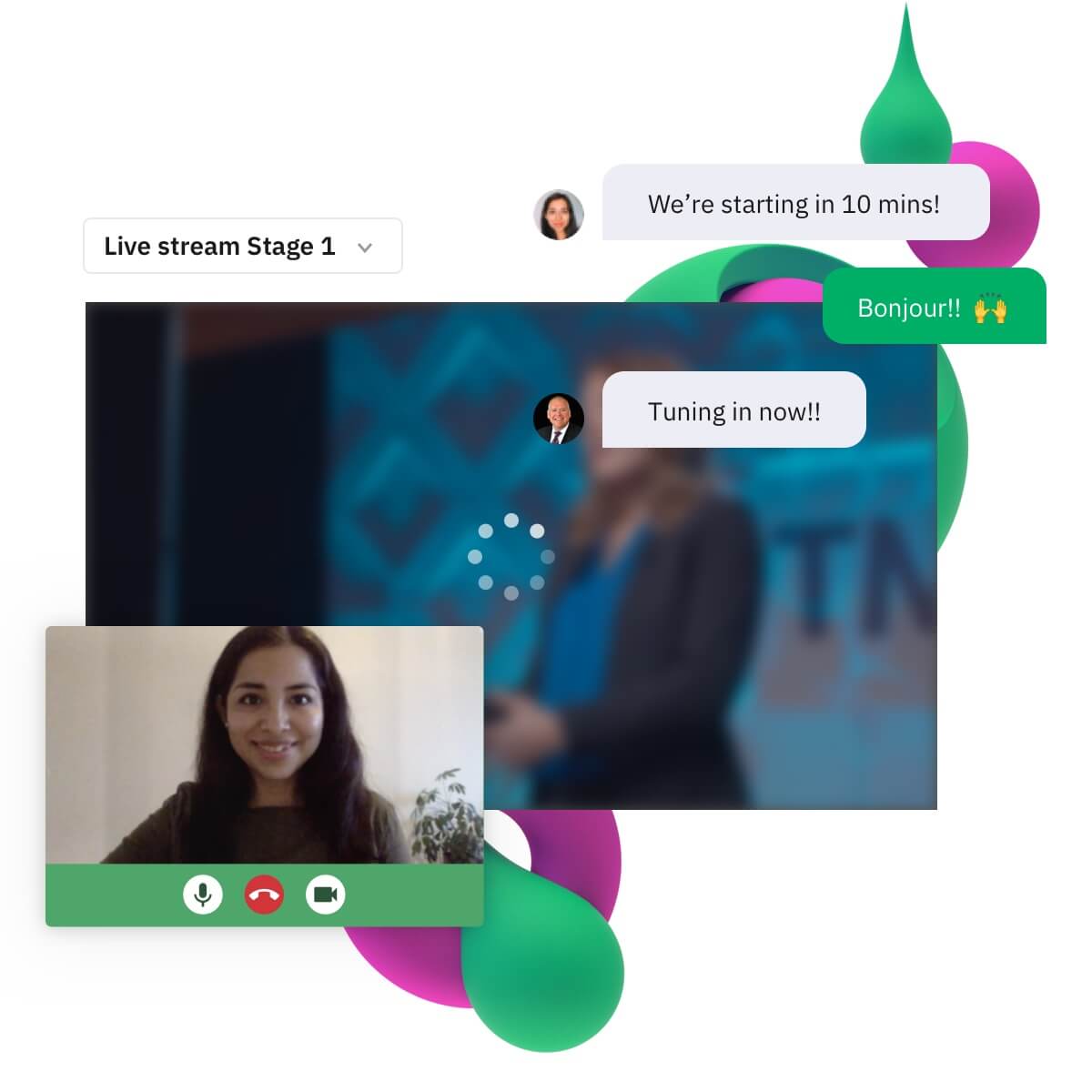 Just like at a live event, your attendees should be able to multitask.
Does the platform have tools for easy speaker promotion?
It's great when your speakers and clients use their social and business reach to promote the conference by dropping a link to the signup page.
But their participation in the event's promotion shouldn't be limited to just that.
Videos, images, and tracking URLs provide more engaging ways to share information about your conference. And they are more likely to catch the interest of potential attendees.
But asking your speakers to do this when it takes valuable time from their own endeavors is difficult.
A great virtual events platform has automated tools to simplify promotion.
With these tools, your speakers can easily promote your conference in eye-catching and engaging ways without putting in the time.
The best platforms go even beyond this. They provide additional tools for speaker promotion during the event.
By covering the event in real-time, your speakers can help bring additional attention to your conference. But this is only possible with seamless, easy-to-use, automated tools that won't detract from your speaker's ability to put on a stellar presentation.
Can you set custom schedules and reminders on the platform?
Customizing your event schedule and embedding it on your sites and newsletters prior to the event can help drive up registration.
Once your conference begins, having the ability to further customize schedules is a must in order to account for last-minute changes. If you have virtual booths and exhibits (another feature worth considering) these types of changes can be numerous.
Multitrack agendas further the need for customizable schedules so that each participant can build their own schedule based on their session choices.
The best virtual event platforms can accommodate all of these needs and more.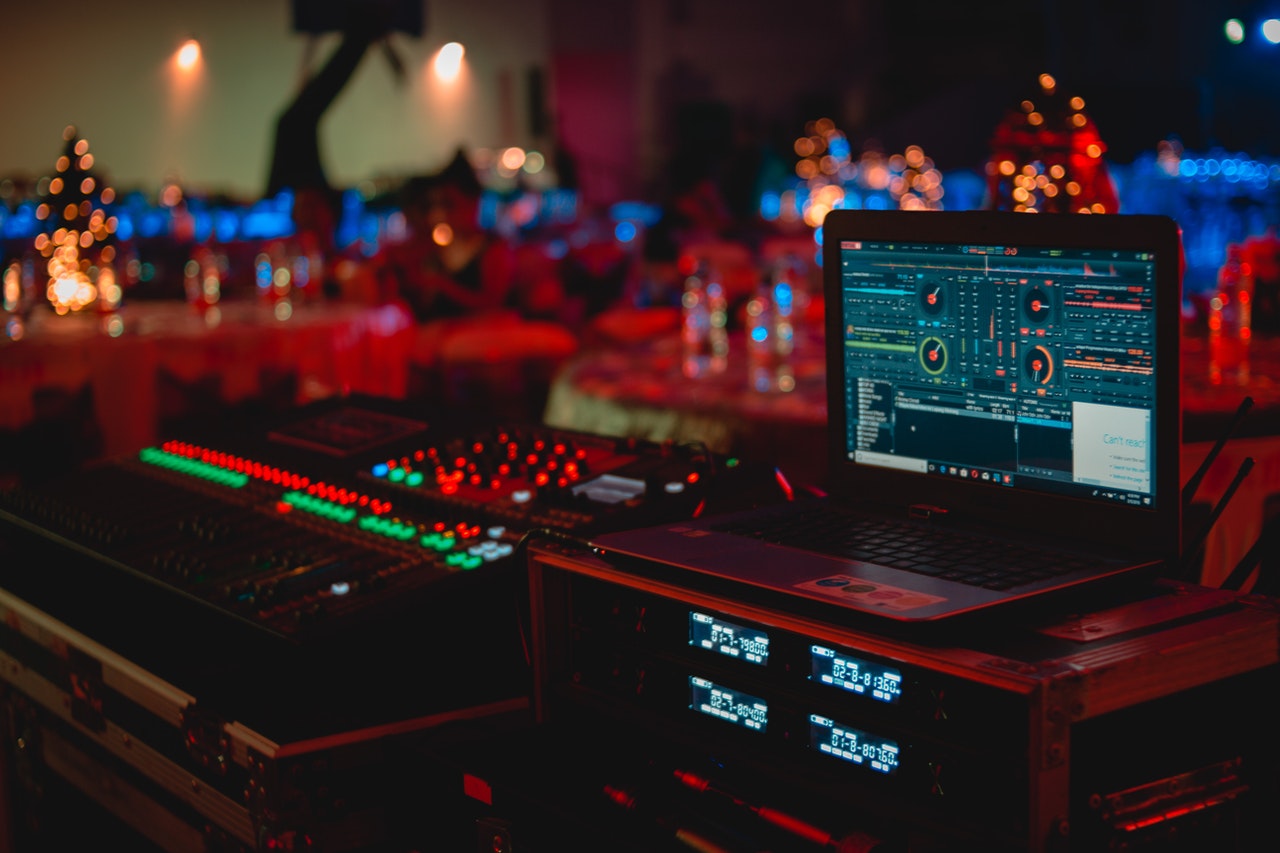 Don't stress about where to host your amazing livestream - host it in a virtual event platform with all the amenities.
Audience participation and engagement
Content is the heart of your conference, but the audience is the pulse that gives the heart purpose.
Your audience needs to be able to access your content quickly and easily. But in a way that still allows for personalization so they feel they are an integral part of the event rather than a faceless participant.
Finding the right platform to get your conference pulsing means finding the one that can answer yes to each of these questions.
Is the platform easy to use and accessible to your attendees?
This one should be a given, yet many virtual event platforms come up short in this arena.
Your attendees should be able to navigate effortlessly between live video presentations, speaker bios, breakout sessions, and their next meeting.
To allow for this, a platform needs a well-organized app or browser landing page that participants can easily access.
There is nothing more frustrating for an excited or anxious attendee than running into technical difficulties moments before their next one-on-one session.
Of course, no platform can predict every participants' technical savvy. So, having live technical support available to them is another must.
The best platforms ease the participants' nerves by providing a surplus of resources and information in a format that is inherently easy to navigate and understand. And they must do this while working seamlessly with iOS, Android, and most web browsers.
Does the platform allow for personalization opportunities?
From an organizer's perspective, personalization is an appealing feature that can make a conference more marketable. And for the attendee, personalization is everything.
Customizable schedules that participants can control themselves are must-haves for multitrack conferences. As well, they should allow for impromptu one-on-ones and breakout sessions.
Personalized meeting and session reminders keep attendees on track while automated notifications allow for networking in real-time.
Without this functionality, attendees are kept at a distance. With it, they become immersed in the conference experience and are less likely to drop out.
Does the platform offer contextual networking tools?
It is impossible to completely capture the networking ability of in-person events with a virtual conference. But having the right tools within your platform can make up for much of that missing face-to-face interaction.
Your attendees won't be able to use social cues and body language to connect to other participants.
But that doesn't mean that they can't actively network and socialize.
By giving your attendees the ability to search the participant list using relevant filters, you provide them with a way to find those they would most like to network with.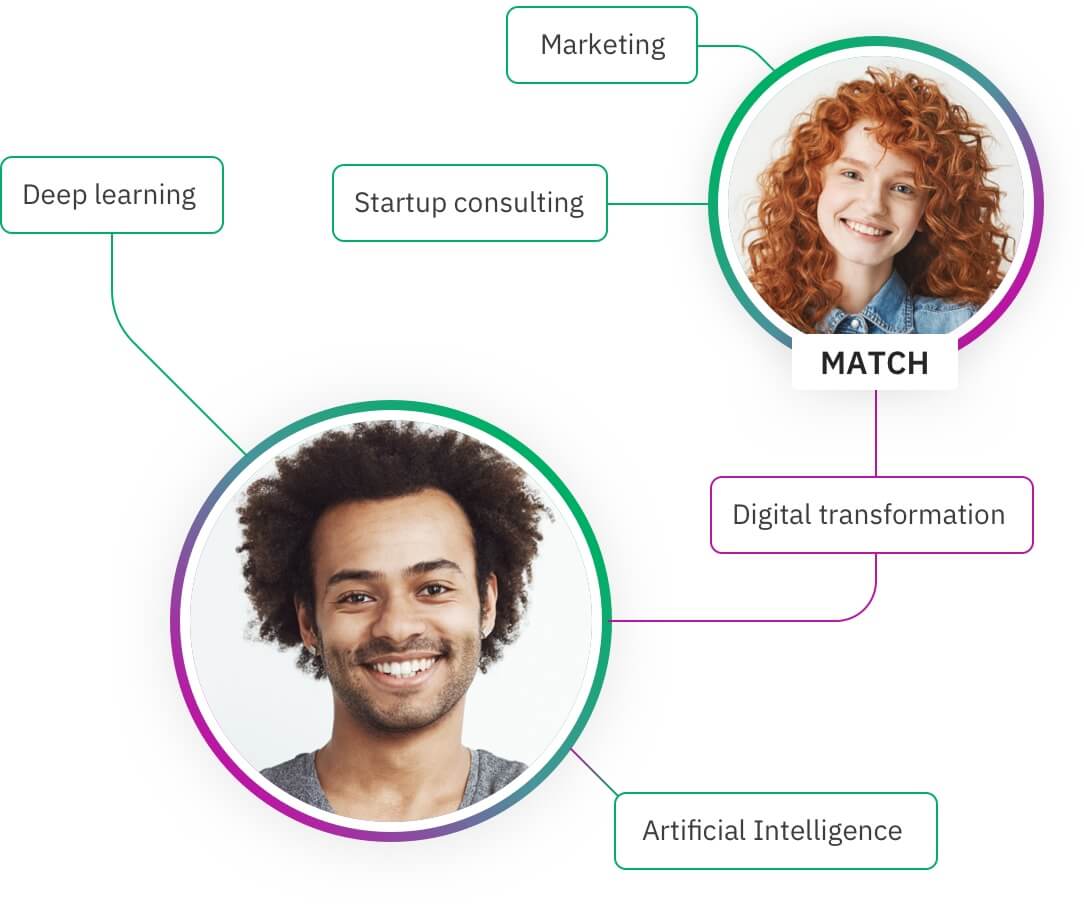 Adding networking to your virtual conference helps attendees connect according to mutual interests.
The best virtual event platforms allow you to create filters based on qualifiers such as company, job title, and different interests or focuses each attendee may hold.
A few exceptional platforms even have tools that allow for AI-based facilitated matchmaking.
These programs use goals, interests, and more to intelligently match compatible participants.
Tools like these take the difficulty out of networking and increase the likelihood of deep attendee participation.
Finding networking success increases the likelihood that participants will view the conference in a positive light and return for future events.
Is there virtual meeting room functionality on the platform?
Putting together a truly interactive conference means going beyond simple presentations.
Your attendees want to network. They want to learn in smaller groups. They want the chance to collaborate.
Virtual meeting rooms provide all of these opportunities and more.
Whether you allow for one-on-one engagements, small breakout sessions, or more traditionally structured meetings, these virtual rooms are necessary to facilitate small-scale sessions where each participant can be seen and heard.
The ability to move in and out of these meetings with ease increases show-up rates while decreasing drop-off rates.
Meeting room functionality combined with a conference schedule that consists of large-scale presentations and interactive meetings leads to more engaged attendees.
What live chat and content engagement avenues are there on the platform?
Engaging your attendees shouldn't stop at how your event is structured.
Live polling, group and live chats, Q&A sessions, feedback surveys, and more pull participants deep into the conference environment.
Live chat options give attendees the unique ability to converse about what is being presented in real-time. This is important not just to capture the feeling of an in-person event, but to keep your audience connected to your material.
Group chat functionality allows attendees to network with smart-matches or other participants they've found through search filter tools.
By making these connections and consistently reaffirming them within the chat box, the participants keep one another engaged in the event.
As we discussed earlier, Q&A sessions and live polling are must-have features that give livestream presentations a huge leg up over pre-recorded sessions.
In addition to engaging the attendees, many of these tools, especially survey and feedback features, give you an opportunity for additional data collection.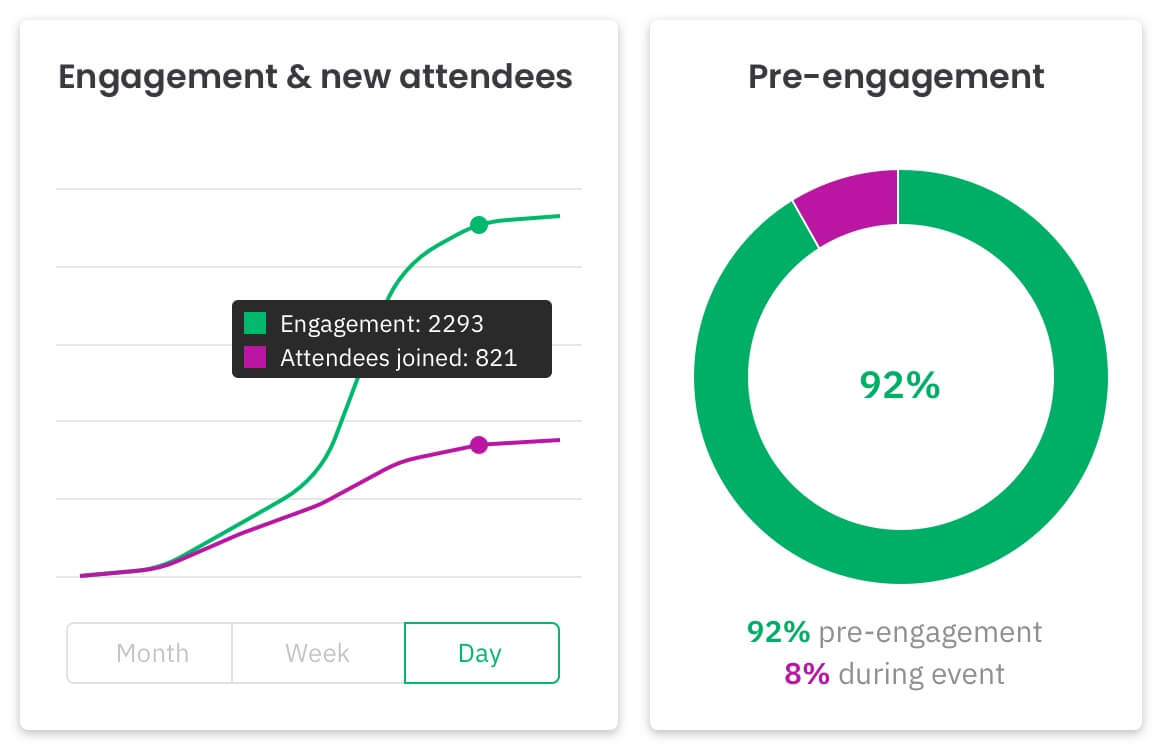 Keep track of your virtual event engagement with Brella's intuitive admin panel dashboard.
Get the most out of your virtual conference
Finding a virtual event platform that offers each of the nine features listed above (and more) can be difficult.
But here at Brella, we've made it easy.
We are the world's leading virtual event platform. We make planning, marketing, and executing your virtual conference simple and pain-free.
Brella offers accessible and dependable content hosting and distribution.
Our livestream broadcasts come with all the tools needed to keep participants engaged. Multitrack agendas with customizable schedules and simple speaker promotion mean you can attract more registrants with less work.
But we do more than just host great conferences. We keep attendees engaged.
Our apps are easy-to-use and accessible on a variety of platforms with multiple opportunities for personalization.
We bring attendees together with AI-powered matchmaking and virtual meeting rooms for one-on-one meets and larger collaborations.
Live chat, group chat, and a host of other engagement avenues keep participation up and attendees happy.
And happy attendees make for a successful conference.
Virtual conferences are the new norm. But don't just embrace new; embrace the opportunities new provides with the help of Brella.
and learn why Brella is the best choice for your conference.