Since 2020, virtual has proven to be a powerful and dynamic format for event organizers.
Why?
Because virtual conferences can offer so much more than in-person events. Here are just a few benefits:
Larger audiences. Assuming you choose a virtual event platform that can handle the volume, there truly is no limit to how many people can attend your virtual conference. This means more opportunities for attendees to network. And more participants for clients to market to.
More data.

With in-person events, you are limited to the participant information provided at registration. Virtual events, on the other hand, allow for multiple avenues of data capture.

More engagement.

Virtual attendees can continue to access conference tools between sessions and watch content on-demand after the event has ended. This means extended repeat exposure to your brand.

Wider appeal.

Virtual conferences don't require travel or hotel stays. Anyone with a computer and an internet connection has the power to attend. This means you are more likely to see increased international participation and an overall increase in those interested in participating.

Lower cost.

Virtual means there is no need to rent space, to fly out speakers, or to pay a catering company. Your upfront cost is mainly limited to the platform you choose. And if you choose the right one, your profits will exceed that of a traditional conference while your expenditures remain low.
When you switch to virtual, your event platform becomes much more than just a tool - it's your online venue where your audience interacts, connects, and engages with each other. It's the backbone of your virtual event and the main source of your event data.
And with all the different solutions on the market, it's only fair to wonder: how do I choose the best virtual event platform for me?
The right virtual platform will check off multiple boxes in each of these categories:
Content hosting & distribution
Engagement
Audience networking
Revenue generation
Event data & analytics
In this article, we will walk you through the first three categories, while you can find out more about the other two here.
And if you want to:
understand the essential features of a competitive virtual event platform,

learn our best practices to create successful virtual events (tested after thousands of virtual events, including some of our own), and

gain access to many more valuable resources on virtual event planning,
then you need to download our Conference Organizer's Handbook.
Ready to get started?
Content hosting and distribution
At the heart of your virtual conference is your content.
We're living in the age of Zoom fatigue, and attendees are now more hesitant than ever to join yet another lengthy virtual conference. In the words of Hans-Peter Siefen, Co-founder at Nordic Business Forum:
"You need to surprise the audience with something they didn't expect. The content needs to be really timely. It needs to be something that the audience feels that they can't miss out on."
Content is everything, and this is why you need a virtual event platform that can deliver that content seamlessly to your audience.
According to our event experts, here are four essential questions you need to ask yourself before you start looking for your next virtual event platform:
Livestream partnerships, yes or no?
Quality content production for virtual events is essential. All the more, if your virtual event comes with a ticket fee, it's crucial to deliver a world-class level of streaming.
However, content production can easily turn into your biggest headache if you don't have any background or experience in it.
At Brella, we've seen how beneficial partnering with an AV company can be. When you hire professionals and let them do what they do best, they will save you plenty of time and stress, while you can focus on the quality of your content and cooperation with your stakeholders.


Don't stress about handling your own livestream - host it in a virtual event platform with all the amenities.
Pre-recorded or live?
Both content formats have their fair share of pros and cons.
Live content is exclusive and creates a sense of urgency that will attract more attendees. Live content is immersive, interactive, and you have the opportunity to boost audience engagement with polls, live chat, Q&A sessions, and much more.
On the other hand, live content isn't easy to manage, and if you don't have an experienced virtual event provider taking care of your livestream it can easily turn into a disaster. Also, when you go 100% live content, catering to a global audience becomes a real challenge due to time zones.
Pre-recorded content lacks that sense of exclusivity typical of live content, however, it will be fully accessible to a global audience and will provide you with long-time visibility. Plus, if you pre-record some content you'll be able to focus on your main livestreams without worrying about managing several sessions.
In our extensive portfolio of 10,000+ events, we have observed that the best performing events are the ones that make use of both formats, but in the end, the best solution depends on your virtual event.
Our event experts are here to help you and they're just one click away!
Can the virtual event platform support multitrack agendas?
If you opt to live stream your content, you'll need a platform with a functioning multitrack agenda. In other words, your virtual event platform should:
Allow your attendees to create their own path by choosing the sessions that are most valuable to them.

Support multiple simultaneous livestreams and complex schedules.
Of course, having multiple tracks only works if your audience can seamlessly navigate between your sessions. That's why your virtual event platform should be clean and intuitive.


Just like at a live event, your attendees should be able to multitask.
Can you set custom schedules and reminders on the virtual event platform?
Customizing your event schedule and embedding it on your sites and newsletters prior to the event can help drive up registration.
Once your virtual event begins, having the ability to further customize schedules is a must in order to account for last-minute changes. If you have virtual booths and exhibits (another feature worth considering) these types of changes can be numerous.
Multitrack agendas further the need for customizable schedules so that each participant can build their own schedule based on their session choices.
The best virtual event platforms can accommodate all of these needs and more.
Audience participation and engagement
Content is the heart of your conference, but the audience is the pulse that gives the heart purpose.
An engaging virtual event is way more than a one-way livestream. It should always involve the audience, foster new connections, and facilitate communication amongst attendees and sponsors.
The right virtual event platform to get your conference pulsing is the one that can answer yes to each of these four questions.
Is the platform easy to use and accessible to your attendees?
Your attendees should be able to navigate effortlessly between live video presentations, speaker bios, breakout sessions, and their next meeting.
To allow for this, a virtual event platform needs a well-organized app or browser landing page that participants can easily access. This one should be a given, yet many virtual event platforms come up short in this arena.
Also, there is nothing more frustrating for an excited or anxious attendee than running into technical difficulties moments before their next one-on-one session. So, having live technical support available to them is another must.
The best virtual event platforms ease the participants' nerves by providing a surplus of resources and information in a format that is inherently easy to navigate and understand. And they must do this while working seamlessly with iOS, Android, and most web browsers.
Is there virtual meeting room functionality on the virtual event platform?
Your attendees want to network. They want to learn in smaller groups. They want the chance to collaborate.
Virtual meeting rooms provide all of these opportunities and more.
Whether you allow for one-on-one engagements, small breakout sessions, or more traditionally structured meetings, virtual rooms are necessary to facilitate small-scale sessions where each participant can be seen and heard.
The ability to move in and out of these meetings with ease increases show-up rates while decreasing drop-off rates.
Meeting room functionality combined with a conference schedule that consists of large-scale presentations and interactive meetings leads to more engaged attendees.
And did you know that virtual attendees send more 1:1 meeting requests on average than attendees at in-person or hybrid events? That interesting tidbit we discovered as we analyzed over 10,000 events from the past 5 years. This State of Networking report will help you understand how the pandemic affected the way we network - and what to expect in the future.
What other content engagement avenues does the virtual event platform provide?
Tools like live polling, group and live chats, Q&A sessions, feedback surveys, and more pull participants deep into the conference environment.
Live chat options give attendees the unique ability to converse about what is being presented in real-time. This is important not just to capture the feeling of an in-person event, but to keep your audience connected to your material.
In addition to engaging the attendees, many of these tools, especially survey and feedback features, give you an opportunity for additional data collection.


Keep track of your virtual event engagement with Brella's intuitive
admin panel dashboard.
Does the platform allow for personalization opportunities?
From an organizer's perspective, personalization is an appealing feature that can make a conference more marketable. And for the attendee, personalization is everything.
Customizable schedules that participants can control themselves are must-haves for multitrack conferences. As well, they should allow for impromptu one-on-ones and breakout sessions.
Personalized meeting and session reminders keep attendees on track while automated notifications allow for networking in real-time.
Without this functionality, attendees are kept at a distance. With it, they become immersed in the virtual event experience and are less likely to drop out.
And what about your sponsors?
Features like virtual booths for sponsors are essential but at Brella, we go the extra mile by giving your sponsors freedom to manage their booth and see how well they're performing. On top of that, you can highlight your sponsored sessions in your agenda or schedule.
If you're on the lookout for more effective tips on how to secure better sponsorship deals for your virtual events, this article is for you.
Audience networking
A crucial part of audience engagement is networking. After all, what's more, engaging than meeting the right person to drive business and achieve your goals?
The best virtual event platforms allow you to create filters based on qualifiers such as company, job title, and different interests or focuses each attendee may hold.

A few exceptional platforms even have tools that allow for AI-based facilitated matchmaking. These programs use attendees' networking goals and interests to intelligently match compatible participants.
AI-powered matchmaking is a guaranteed time-saver and the best way on the market to secure high-quality meetings. It will foster engagement, maximize your attendees' limited networking time, and ultimately improve your NPS.


AI-powered matchmaking helps attendees connect according to mutual interests
However, for your intent-based matchmaking to be effective you must first create the right categories and interests tailored to your specific audience.
This is a data-based strategy that will make or break your networking efforts. If you want to learn everything about effective intent-based matchmaking, join thousands of other students at Brella Academy, we have a free masterclass on Event Matchmaking & Networking that will help you implement matchmaking at your next virtual event!
Does the virtual event platform replicate authentic human connections?
Matchmaking takes the difficulty out of networking and increases the likelihood of deep attendee participation.
However, virtual events still lack the serendipity of physical events, so instead, you need to inject it yourself through facilitated matchmaking, random meeting rooms, breakout sessions, or more.
At Brella, we were up to the challenge of bringing real in-person networking experiences to virtual events. This led us to partner with Wonder, a virtual space where groups can interact in a way that feels natural and energizing.
Virtual attendees on Brella are now able to mingle and chat with other attendees and move around the networking area as if they were walking around a venue.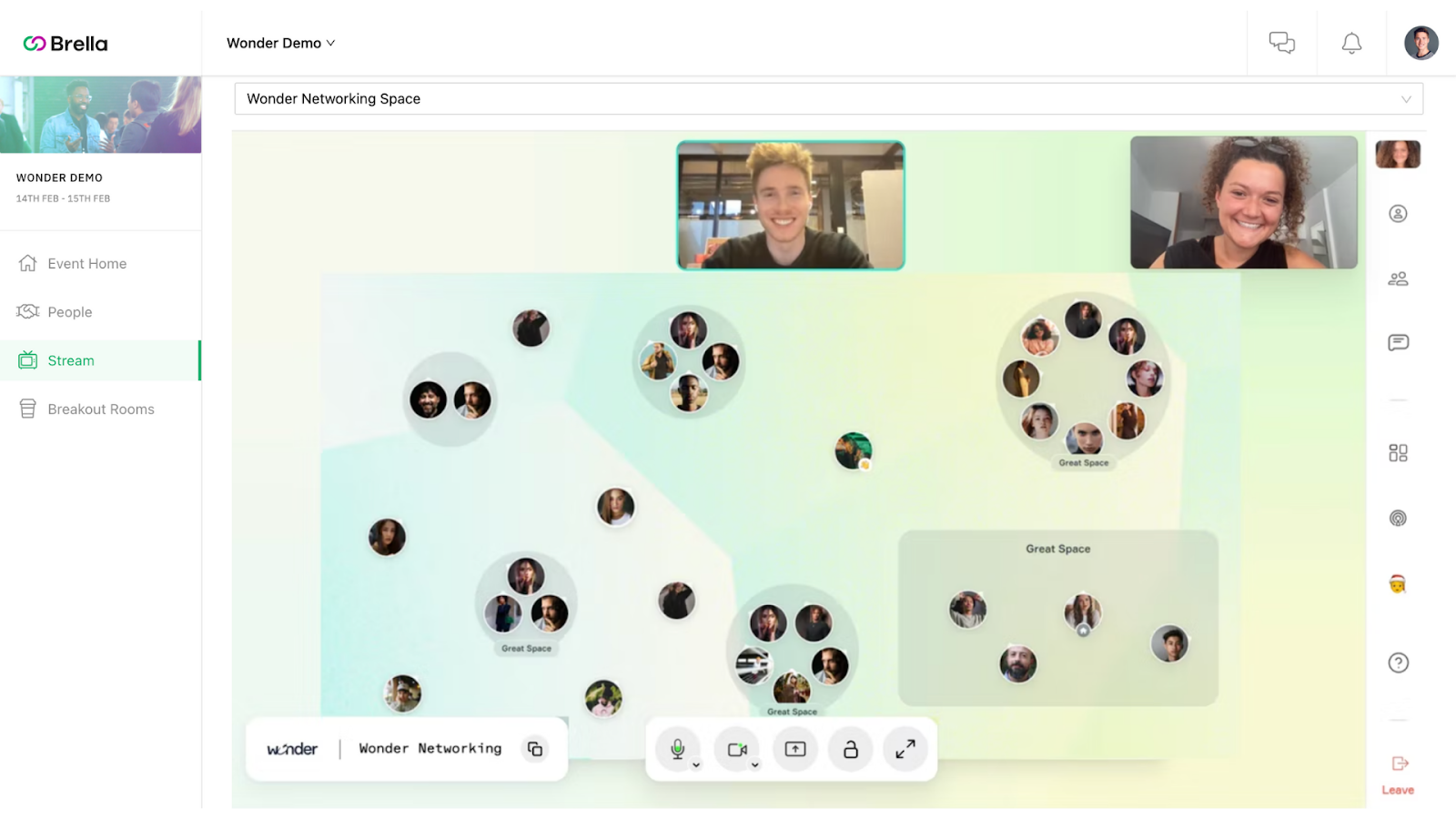 Inject serendipity and in-person connections in your virtual event with Brella+Wonder
Power up your next virtual event
Finding a virtual event platform that fully supports content hosting & distribution, audience engagement, and audience networking can be difficult. But here at Brella, we make planning, marketing, and executing your virtual event simple and pain-free.
Brella offers accessible and dependable content hosting and distribution. Our livestream broadcasts come with all the tools needed to keep participants engaged.
Our apps are easy-to-use and accessible on a variety of platforms with multiple opportunities for personalization. Live chat, group chat, and a host of other engagement avenues keep participation up and attendees happy.
We bring your attendees together with AI-powered matchmaking and virtual meeting rooms for one-on-one meets and larger collaborations.
And happy attendees make for a successful event.
Click here to read Part 2 of our definitive guide for choosing a virtual event platform, and don't forget to download your free copy of the Conference Organizer's Handbook.