From trade associations to professional societies, there are hundreds of thousands of associations around the world.
And over 63,000 trade and professional associations alone are based solely in the USA!
But no matter the association, there is one thing each and every single association needs to thrive: members.
Stats show that 68% of associations struggle to grow their member base. Luckily, there are many ways for you not only to acquire but also to increase your member retention.
Here, we'll take a closer look at how events will help you attract more members and how event tech will enable you to monitor your strategy to increase renewals.
But first, let's answer an important question: why is event tech essential?
Why is event tech essential for associations?
According to the Association Communications Benchmarking Report (2021), events are still the main source of non-dues revenue for associations through registration fees, sponsorship, booths, educational program fees, and much more.
The right event tech can help your associations be more efficient as it makes your events more impactful and at the same time decreases your workload.
Plus, event tech will unlock a new level of income-generating potential and will put you way ahead of other associations that are not relying on it. For instance, check how the right event tech can help you attract and secure better sponsorship deals.
Events are a significant point of contact between you and your members. For some, they might also be the only exposure to your association, and if you're using events as a recruiting tool to attract new members, you must really make it count.
Whether in-person, virtual, or hybrid, planning successful events to grow and retain your member base isn't a walk in the park, but this is exactly when event tech can help you craft the best experience for your participants.
How?
The right event tech will help you provide your association members with:
Let's take a closer look at them!
Intent-based networking and meaningful connections
You put a lot of hard work into building your member base, it's now time to bring them together and create thousands of new valuable connections.
After analyzing our own stats gathered from 10,000+ events from 2016 to 2021, we discovered that the pandemic has deeply affected the way we network at events, but not necessarily for the worse!
What we have observed, was a significant shift to virtual networking before and after the event. This doesn't come as a surprise as 2020 has taught us how event tech isn't only a plan B but an invaluable asset to maximize your networking strategy.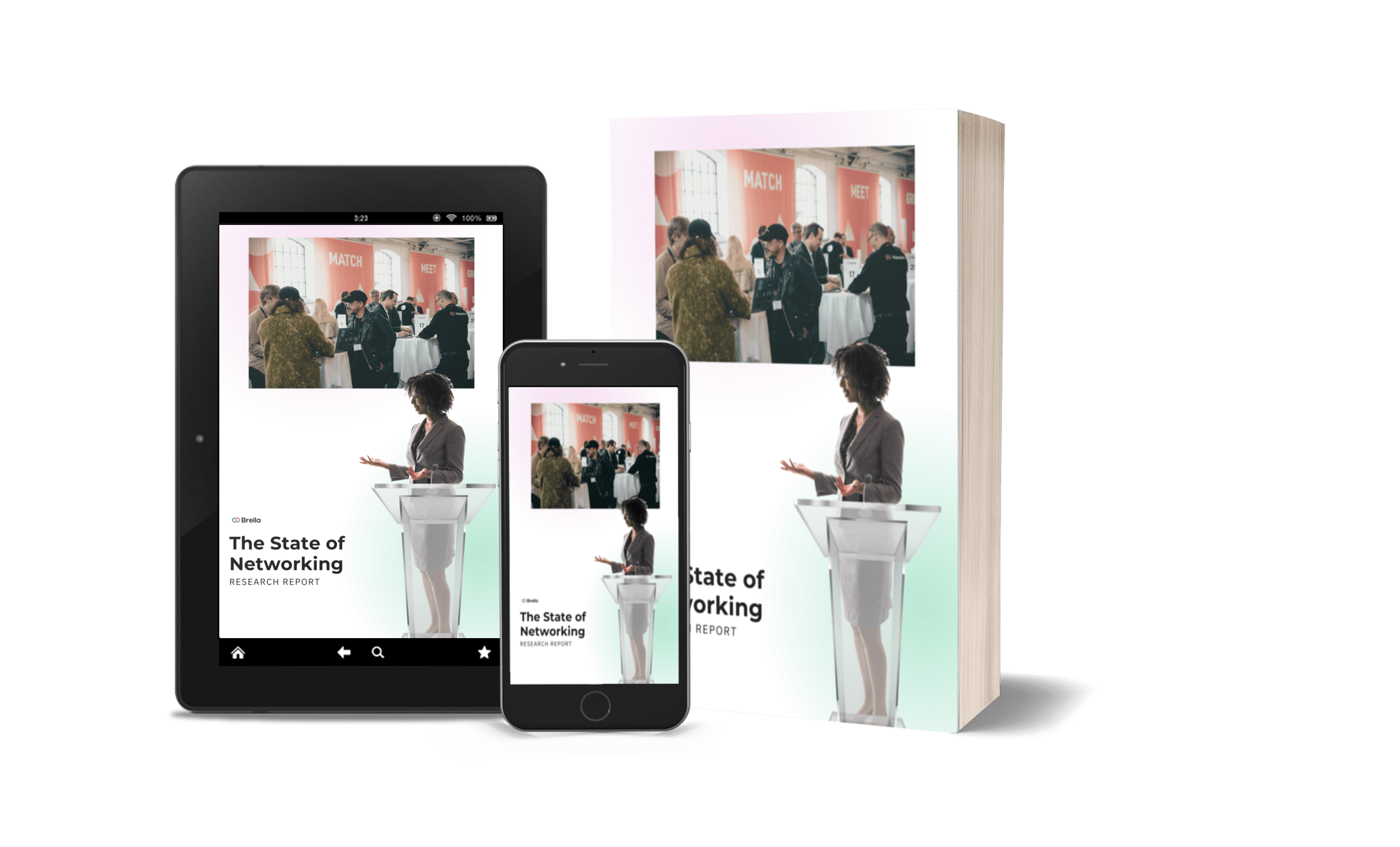 Get the full exclusive State of Networking report!
AI-powered matchmaking is the best way to guarantee your members can connect with only the right people based on their networking goals.
The AI can analyze thousands of data points and effectively match all intent-based connections. This happens in a matter of seconds, saves plenty of time, and makes for a great member experience.
That being said, while AI-matchmaking is the best option on the market for members in search of intentional networking, what about the good old spontaneous encounters?
In-person events are great for casual and serendipitous meetings, and no event tech will ever fully replace the experience of a face-to-face encounter. It's no surprise that as the social restrictions are eased, the whole event industry is slowly shifting back to in-person.
However, with the right virtual event platform, you can still inject that serendipity into your virtual events. That's why, Brella has partnered with Wonder, a virtual space where your members can interact with others and move around the virtual networking area enjoying spontaneous connections as if they were at a live venue.

Job opportunities and mentorships
In a recent Member Engagement and Loyalty Study conducted over 1,110 members of associations, it was found that 70% of members consider job opportunities an important benefit, but only 27% feel their association is doing well in delivering job opportunities.
Luckily, this is easy to fix. Intent-based matchmaking can connect job searchers with prospective employers and vice-versa. Everything your members need to do is select their professional field and whether they're searching for a job or hiring. The AI handles the matchmaking part saving them plenty of precious time otherwise spent browsing through long lists of users.
And what about your members in search of professional development?
Working on closing the skill gap by offering mentorship programs has become a great opportunity for associations to increase their member retention other than an effective way of boosting non-dues revenue.
Once more, AI-powered matchmaking is the answer as it can connect mentors to mentees in an eye blink, guaranteeing the right people find each other.
All in all, there's no end to the benefits AI-powered matchmaking can bring your associations and your members alike once you learn how to use it.
We at Brella are pioneers in matchmaking technology since 2016, and now, we have compiled that knowledge into a free certification masterclass on Event Matchmaking and Networking that will help you master matchmaking to the fullest.
Join our 1,000+ students at Brella Academy and bring AI-matchmaking to your next events. Your members will thank you for it!

Knowledge sharing and tailored content
Successful events are the homeland to meaningful connections, but they also need valuable content to shine.
After investing so much in creating meaningful, intent-based connections you surely don't want to risk losing your members over irrelevant content. To secure your member retention, focus on building successful initiatives, relevant workshops, AMA sessions, and immersive speaker sessions.
For instance, our partner Knowly achieved a stellar 50% meeting acceptance rate and laid the basis for a flourishing community of L&D professionals by customizing the whole event to their audience and offering top-trending content.
Once more, event tech is your greatest asset. An event platform equipped with advanced event data & analytics can help you assess the performance of your content and see what is trending and what can be updated.
This way you'll be able to make data-based decisions and offer the most engaging content tailored to your association members' interests and expectations.
Engagement
Did you know 50% of associations have observed an alarming 50% of their members left for lack of engagement?
The impact your engagement strategy has on your member retention is massive. Your members want to be an active part of the community you've built, and event tech can provide you with plenty of tools on how to give them the immersive experiences they crave.
When choosing your event hosting platform make sure you settle for one that provides you with:
Live chat: a live chat is the easiest way to initiate conversation and this can happen either before or after a 1:1 meeting, as well as during speaker sessions or virtual workshops.
Virtual breakout rooms: virtual breakout rooms are one of the best tools to shape an intimate and interactive environment, and there's no limit to the type of activities you can hold in one. Only take a look at Brella's own internal event story to see how we hosted all kinds of engaging sessions in our virtual breakout rooms.
Multitrack agenda: don't let your members stare passively at a screen for hours. Give them the opportunity to seamlessly navigate and switch between sessions during the event.
Push notifications: to send real-time messages during the event and make sure your members are informed on what's happening next and retain momentum.
Customization opportunities: to reflect the essence of your association, help your members represent themselves to the fullest, and craft exactly the experience they want (for instance, by making use of a customizable schedule).
Last but not least, event analytics will give you a numerical understanding of how well your association is performing in terms of engagement, whether you host your events in-person or virtually.
Thanks to event stats you'll see how active your members are and what engagement tools they prefer.
Event metrics are an essential tool that will help you hone your event strategy and keep your engagement rate high, so make sure you always track the right ones.
Hassle-free and diverse experiences
Different event formats serve different purposes, and it isn't wise to only settle for one.
In-person events are great for fostering human connections with mentorships, workshops, and break-out sessions.
On the other hand, virtual is the perfect format for a hassle-free and inclusive experience. The benefits of going virtual are many, like increased accessibility and lower costs.
Plus, even if we're heading back to in-person, virtual is still a great backup plan for any last-minute inconvenience. For instance, a speaker who cannot make it to the venue or any other type of disruption.
A lot relies on your events, so we recommend you have a versatile solution at the ready. Bonus points if your solution can provide your members with an engaging assortment of content and networking tools.
Versatility was the #1 requirement for our partner BizClik Media Group. As they jumped into the event industry in the midst of the pandemic, they were looking for a flexible solution to host a wide range of events. Read how they achieved phenomenal results and hosted three hybrid events in only four weeks here!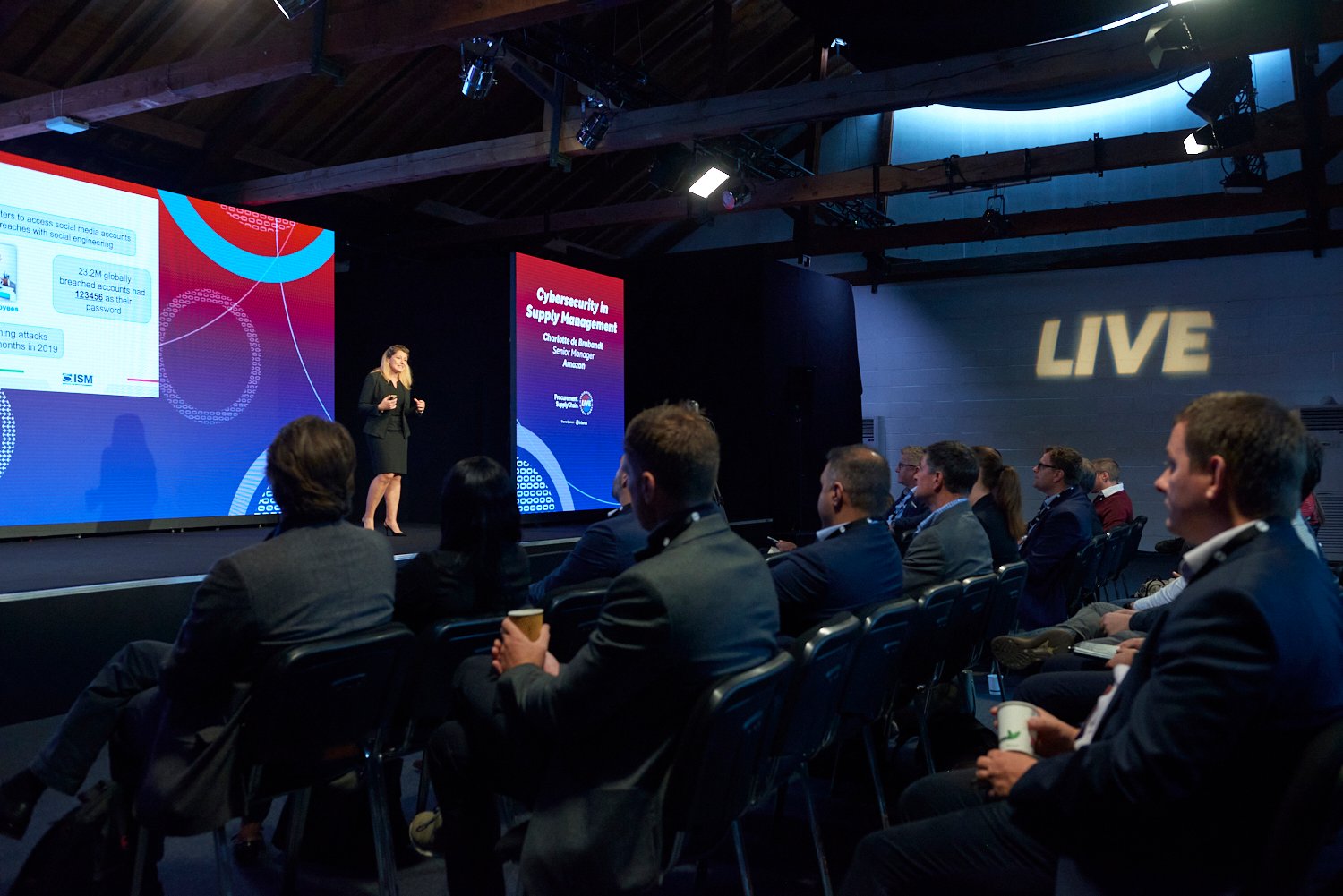 Also, it goes without saying your event hosting platform should be as intuitive and user-friendly as possible. After putting so much effort into optimizing matchmaking and curating your content so that it's highly engaging, it would be a shame if your members would encounter difficulties in navigating the event platform or networking tool.
Whatever option you choose, check that it's not only versatile but also intuitive and easy to navigate.
Conclusion
Member retention is the biggest challenge all associations around the world are facing, but event tech can be your biggest ally in boosting your member acquisition and membership renewal strategy.
Not only events can be your main source of non-dues revenue, but they can also turn into a real sponsorship magnet and the perfect occasion to provide unique networking and educational opportunities to your members.
The right event tech can help you increase your member retention by offering:
Brella can help you with all of this and more. Our event experts are eager to hear your goals and help you turn them into reality one step at a time.
Schedule your free consultation call today, and let's bring to life great events your members will love!