It only takes one meaningful meeting to change someone's life.
As pioneers in matchmaking technology, we at Brella know this well.
Yet, since the outbreak of Covid-19 in 2020, as the whole event industry was turned upside down, we couldn't help but wonder: how did the pandemic affect the way we network at events?
"[Networking] has real, tangible business value that can help your event stand out in the current competitive market." - Ville Vanhala, VP of Customer Success at Brella
In our search for a data-based answer, we analyzed over 10,000 events hosted by Brella between 2016 and 2022.
Our findings were based on core event metrics like the average number of meetings, percentage of attendees with 1:1 meetings, meetings requests sent per attendee, and meeting acceptance rate.
Today, you can read all the findings in our first-of-its-kind report: the State of Networking.
The full report includes, among others:
Detailed networking stats for attendees and sponsors
How networking propensity changes according to event format
How event networking compares to cold calling, recruitment interviews, and many other forms of meeting booking

Before we move on, make sure you download your free copy here below!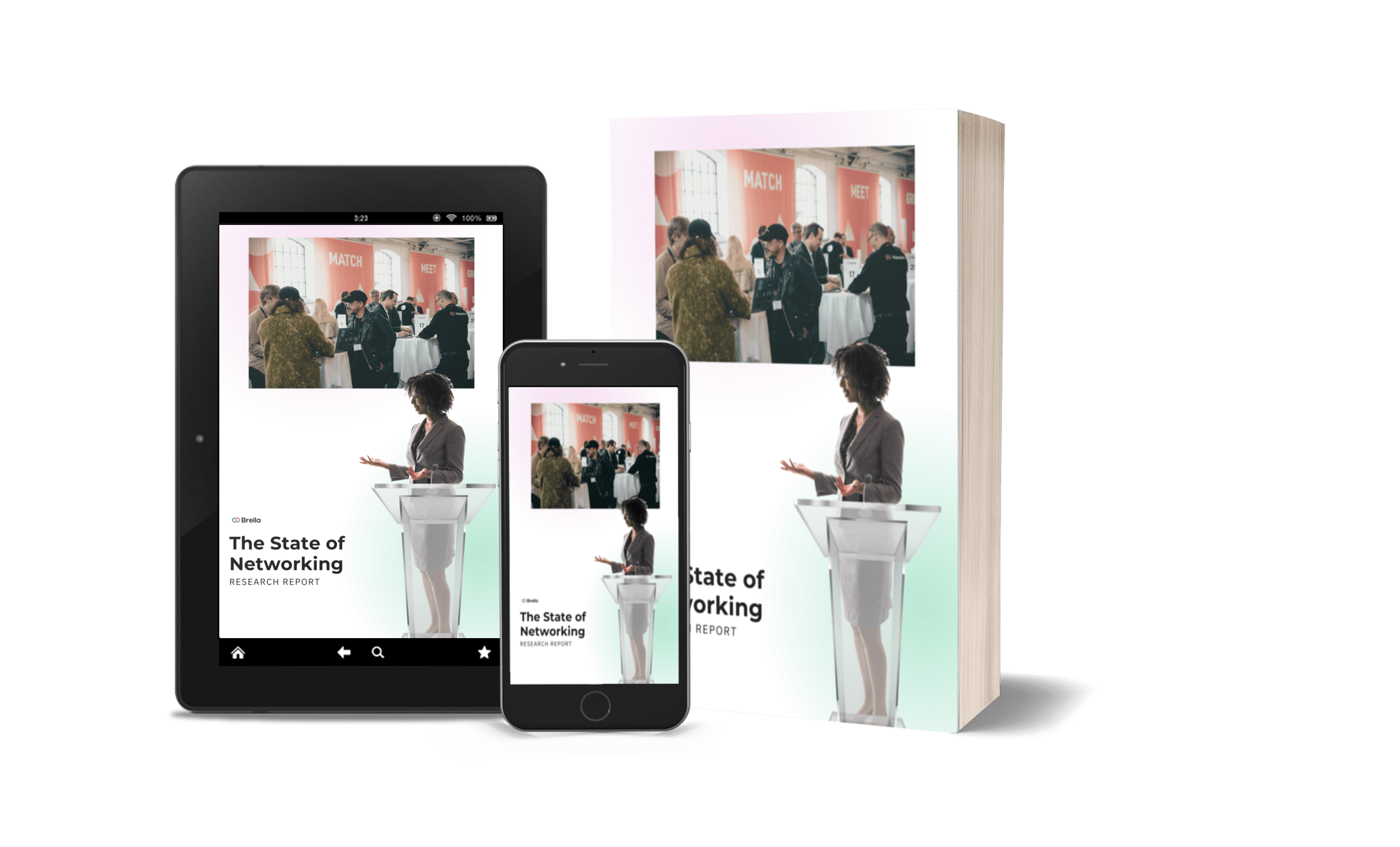 Download your free copy of the full State of Networking report!
In this article, we'll walk you through the top 5 event networking trends in 2023 we have identified during our research.
These are:
Let's take a closer look at them!
1. Sponsors will send fewer reps, with higher expectations
For sponsors, 1:1 meetings are still the best way to build trust with potential customers and partners.
However, when it comes to sponsorship attendance, our data has revealed that the average number of representatives per sponsor has slightly decreased when compared to the pre-pandemic.
This doesn't translate into fewer event sponsorship opportunities for you - quite the contrary, as sponsors are now recognizing the immense ROI opportunities of events, and their expectations are much higher compared to the past.
The right event tech will help you craft irresistible event sponsorship packages.
For instance, AI-powered matchmaking is one of the most effective tools event organizers can leverage to secure and retain better sponsorship deals. The AI makes it easier than ever for sponsors to connect with prospective clients, guaranteeing more effective meetings that convert into closed deals.
2. More virtual networking before and after the event
Engaged attendees get more out of the event, and making use of AI-powered matchmaking will also help you boost your event's engagement rate during and after the event (whenever you keep the networking function available for some more days post-event).
Additionally, in our extensive event portfolio, we have witnessed the critical impact of a good event pre-engagement strategy.
When your attendees can join the event platform weeks before the event and make full use of intent-based matchmaking, they will have plenty of time to find their top matches, engage with them via live chat, and start conversations around their business early on.
Pre-engagement will save your attendees and sponsors a lot of time on the actual day of the event and make for better quality meetings.
In the words of Jaakko Jalkanen, Head of Marketing at Brella: "Whether it's your sponsors or your attendees, giving them the opportunity to connect with others quickly and easily is just good business."
All in all, when it comes to fostering both networking and engagement, we recommend you always track the right event networking metrics. These metrics will help you assess your strategy and adjust it along the way.
3. Events will rebound like crazy in 2023
Whether on-site or behind a screen, networking has never ceased to be among the top 3 reasons to attend events. Business professionals still crave human connections, and the pandemic wasn't able to change that.
That's why we expect the whole event industry to rebound in 2023. Thanks to the right event networking tools, attendees and sponsors are not only scheduling more 1:1 meetings than ever, but the quality of those meetings has also skyrocketed to a whole new level.
"Networking will be at the heart of the industry's explosive rebound in 2023." - Ville Vanhala, VP of Customer Experience at Brella
As an event organizer, you must make it as stress-free as possible for your attendees and sponsors to maximize their networking time and find the most suitable matches.
Check out how the right matchmaking software will help you plan successful B2B events your audience will never forget!
4. Hybrid will no longer refer to events, but the organization
Hybrid events became the hot topic in 2020, and lots of event organizers have experienced their great potential.
Yet, as the event industry pivots back to in-person, the question still lingers: are hybrid events here to stay?
In the words of Brella's CPO Mikko Matikka: "Now the discussion has turned hybrid not into an event format, but a description for the organization - and I strongly believe this perspective will dominate going forward."
In other words, hybrid is headed to become more of a powerful avenue for community building.
"Throughout the year, your attendees can connect with each other online and consume content on-demand before your event. At your event, they can experience it live or virtually, and after the event, they can continue the discussions online." - Mikko Matikka, CPO at Brella
"Hybrid works better as an ideology rather than a simple format." - Mikko Matikka, CPO at Brella
You can find out everything about the future of hybrid events in our State of Networking report!
5. Networking will be the core to community building
Online communities have become a great asset in the event industry helping event organizers connect their audience and provide engagement all year round.
Starting your own custom branded community will give you plenty of competitive advantage and good chances to hack your business growth. With your online community, you'll be able to ace long-term engagement and sign up more members with a steady stream of valuable on-demand content and immersive events.
However, there's something else to be aware of.
"Good content is the pillar of your community but it isn't the only one," says Stella Roark, Head of Sales (USA) at Brella. "As with events, at the core of a close-knit community are meaningful connections."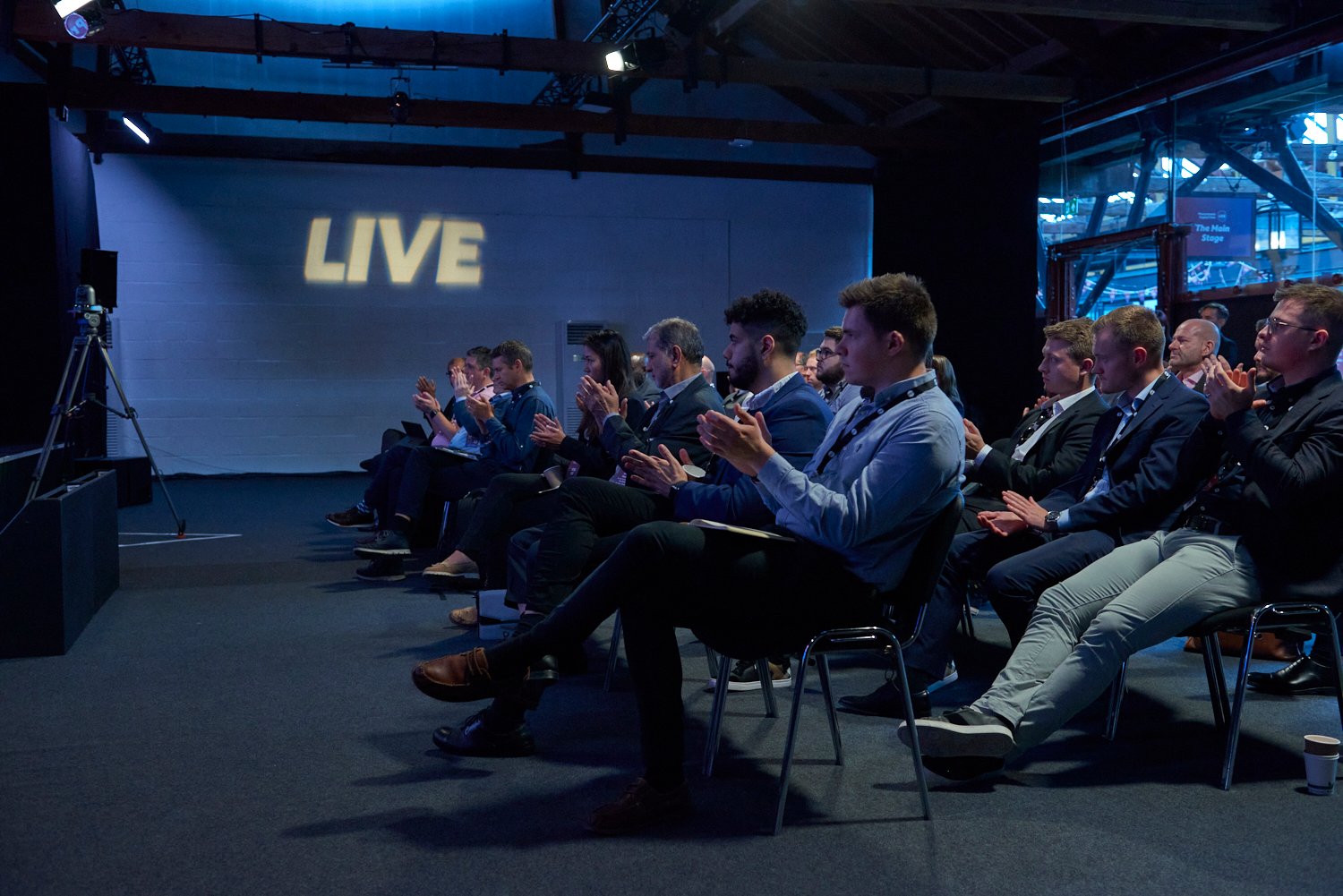 These 5 event networking trends have one thing in common: effective networking
From sponsorship deals to the "hybrid dilemma" and online communities, these were the top 5 event networking trends in 2023 every event organizer should be aware of.
But at the end of the day, it doesn't come as a surprise to see that effective intent-based networking is still the common denominator.
During the past years of social restrictions, we were thrilled to see our partners achieve phenomenal results thanks to an audience-tailored networking strategy and our AI-powered matchmaking.
Here are some of their stories to inspire you!
Wolves Summit
Wolves Summit is the world's best networking business conference for startups, investors, and corporations in Europe. In 2021, they partnered with Brella to bring to life a hybrid conference attended by over 2,000 participants.

When planning their hybrid conference, the event team at Wolves Summit understood that to reach their ambitious networking goals and provide only the best intent-based networking opportunities, they had to invest in a separate networking tool to be used in conjunction with their event hosting platform.
Adding intent-based matchmaking to their stack was the right thing to do, and their results were simply dazzling!

2,200 1:1 meetings took place during the event and over 12,000 chat messages were exchanged. Brella's simple meeting booking ensured that there was no back-and-forth when scheduling a meeting, and thanks to a powerful communications plan the organizing team was able to increase their meeting acceptance rate.
Read the full success story here!

TechBBQ
TechBBQ is the largest startup and innovation summit in Scandinavia.

In 2020, they partnered with Brella and went live as a full in-person event hosting 4,500+ attendees, out of which more than 2,600 joined Brella to network.

Working together with our Customer Success Team, they engaged and educated their participants on how to make the most of the networking platform before the event began. Their strategy included demo videos, FAQs, and an invitation to join Brella's networking tool two weeks before the event.

Opening the platform weeks before the event allowed attendees to be matched with their top connections, engage with them, and book meetings in advance without wasting a single available slot.

Fostering pre-engagement on Brella paid off, as 63% of all the meetings were booked in advance and the live chat came abuzz with nearly 12,000 messages being exchanged!

Check out TechBBQ's full pre-engagement strategy here!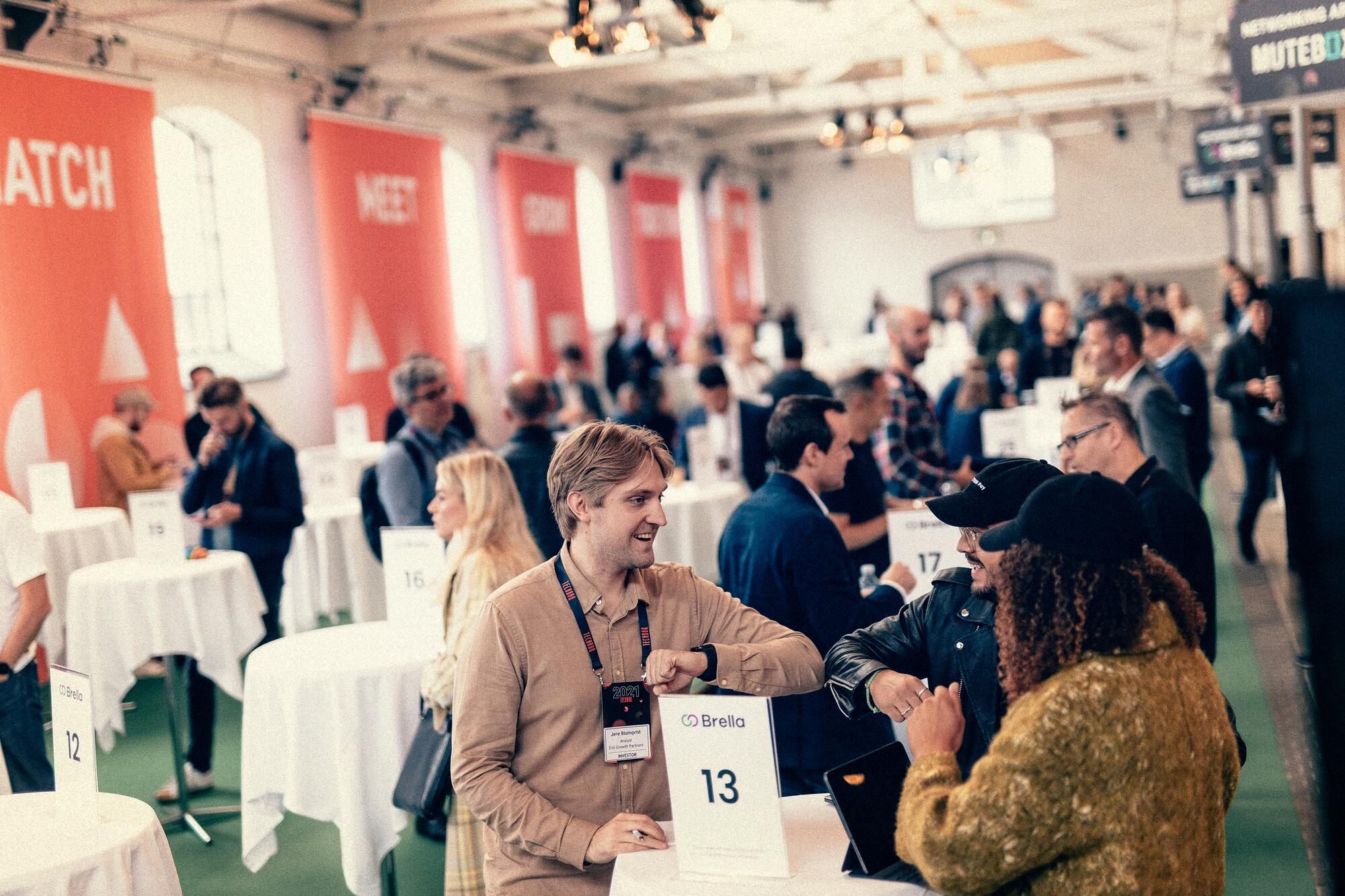 BizClik Media
BizClik Media Group is a UK-based digital media publishing company. The business was born in 2007 with a focus on digital publishing and took the leap into the event industry in 2020.

The event industry is ruthless, and the event team at BizClik Media knew event organizers often get only one chance to succeed.

Their enterprise in the event industry began with the search for an event hosting platform that would provide them with: versatility, scalability, enhanced networking capabilities, and seamless user experience.

In Brella, they found what they were looking for with no compromises, and as they jumped into the event industry, the organizing team at BizClik Media was able to host three major 3-day long hybrid events in only four weeks, which is a massive achievement.
In only four weeks, the team was able to attract more and more users to the event platform, triplicating the amount. Plus, they have mastered their pre-engagement and engagement strategy, increasing their engagement rate by 91%, while the number of meeting requests has increased by 86%.
Read BizClik Media's full success story here!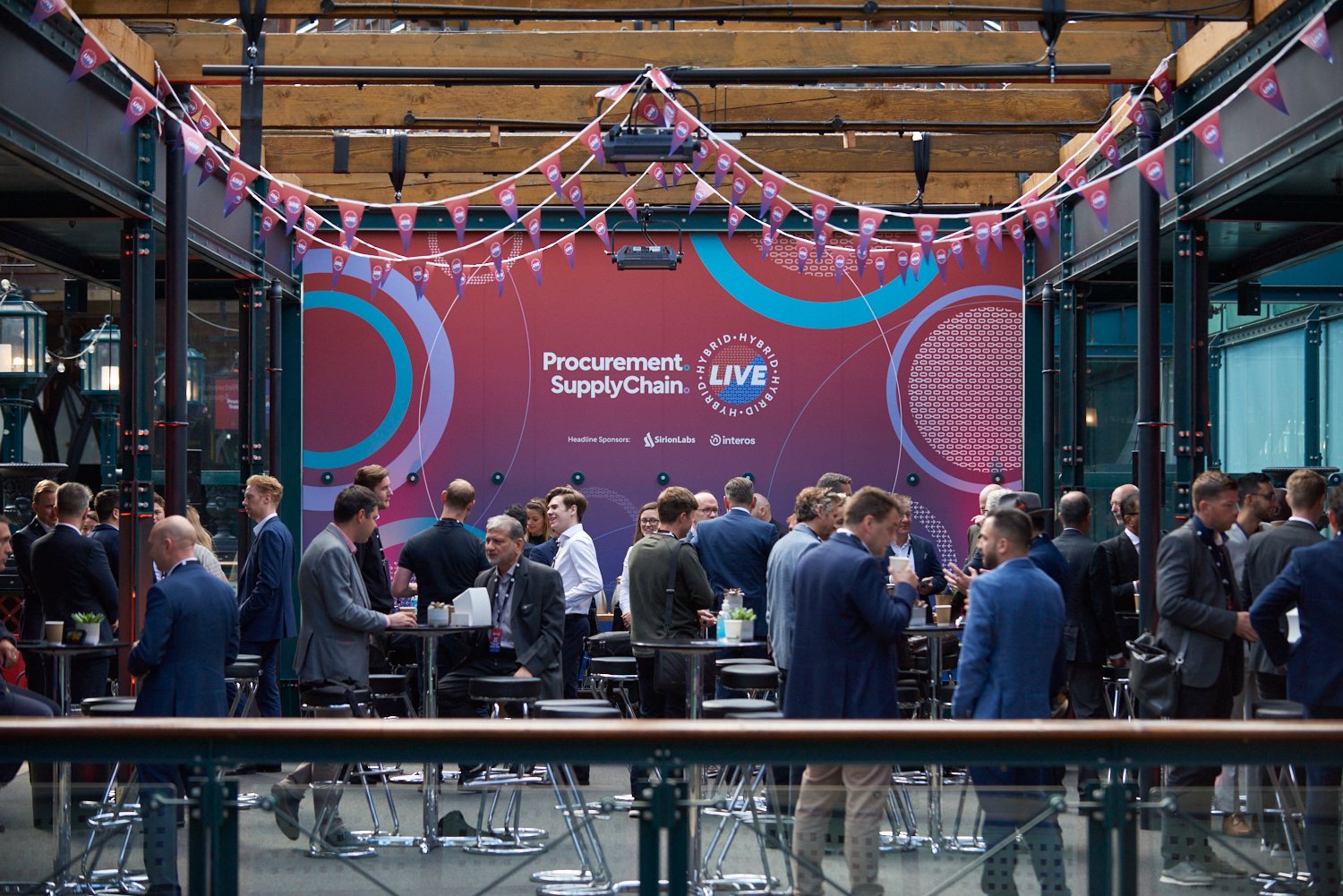 Knowly
Knowly is an ed-tech startup based in Sweden with a mission of creating innovative and inspiring solutions to help L&D professionals realize their visions within learning.
In November 2021, Knowly hosted their own 5-day virtual event gathering 330+ L&D professionals from all across Sweden: the Knowly Week.

Part of their goals was to set the basis for a community of L&D professionals, a place to promote collaboration, learning, and valuable connections.

Their strategy was based on effective event marketing, optimized matchmaking categories based on their event stats and with the help of Brella's Customer Success Manager, and a solid pre-engagement strategy.

Brella's features like AI-powered matchmaking, breakout rooms, and event data & analytics were effective tools to encourage easy and immersive connections and select only the most relevant content for the audience.
Read Knowly's success story here!
Conclusion
Social restrictions have caused great upheaval in the event industry, and our goal was to understand exactly how much the pandemic has affected the way we network at events.
Our findings show that attendees still love to network, and in our latest State of Networking report, we have identified the 5 main networking trends in 2023 every event organizer should always keep in mind to plan better and more immersive events.
These event networking trends are:
Find out everything about what to expect in 2023 in our full State of Networking report.
Make sure you download your copy today!