Trusted by industry leaders worldwide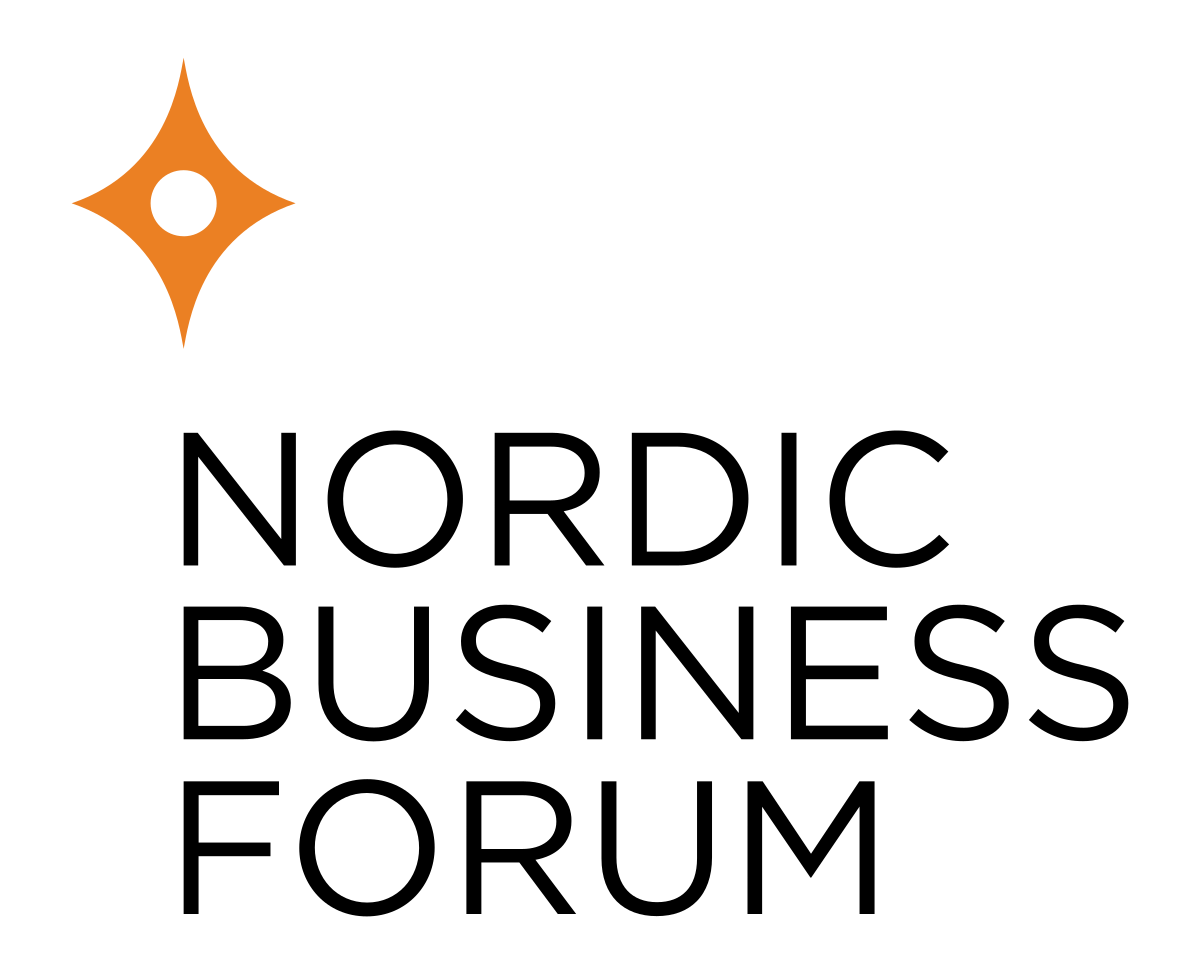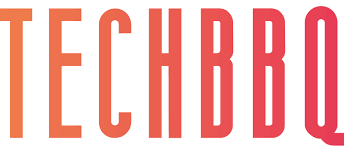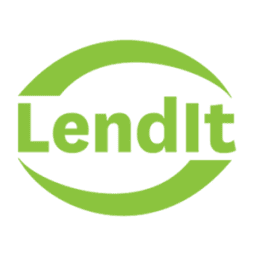 The bespoke 365 community platform built for event organizers & corporates
Extend your events into a non-stop connection with your audience and unlock new opportunities before & after your events.

Brella's award-winning event app & dedicated community platform work seamlessly together to maximize engagement and monetization.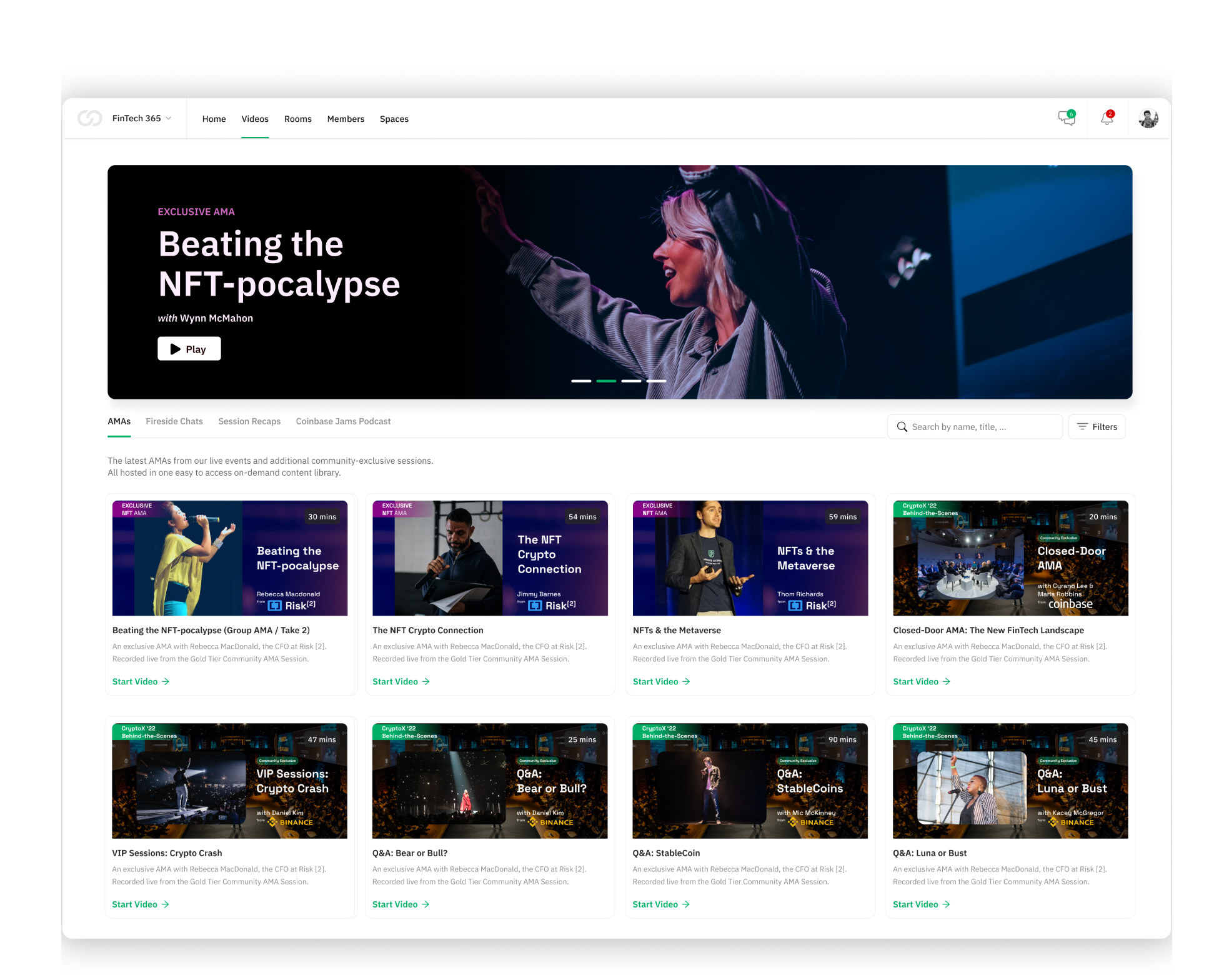 The complete solution for your community
Empowering connections at the heart of your community
Our award-winning AI-powered matchmaking ensures all members can find and connect with their valuable matches based on shared interests and goals.


Set custom interests and intents to keep connections relevant to your community

New connections never stop coming! Top matches are updated in real-time based on member activity, new arrivals, and more

Facilitate compelling discussions with an intuitive open chat, video meetings, and breakout rooms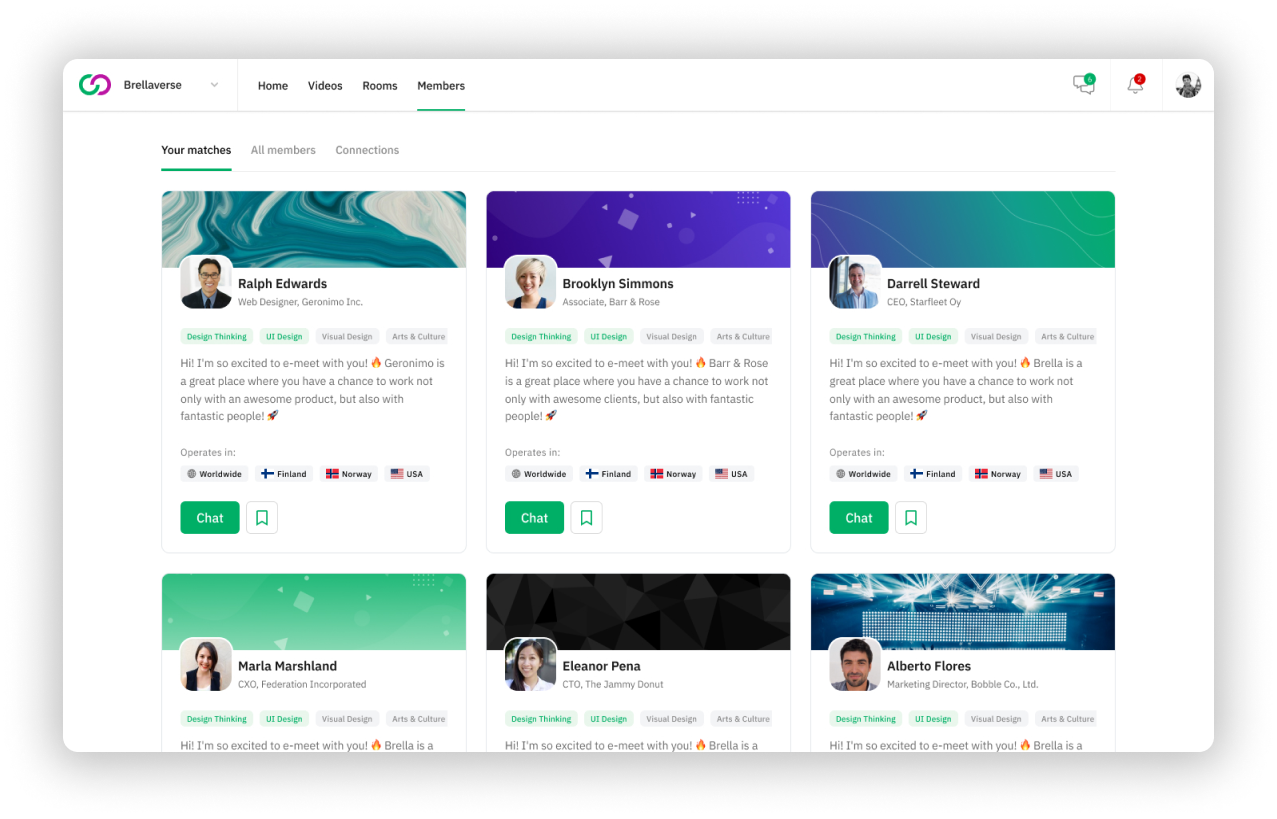 Leverage your own on-demand video library
Immersive AMAs, educational content, event recaps - you name it. Delight your members day after day with a personalized experience.

Build an extensive VOD library and customize your videos directly within Brella.

Highlight new or popular content - or let the AI-driven Intelligent Content Discovery deliver tailored content to each member

Seamlessly integrate with major video streaming platforms like YouTube and enterprise tools like IBM Watson or DaCast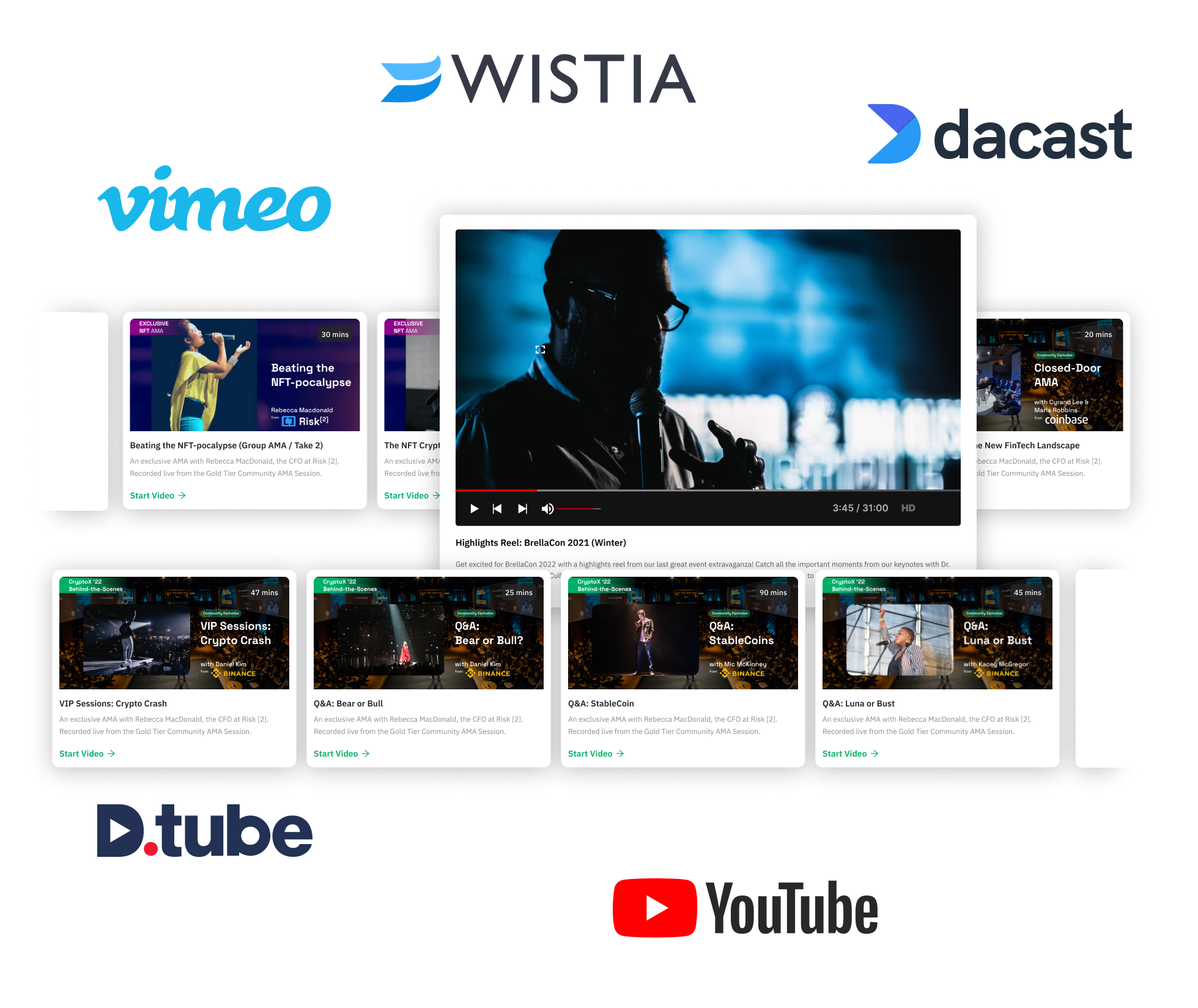 A place for innovative ideas, discoveries, & inspiring discussions
Offer creators in your community all the tools they need to craft quality content that will drive consistent engagement in a controlled space.

Creators can leverage dedicated Interactive Spaces to bring their content right in front of their target audience



Members can start buzzing threads by commenting, reacting, and interacting with creators

Moderators can monitor and control the feed to enforce community guidelines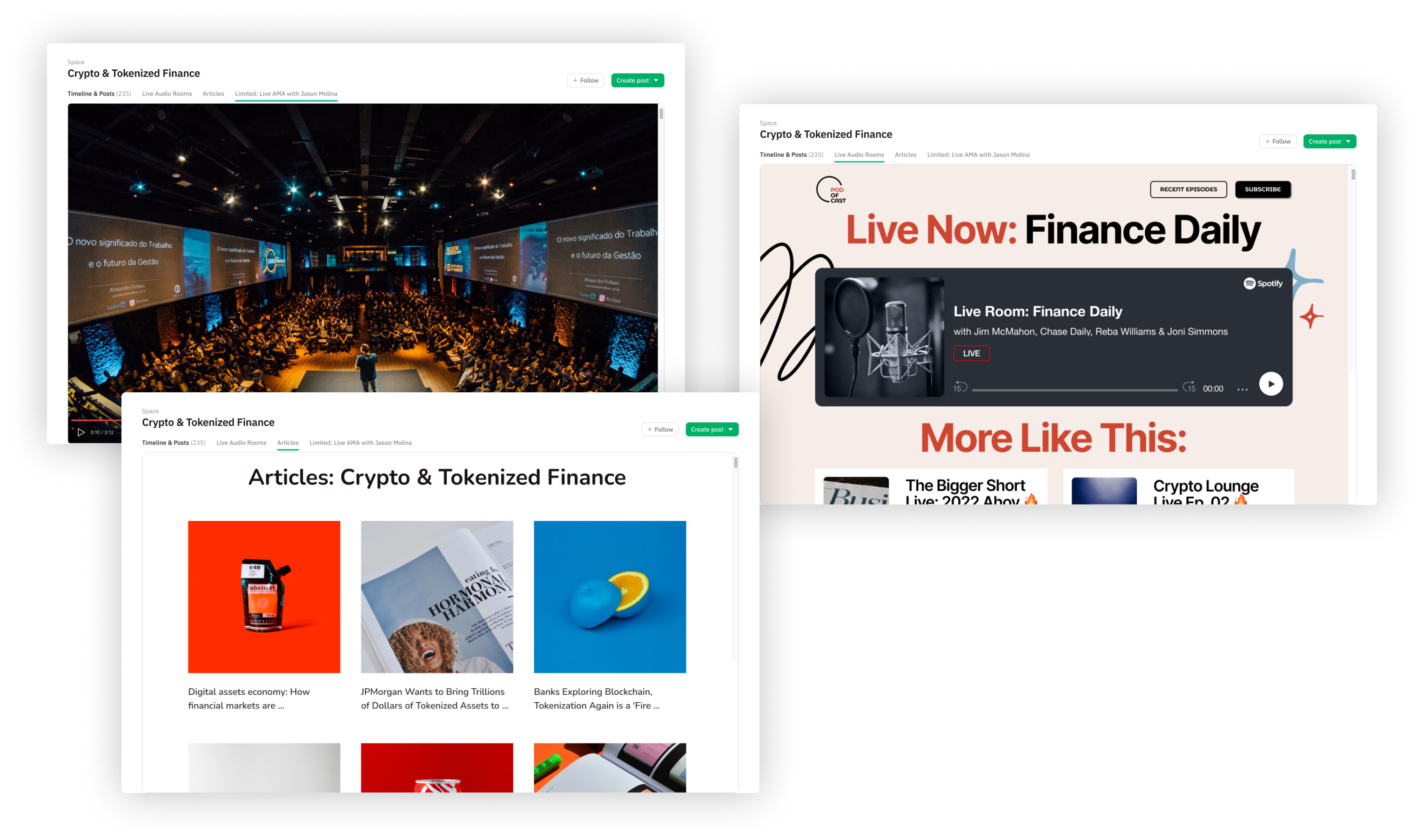 Host impromptu events effortlessly inside your community
Promote your events within your community, seamlessly sell tickets and invite community members to your Brella event — no 3rd party tools necessary.

Deliver a fully-customizable ticketing experience inside Brella and directly integrate Stripe to process payments

Host truly interactive webinars! Speakers can share their screens, create collaborative boards with Miro & Trello, and much more

Members can seamlessly transition between your community and events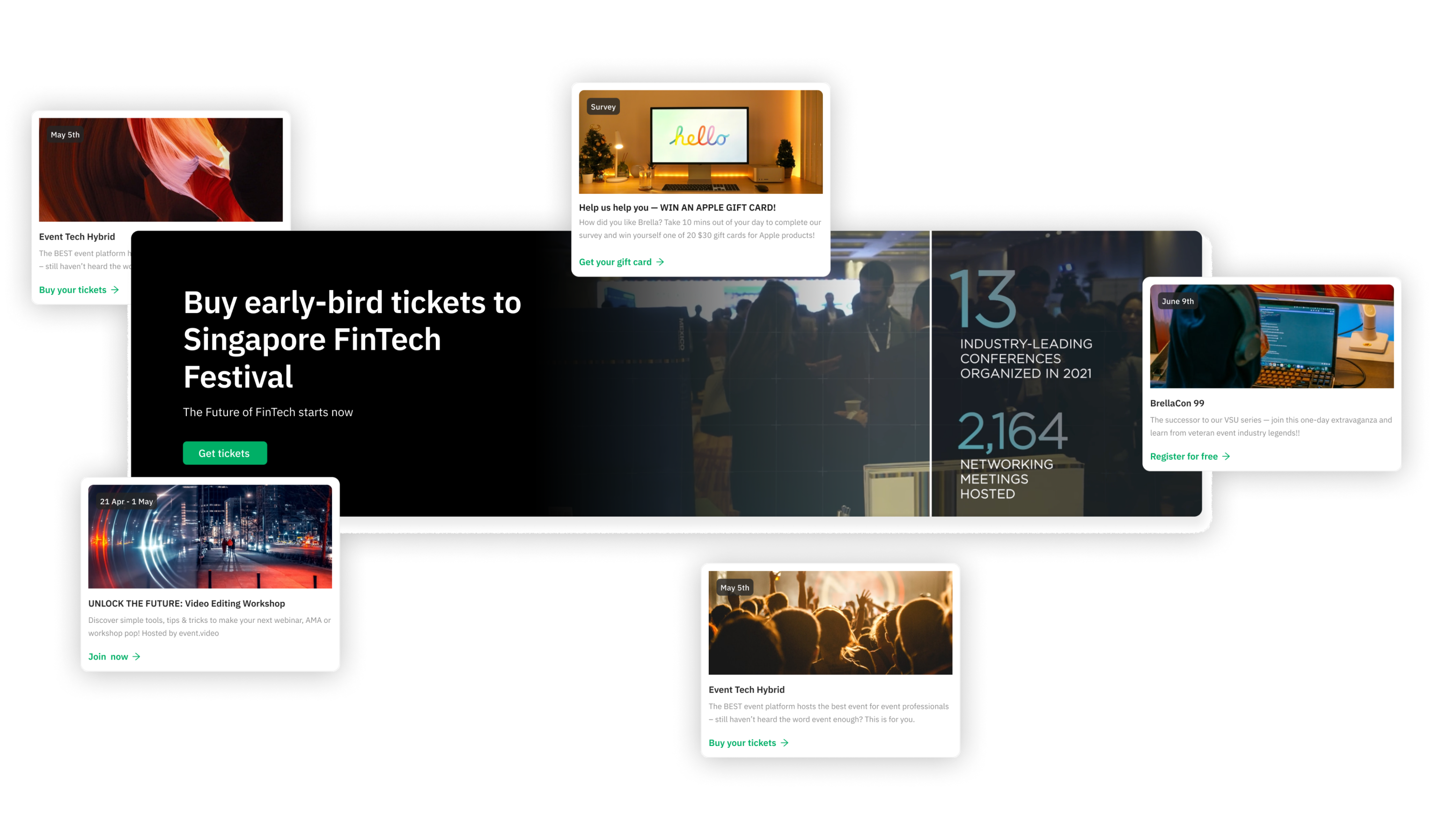 A gorgeous design that is completely yours
Connect your members in a thoughtfully curated space built to reflect the very best of your brand, from customizable color schemes to your own sub-domain.

Keep your branding front and center by customizing your community's color scheme, logos, and imagery

Create custom tabs and embed any website or tool you need at the click of a button



Host your community and events on your own custom sub-domain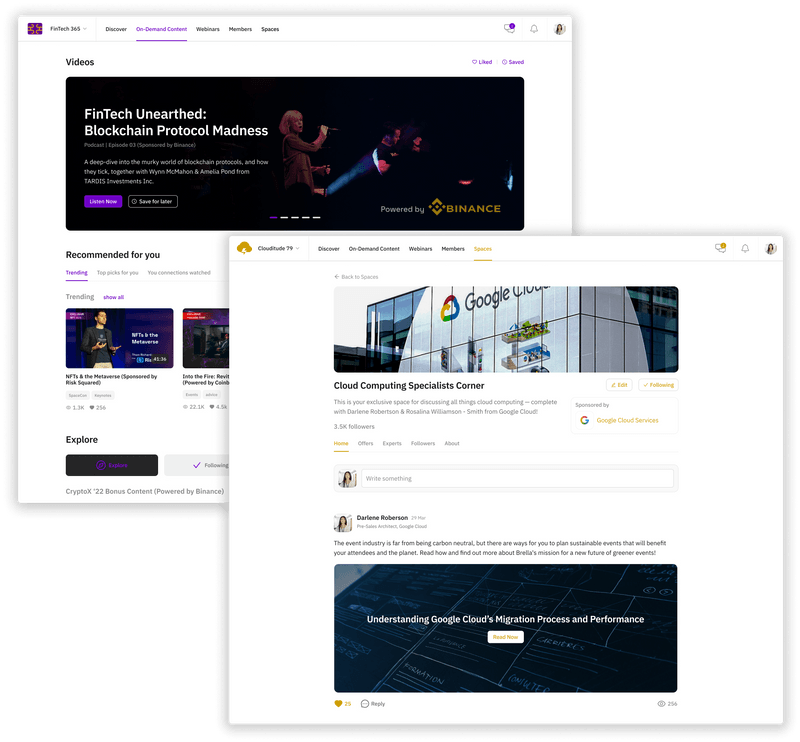 All the tools you need to succeed
AI- powered matchmaking
Brella's AI-powered matchmaking is the best way on the market to guarantee easy and valuable connections based on matching interests and intents.
Interactive Spaces
Foster member-generated content and drive monetization within your community with dedicated interactive spaces for topical discussions.
VOD library
Build your own exclusive on-demand video library to serve and distribute engaging content that will have your members coming back for more.
Webinars & live events
Delight your members with impromptu live events you can effortlessly host within your community platform.
White-Labeling
From your own logo all the way to a custom sub-domain, bring your audience together under your brand on a fully customizable community platform.
Promotion & branding
Brella's promotions features allow you to effectively promote your events, sponsors, products, and webinars within your community — without spending a cent.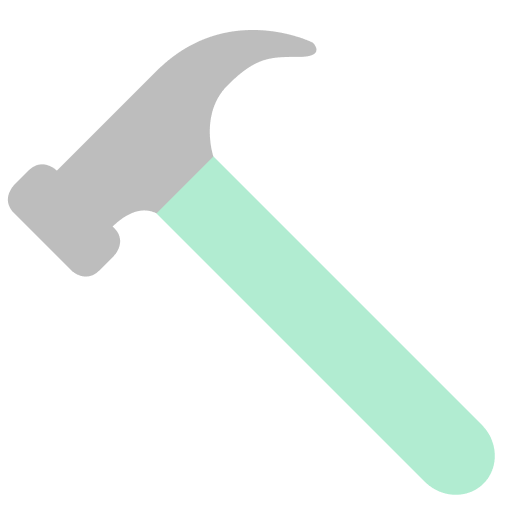 Launch
Starting your own community is easy! Simply invite your customer-base or leads list to Brella. Alternatively, you can funnel all the attendees at your Brella event directly into your community and dramatically decrease CAC for your future events.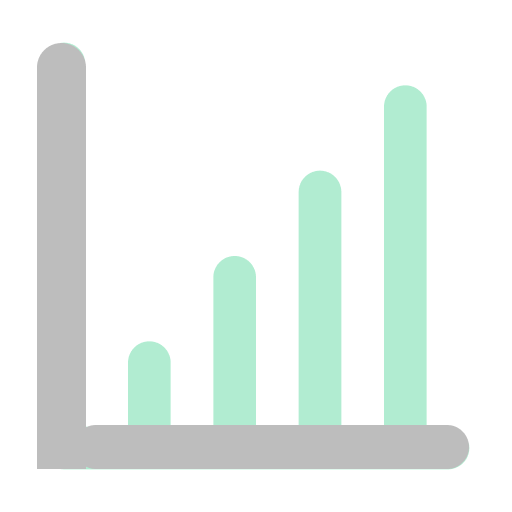 Scale
Sustain long-term engagement, inspire loyalty and grow your community by offering members a steady stream of exclusive on-demand content, unique networking opportunities and immersive events — all on a single, unified platform you control.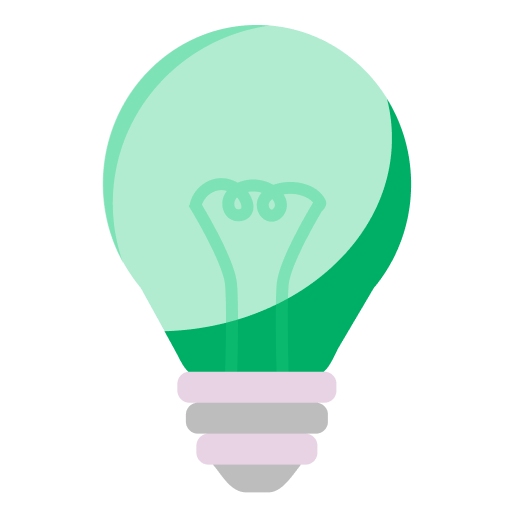 Activate
Monetize and make the most of your community by activating members and nudging them towards completing business goals relevant to the growth of your organization! Give your sponsors and partners incredible visibility within the community space.
Essential resources for the community manager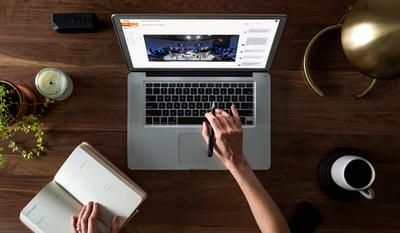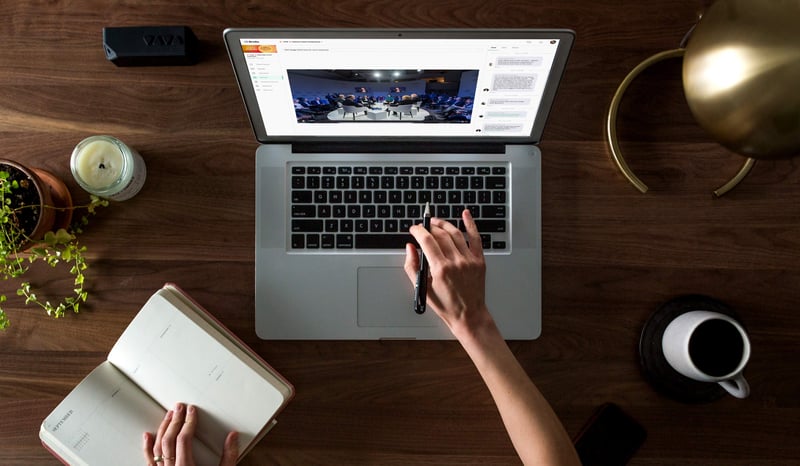 How do you start your own branded online community? Here are some fundamental best practices from community managers to community managers!
Blog