Editor's note: this post was originally published in August 2020 and updated in March 2022
Twice a year, Brella hosts a company-wide internal event dedicated to its employees: Brella Kickoff.
The purpose of this internal event is to nurture team bonding across Finland and the USA while fostering company growth in a laid-back environment where everybody can learn, cooperate and network with colleagues.

Brella Kickoff 2022 Winter Edition was hosted virtually, and in less than a month, the organizing team of four managed to plan and host an incredible virtual event where stellar results were achieved.
You can read the full Brella Kickoff's success story here, while in this article, we'll cover the 7 vital lessons we learned while planning the event.
To start things off, our 7 lessons are:
Now, let's take a close look at them!
1. Plan your event around your goals
Event organizers have a lot on their plate, and you need a thorough understanding of your event's goals before you even start planning.
In our case, organizing a company-wide internal event wasn't an easy task for a team of four. The entries in the to-do list were many, and each member of the team had to fit those tasks into their own already busy schedule.
It might sound overwhelming, but once the team had pinned down the #1 objective they wanted to achieve, all the rest fell into place.
The main goal of the Kickoff was to engage, motivate, and connect Brellaneers across Finland and the USA with an immersive virtual event.
This meant that plenty of networking time and team-building activities were a must alongside the main speaker sessions.
Plus, a successful internal event should always reflect the full spirit of the company in every detail. Thanks to Brella's customization features, the event team was able to inject Brella's soul into every aspect of the virtual event platform.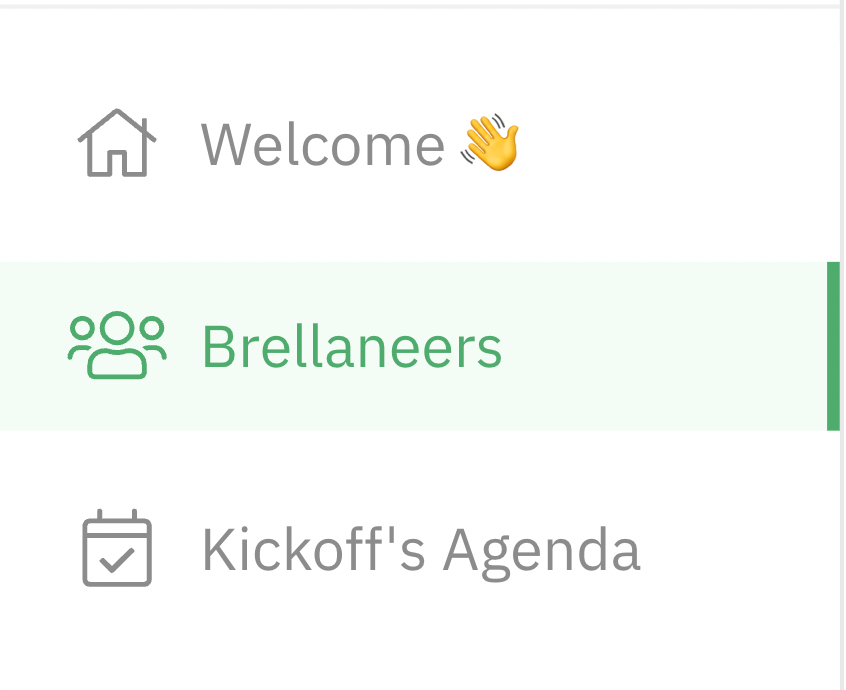 2. Choose the optimal streaming solution
At the heart of your virtual conference is your content, and this is why you need a virtual event platform that can deliver that content seamlessly to your audience.
Valentina Voronova, vetted Customer Success Manager at Brella, was part of the organizing team. After helping to bring several successful events to life (like Wolves Summit and Knowly), she knew that different types of content call for different streaming media and tools.
That's why the organizing team made the decision of hosting the info-packed content via live speaker sessions, while the more interactive activities (e.g. workshops, AMA sessions, and games) were held in Brella's breakout rooms.
In the search for a reliable streaming solution, the event team had to make a quick decision and opt for a ready-to-use tool for quality live streaming.
After considering different solutions, they opted for a combination of ReStream and YouTube.
"When you don't rely on a professional AV company, live streaming needs to be carefully planned and tested. Restream, YouTube, and Vimeo are great tools I warmly recommend," Valentina said.
Also, focus on improving communication between the event organizing team and keynote speakers. Onboard your speakers and sponsors to help them reach your audience, and invest enough time into proof-testing your tools.
That being said, when it comes to curating and distributing your content there's a lot of ground to cover. You can now read all our proven tactics on how to deliver engaging content right here.
3. Interactive is the name of the game

As explained in lesson #2, there's a delivery tool for every type of content, and the interactive parts of the event agenda were hosted in Brella's breakout rooms.
Engagement is 100% essential for your virtual event, it's what separates your event from an inspirational video on YouTube. And Brella breakout rooms proved to be an effective, versatile, and 100% customizable tool to foster attendee interaction virtually and in real-time.

All participants could access the breakout rooms in one click and have engaging interactions both with the speakers and amongst themselves thanks to the live chat and live reactions instantly visible to the speakers.
Breakout rooms were used to host AMA sessions, workshops, virtual team-building activities (like games, quizzes, and mobility sessions), and casual lunchbreak networking.
"Brella's breakout rooms helped us offer diverse and interactive content." - Valentina Voronova, CSM at Brella
When choosing your virtual event platform, make sure this offers a wide variety of audience engagement tools, from something as simple as a live chat to AI-powered matchmaking for intent-based networking.
4.

Say farewell to Zoom fatigue
Engaging content won't be effective if you keep your audience staring at a screen for several hours.
Any virtual conference - especially a company's internal event - must involve the audience and make them active participants.
The first thing the Kickoff organizing team did was to schedule regular short breaks between sessions.
Once the breaks were in place, the rest of the content was scheduled with deliberation, with longer speakers sessions in the morning, and more interactive and fun content later in the day.
Your attendees will be most curious and focused when they first join, so by scheduling info-packed live sessions in the morning you'll make sure they'll have enough energy to focus and retain new information.
Interactive content like networking, workshops, AMA sessions, and team-building activities are better scheduled later on.
5.

Have a strong event communication plan in place
At the earlier stages of the event planning, the Brella Kickoff organizing team planned a solid communication strategy in preparation for the event.
Pre-engagement is crucial, and the communication strategy was tailored to build momentum as Brella Kickoff approached (the messages were regularly posted in the company's Slack so that all employees could read them).
Moreover, attendee engagement before a virtual event differs compared to live events. As an attendee, it's better to register early for physical events. It gives you time to find the best deals for travel and accommodation, but with virtual events, there's no need to register early, unless attendance is limited.
With this in mind, the communication strategy served to make sure everyone would register for the event and join the platform in advance to start scheduling their 1:1 meetings.
Brella Kickoff 2022 scored an unbelievable 100% meeting acceptance rate, and the meeting slots run out faster than ever with 87% of meetings requested prior to the event.
6. Give clear instructions and direct your audience during the event
When you host a virtual conference, your virtual event platform becomes the venue and you must ensure your attendees and sponsors have a pleasant stay.
Brella Kickoff's agenda was filled with diverse kinds of sessions and activities, so the organizing team had to send consistent live reminders of where to head and what to do next.
For this, they leveraged Brella's push notifications. The live notifications were the most effective tool to make sure all participants received the important reminders and they would be updated in real-time if anything concerning the event agenda changed.
Plus, the organizing team was active in the live chats, moderating discussions but also providing instructions and reminders concerning the following session of the agenda.
7. Analyze and adjust
No matter if you're an events pro or an events novice, there's always something to learn with events, and event data & analytics is a goldmine for key insights on your event strategy.
At virtual events, everything can be measured. By analyzing all the data and networking metrics gathered on Brella during the event, the organizing team was able to assess their success and even better, put it into numbers.
On the other hand, they were able to pinpoint areas of improvement that will be crucial for the planning of the next Brella Kickoff happening later this year.
No matter if you plan a virtual, hybrid, or fully in-person event, event data is crucial for event organizers. For instance, the right event stats will enable you to plan better events for your audience and prove your ROI capabilities to sponsors. So, always opt for an event hosting platform that provides you with plenty.
Conclusion
Planning and hosting our own internal virtual event wasn't a walk in the park, but with the right strategy and hosting platform the whole event turned out to be a great success we can't wait to repeat!
Of course, we learned some valuable lessons along the way, and these are:
We hope this article was useful and that our 7 lessons will help you plan your next phenomenal virtual event!
Remember, virtual events entirely rely on your event hosting platform. We've gathered all the essential features a competitive event hosting platform must have in 2022 and everything about planning a successful virtual event in our latest Conference Organizer's Handbook.
You can download your free copy here.
And whether you're about to plan a virtual, hybrid, or in-person event, we at Brella are eager to help you succeed. Book a free consultation with our event experts today!