We recently hosted our own event – Virtual Shake-Up 2020. The results astounded us: +1,600 digital leaders and event professionals took part and booked a ton of meetings on our own virtual event platform.
As well, we had a full day of sessions with 12 incredible speakers, discussing all aspects of virtual events and how to succeed in the new digital age.
After taking some time to process (and relax), we realized that there were a lot of things we learned. And maybe, these tips could help anyone planning their own virtual event.
Before we begin, I'd like to thank our partners in this event: H2K Partners and event.video. Their expertise in virtual event strategy and virtual event production were invaluable.
They shared many insights during our fireside chats, and you'll find links to all the sessions in this article.
Here's the shortlist of tips:
Set the goal early
Ramp up the marketing the closer you get to your event
Spread out your virtual event whenever possible
Include lots of interactivity for your audience
Prep your speakers and sponsors to help them have a better experience
Set expectations with your audience and be honest
Do your opening and closing sessions live
Don't stop the noise once your event ends
Analyze, analyze, analyze
Treat it as an iterative process
Let's get started!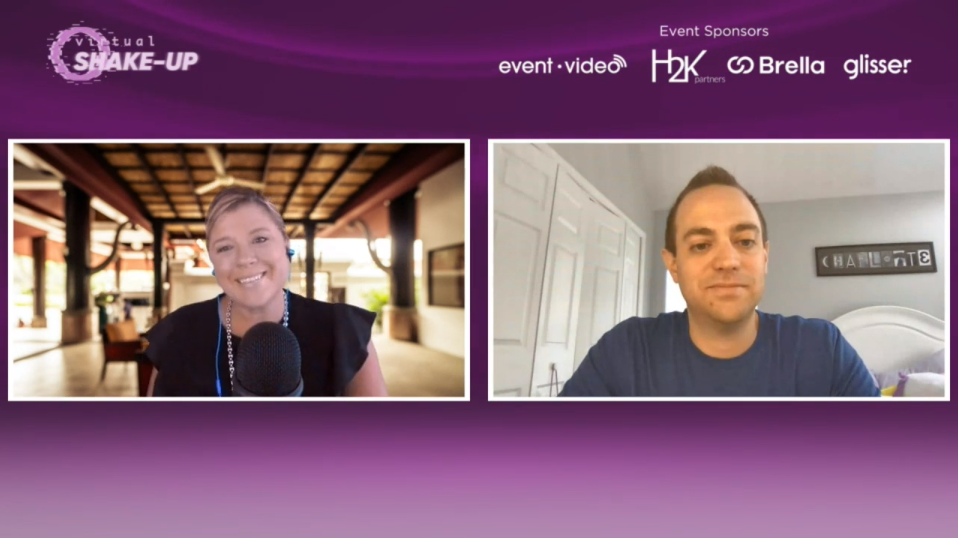 Peter Bordes from CoinDesk started our first session of the day, discussing how they provided an incredible experience to over 22,000 attendees at

Consensus: Distributed

. Watch the full video here >
1. Set the goal early
You really need a thorough understanding about your event.
I was brought in just after we decided to plan and host a virtual event, but just before we had really narrowed down what our goal and angle was.
And that was perhaps one of the more stressful times, as the clock was ticking and we weren't getting anywhere.
However, once we narrowed down our focus and our goal, everything else fell into place.
2. Ramp up marketing the closer you get to your event
Attendee engagement before a virtual event differs compared to live events.
As an attendee, it's better to register early for physical events. It gives you time to find the best deals for travel and accommodation.
But with virtual events, there's no need to register early, unless attendance is limited.
Instead of getting a critical mass of attendees well before your event, virtual events find many sign ups happen a few days before the event.
When there are no flight tickets to book, no hotels to call, and no other plans to make, you may not want to commit to a virtual event 6 months in advance.
However, if you see a virtual event happening soon, and it sounds interesting, then it's simple to register then and there.
Many of our sign ups came during the last few days of the event – and we had a big surge during the last 30 minutes.
So keep the messaging strong to attract as many sign ups as possible.
And whenever possible, use paid campaigns to reach new audiences. Don't rely on your own network, as it's 100% worth paying to get in front of a new audience.
Your registrants need reminders too. Crafting a solid event communications plan ensures your potential audience and registrants don't miss a single key message.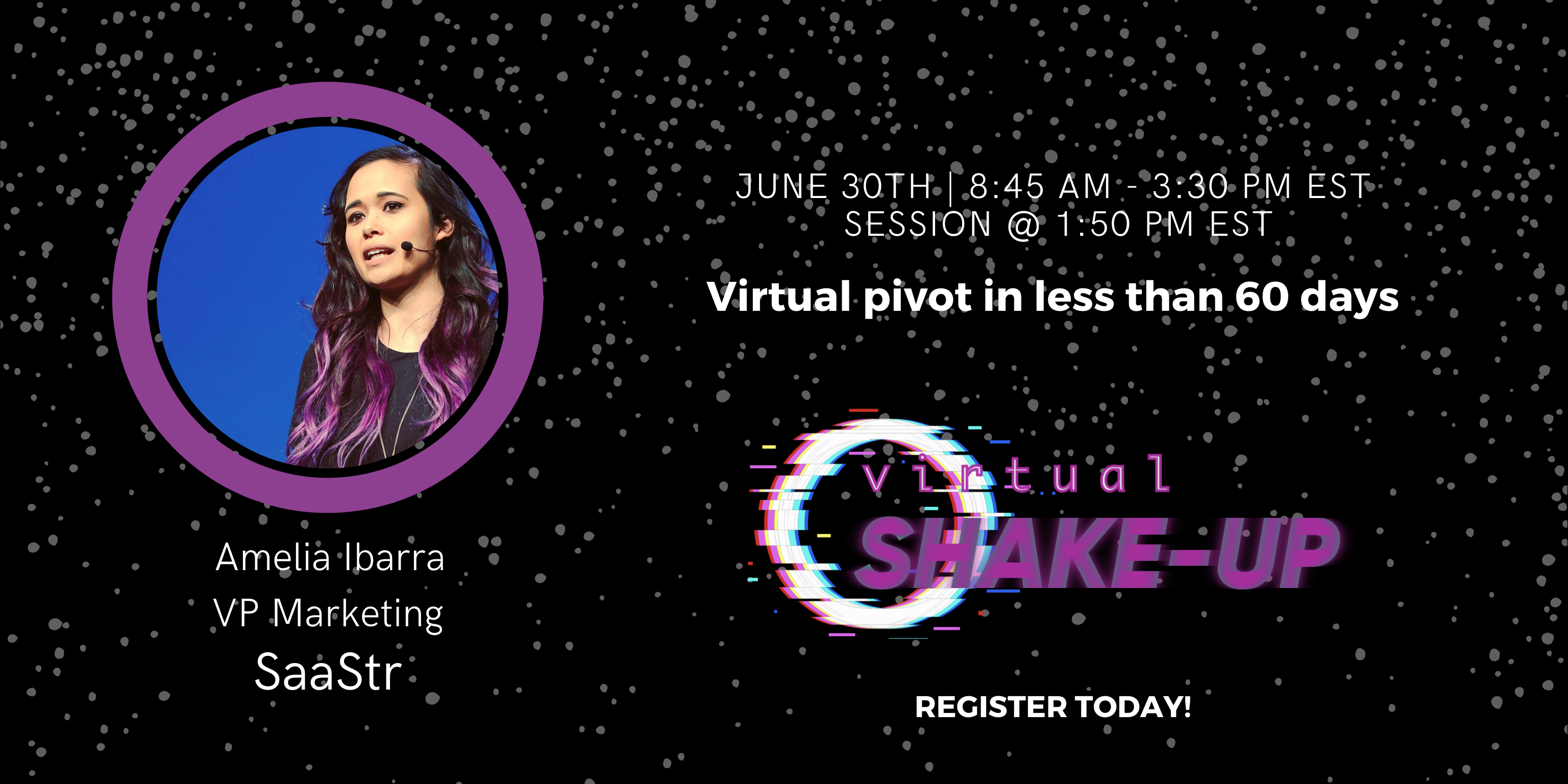 Here's an example image we used to promote our sessions on Twitter. Amelia Ibarra from SaaStr had some great tips for all organizers who need to pivot quickly to virtual. Watch the full video here >
3. Spread out your virtual event sessions
Whenever possible, spread the content of your virtual event over several days.
At a physical event, you're better served packing as much as you can into a short period of time. It's more cost-efficient, as most likely there are travel costs, etc. involved which get higher the longer the event.
However, the opposite is true for virtual events.
You place a heavy tax on attendee engagement and attention by cramming everything into one day - and these are two resources you need to manage carefully.
When you offer up your event in more manageable bites, you give them an experience that makes them say wow.
For our next event, we're definitely going to split our content across different days, and offer more networking breaks.
This lets attendees participate on their schedule, not ours.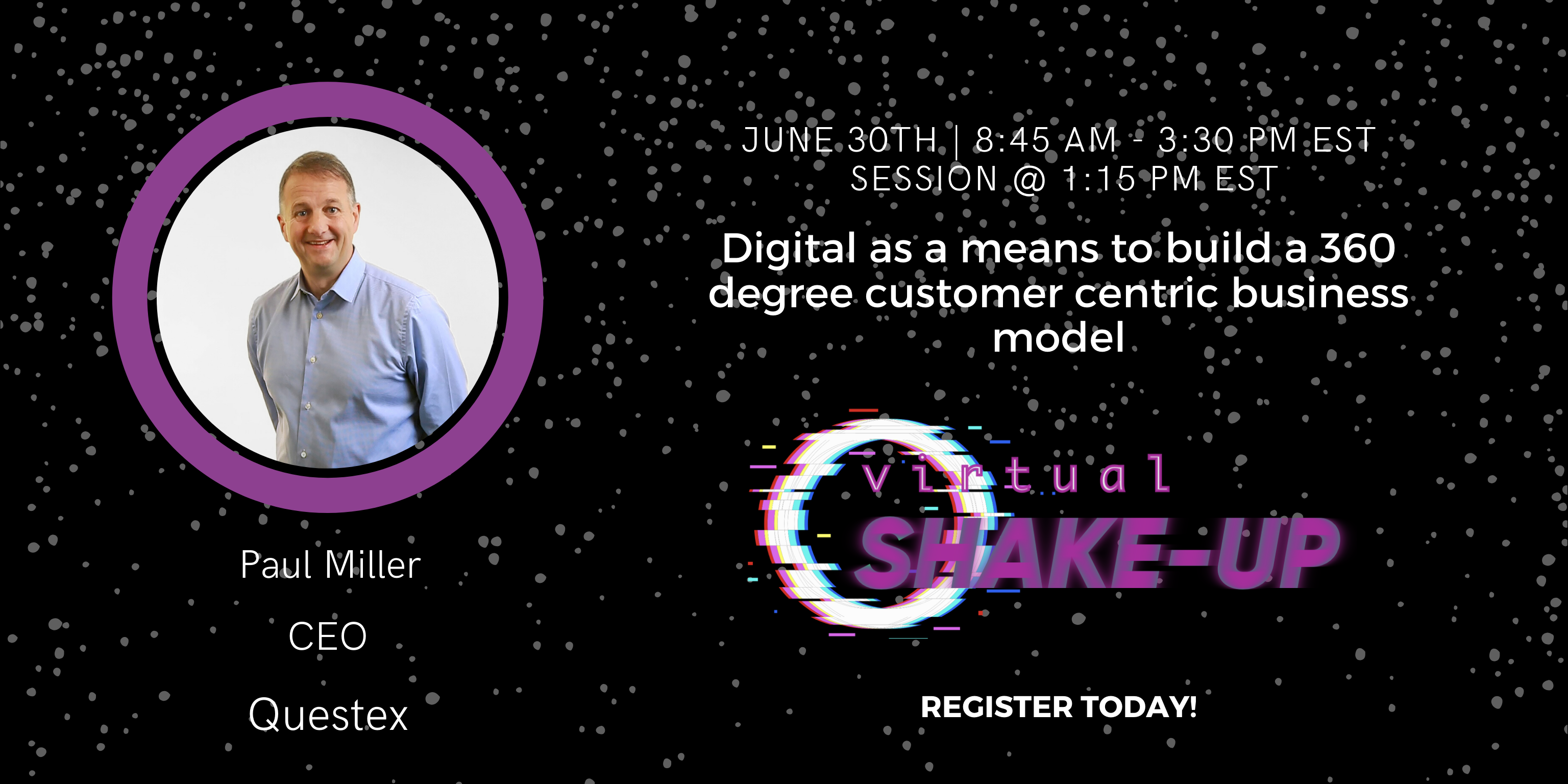 Going virtual opens up great opportunities to truly understand your customer and put them at the heart of everything you do. Listen to Paul Miller's excellent insights here >
4. Include lots of interactivity for your audience
Engagement is 100% essential for a virtual event. It's what separates your event from an inspirational video on YouTube.
We interact and engage with others online all the time. Think of retweeting a quip from your favorite celebrity, or commenting on your friend's most recent photo. Or adding your thoughts in a live chat feed during a livestream.
Your virtual event is no different. Your audience expects the same level of online engagement they get elsewhere.
And if your event isn't interesting or engaging, your audience find something else that is.
So make sure you have engagement features, even if it's as simple as live chat during sessions!
Here's what we used at our event:
Live polling to collect information during the session, which we then discussed and dissected in real-time
QnA for audience to ask questions to the speakers
Live chat so the audience could share their thoughts and opinions
Networking throughout the event to ensure relevant meetings & connections
This is, in my opinion, the bare minimum for a worthwhile virtual event.
Your attendees have opinions and expect to be heard - so let them talk.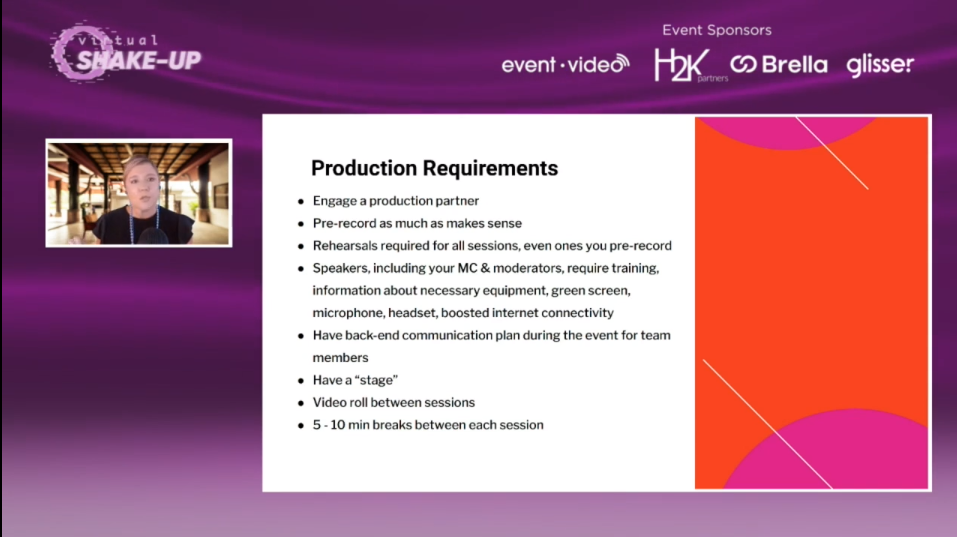 Heather Holst-Knudsen from H2K Partners discusses relevant production requirements for a virtual event.

Watch the full video here >
5. Prep your speakers and sponsors to help them have a better experience
Not all speakers and sponsors understand the best practices for presenting and making the most of a virtual event.
They'll appreciate onboarding to prepare beforehand.
This depends on your event, but it helps to answer the basic questions:
How can they join their session?
Do they have time to rehearse beforehand?
What are the best practices for presenting online?
We created a virtual event production kit that includes suggestions on how to onboard your speakers and sponsors – download it here.
A short aside: if you hire a production company, ask if they do speaker onboarding. They can provide technical requirements and recommendations to your speakers, plus solve common troubleshooting issues.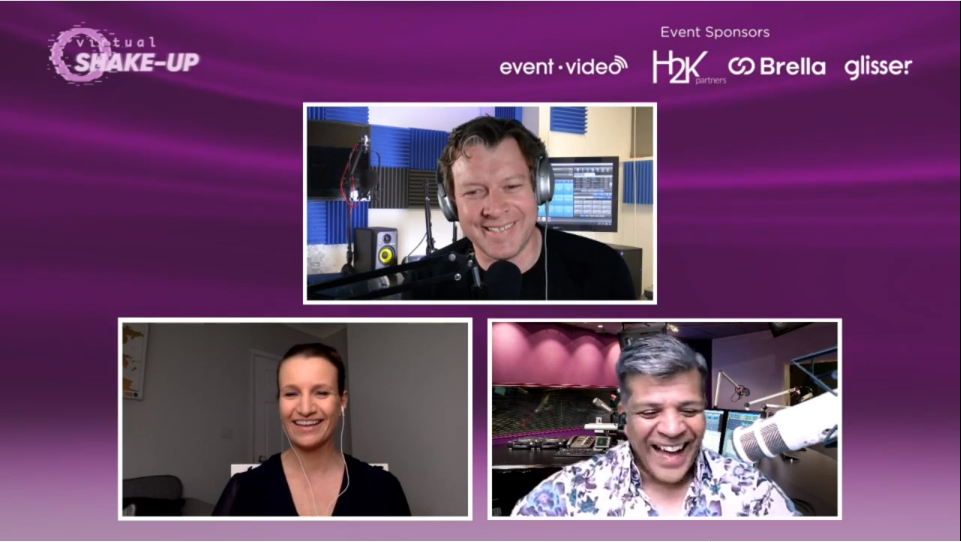 Virtual events are fun! Here Lynsey Hooper, Sam Sethi and Ralph Cochrane (top) share a laugh as they discuss the 'secret sauce' of virtual events. Watch the full video to hear their discussion >
6. Set expectations with your audience and be honest
We pre-recorded our first session to save us a lot of time, and we could then focus on damage control (if needed) instead of being tied up in a discussion.
However, our attendees weren't aware of this.
Now, this isn't a necessity. You don't need to explain whether a session is pre-recorded or live in every case.
And pre-recording sessions can save you a lot of headache on the event day.
However, many audience members asked a lot of questions and we couldn't answer them in the video (naturally).
It was a trade-off. It would have been excellent to answer questions at the start, but we decided it was more valuable to pre-record our opening session and answer questions in the chat.
Next time, we'll be more up front and set expectations for our audience, so there are as few misunderstandings as possible.
Remember that digital media is a two-way street. We're all used to instant feedback and sharing our opinion, and we want to be heard.
And in line with this one…
7. Try to do your introductions and exits live
Pre-recording your introductory and closing bits are great ways to save time. However, the first and last sessions can be the most vital parts of your event.
By being live and bringing the energy to your audience, you can set the tone and the scene.
Attendees will be most curious when they first join, so by being live, you can react to attendee questions and make them feel a part of the experience.
Plus, it's difficult to create an effective closing segment before the event ends!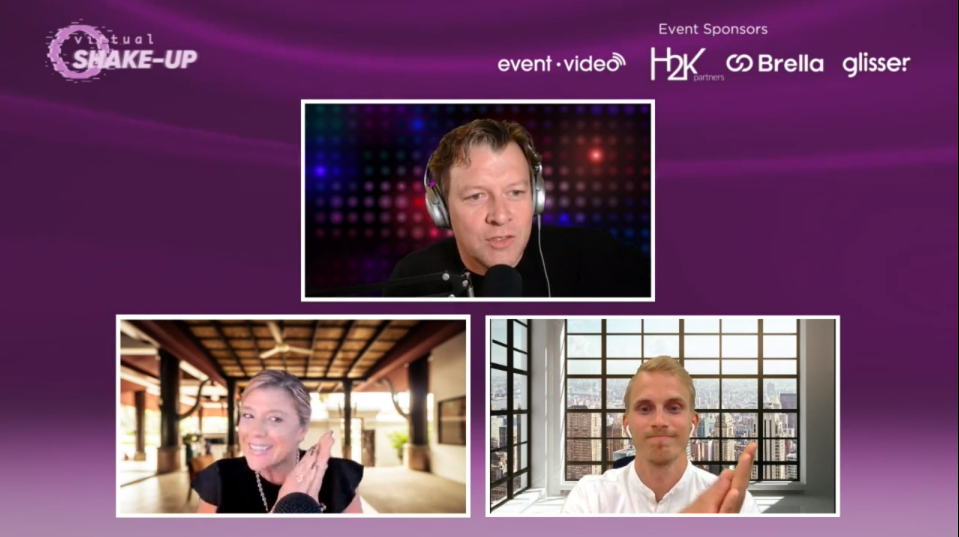 We were blown away by the turnout and results. Thank you to everyone who participated!

Watch the event wrap-up here >
8. Don't stop the noise after your event ends
You have some valuable content prepared for your event – don't let it go to waste!
You can drive a lot of traffic by sharing the videos, slides, etc. while they're still fresh in your participants' minds.
It's also great to drive more traffic to your webpages and increase your reach by sharing your content (and encouraging your sponsors and speakers to share their own event-related content).
By creating an effective event communications plan, you can make the most of this opportunity.
Narisa Wild, SVP of Digital for

Informa Markets

, explains how they create ongoing experiences online. Watch her session here >
9. Analyze, analyze, analyze
Those of you who live and die by the data will love virtual events.
For example, now you can understand who took part in each session and understand who did what at your event.
It's difficult to learn these actual numbers at physical events, but virtual events make it easy – everything is online, which means everything can be measured.
Here are some interesting stats from our own event.
The top 3 sought-after jobs were related to:
Event Strategy Consultants
Event Operations
Event Logistics
The most popular solutions attendees looked for were:
Virtual event solutions - 49.1%
Hybrid event solutions - 31.8%
Community (365) solutions - 11.5%
On-site event services - 7.6%
And what were the most popular topics for discussion?
Virtual event production (15%)
Event operations (11.38%)
Sponsorship sales (10.15%)
Marketing & branding (9.46%)
Content creation (8.85%)
Event logistics (7.38%)
(By the way, all this data is available in Brella.)

Hans-Peter Siefen's session is a must-watch for anyone creating virtual events for an executive-level audience.

Watch the full video here >
10. Treat this as an iterative experience
No matter if you're an events pro or an events novice (like me), there's always something to learn with events.
And that goes double for virtual events.
It's nerve-wracking when there are so many things outside your control – but to watch it come together in one satisfying piece is outstanding.
And, I strongly believe that gaining experience in online events and the tools needed is essential for the future of the industry.
After all, the widespread adoption of virtual tools at events means more and more attendees will come to expect these options.
The need for digital skills isn't going away, especially in events – so learn them now, while there's still ample opportunity.
Virtual events also can help your business, like through:
Drastically increased reach
Relevant metrics & data
Expanding personalization options for consumers
And more.
And now is the best time to host virtual events. It's not as scary as you might think.
We at Brella are here to make your foray into virtual a breeze.
We just released a virtual event production kit
.
Inside you'll find useful templates for prepping your speakers & sponsors, and aligning your messaging across different channels.
And if you'd like to reach out for more information, you can
and we'll contact you as soon as we're able.