How do you choose the right home for your online community?
In our previous blog post, we answered the top 5 questions on how to start your own online community. Now, it's time to take the next step and find the best online space for it.
But first, let's start with a fundamental distinction.
What's the difference between social and owned community platforms?
Social community platforms are third-party virtual spaces that provide community-like features. These are for instance:
Owned community platforms, on the other hand, are under the complete ownership of a business or organization. The community owners (aka you) will build the community from scratch and have full control over the way the space is managed.
So, here comes the question: social vs. owned, which platform is right for my business?
We interviewed a group of community professionals, and one thing they stressed was the importance of building your community around your company's goals.

"Before starting an online community, I identify the audience, connect with stakeholders and define the purpose and goal," says Steven Demoya, Community Manager at Wix.com.

"Additionally, I make sure the community's purpose aligns with the company's vision."


"I make sure the community's purpose aligns with the company's vision." - Steven Demoya, Community Manager at Wix.com
Your community platform isn't an exception.

If your goal is to simply start a meaningful conversation around a topic of importance with like-minded people, a social community platform can do.

On the other hand, if your goals are to boost customer retention, maximize revenue, establish your brand as a thought leader by attracting selected members with plenty of valuable content and exclusive opportunities (advanced networking capabilities, events, mentorship programs, to name a few) and turn them into brand advocates, investing in your own community platform will be the best choice for you.
Now, onto the next big question!
What are the pros and cons of a social vs. an owned online community platform?
In short:
Social community platforms
✅ Pros
❌ Cons
Owned community platforms
✅ Pros
❌ Cons

Let's take a closer look at them. And if you want to learn many more top tips and repeatable strategies from community managers, for community managers, don't forget to download your free copy of our Community Guide!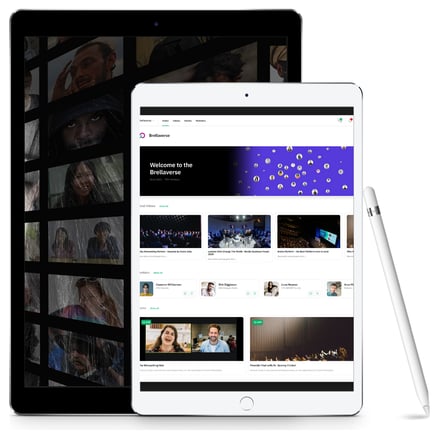 The pros and cons of a
social

online community platform

There are plenty of ready-to-use solutions on the web, which makes it easy to start your community on a social platform. All the more, if you can leverage your company's social media profile and launch your community in the same space.

Social media platforms are the promised land for free online communities, with Facebook alone counting over 1.8 billion users of Facebook Groups in 2020.

However, social media and online communities are not one and the same.

It's true, like-minded people can create groups and connect easily on social media. But while some social media platforms can work as communities, this is not their main function nor what they're built for.

We'll talk more about this limitation in the cons section of social communities, but before we get there, let's take a look at the brighter side of the coin.

Here are all the benefits of choosing a social community platform for your online community!
✅ Easy to build
First things first, it takes very little effort to build your community on a social platform.

In a few clicks, you can design your space and have the community ready within the hour. Plus, if you launch your community on a social media platform, it will be easier to market directly to all of your existing followers.

Also, social media comes with a global in-built audience, and this leads us to the next pro!
✅ Increased brand awareness
If your goal is to boost brand awareness, a social community platform might be the answer.

With a third-party community, especially social media, you'll have immediate access to possibly millions of users (although this can be a downside too, as we'll see later).
And when everything that stands between a regular user and becoming a community member is the click of a button, anybody can join with no second thoughts.
✅ Practical way to test the waters for your owned community platform
"I firmly believe that a community needs a purpose to be successful and that purpose needs to be understood by the members as well as the organization (or group or person) starting that community," says Kelly Schott, Manager of Community Programs at Pragmatic Institute.

What is the purpose of your community?

Is it to bolster your business, or to gather like-minded people around a common cause or interest? If your goal is the latter, relying on a social community platform will be the best choice for you.
On the other hand, if your ultimate goal is to launch your own branded community but you want to get a better understanding of your audience and what resonates with them, social community platforms are a practical way to achieve that.
Our Community Guide features the contribution of Emmanuel Nyame, Community Manager at United Nations Foundation.
Emmanuel has managed several communities during the past 12 years and he couldn't stress enough the importance of interacting with your audience to define what are their expectations and give them exactly what they want.
"Once you understand the wants and needs of each member, everything else falls into place." - Emmanuel Nyame
All in all, social community platforms are a low-effort and effective tool to boost brand awareness and assess your target audience.

However, third-party platforms like social media often lack all the crucial elements that make for a thriving online community.

These are the main cons of a social community platform:
❌ Less customer loyalty and tough competition
Social community platforms can be great for boosting brand awareness. Yet, the amount of members you gather doesn't tell the whole story.

Becoming a member on a social community platform is easy, at times all it takes is to click one single join button. The downside is that, if members are not truly committed to the community, they won't be very loyal nor particularly active.
And speaking of member engagement, social community platforms don't usually come with advanced admin tools. This means it will be hard for you to moderate discussions and stir them in the right direction, which will negatively affect the quality of your content.

And unfortunately, there's more!

Social media's in-built audience is a double-edged sword. The volume of users who can potentially become members is alluring, but on the other hand, prepare to face some tough competition.
In 2021, Facebook alone was home to more than 10 million groups, and even though joining one it's easier than ever, how many similar communities can your target audience subscribe to and engage with?
❌ Lots of distractions and noise
Social media platforms are crowded places where users get instantly inundated with all types of content, ads, and notifications.
Your community can easily get lost in the noise, and sadly, you won't have much control over the way you communicate with your audience.
Plus, on third-party platforms like social media, the algorithm dictates the rules and you can't decide what your members will be shown on their social media feed.

And your community's feed can be quite chaotic too. Hashtags can help you sort content to a certain extent, but they won't replace the structure and order of an owned community platform (more of this later).
❌ No control and severe lack of branding
When you rely on a third-party community you must completely surrender your decision-making power and data ownership.
Third-party platforms come with their own rules, and these can change extremely fast. If you don't conform, you risk losing your community and all of your hard work will be destroyed.
This doesn't sound like an ideal situation, now, does it? And when you don't own the data it will be close to impossible to measure crucial metrics like ROI and customer retention.
Also, as they're so easy to join, social community platforms are an inviting space for spammers and bots. If you don't deal with spam in a timely manner, it can seriously undermine your credibility and image.
The pros and cons of an
owned

online community platform

Owned community platforms are exclusive spaces to gather, inspire, engage, and retain your audience.

If done right, your owned community will give you a tremendous competitive advantage. So, let's dive into the major pros of an owned community platform:
✅ Your brand in the spotlight
With an owned community platform, you have 100% control over how you communicate with your audience.
Your members join because they love your brand (as we clearly see in the case of Supreme), and with the right platform, you can recreate exactly the experience they crave.
We're not only talking about advanced customization features, those barely scratch the surface.
A fully owned community platform will give you all the tools you need to curate and distribute the right content, facilitate meaningful connections, and deliver tons of other unique opportunities (tailored events, webinars, virtual roundtables, and much more).
✅ Massive engagement and quality content
Members of a branded community come for a fully immersive experience (check how Atlassian succeeds in engaging its 4M+ members 24/7).

They want to be inspired, build relationships with other members and have meaningful conversations around your brand and/or product. They are committed to learning and sharing, and they will be both avid content consumers and creators.

This engagement is the heart of your community. "Make sure that your community doesn't become boring," Emmanuel Nyame states.


✅ Total control in an exclusive space
In your own community, you dictate the rules and you own the data. It's as simple as that.

You decide what your audience can see and do, and when. You create the guidelines, and you decide what types of permission your members will have.
Extra bonus points? You'll have all the admin tools you need to make your online space safe and inspiring. And according to your platform of choice, you'll have access to many more tools to take your community experience up a notch.

Only think about AI-powered matchmaking to boost meaningful connections, virtual roundtables, event hosting, and fully-customizable ticketing features to name a few.

That being said, starting your own branded online community isn't easy, and there are some major challenges you'll have to tackle along the way.

Here they are!
❌ Hard to build
Building your community from scratch will require a lot of work.

It can take weeks before the community is ready, and as owned community platforms don't come with an in-built audience, you'll have some solid marketing to do.

To leverage the full power of an owned community platform, you'll need more structure and a deep understanding of your audience. After all, why would members join if they don't get their money's worth?

You must provide high-level interaction, relevant content, advanced networking capabilities, and immersive events (whether virtual or in-person).
❌ Need for a reliable platform
Building your own community from scratch requires lots of work, and your community platform can either turn into an asset or a headache.
Most solutions on the market are specifically designed to promote content production - understandably so - as content is one of the major pillars upon which a solid community is built.

However, thriving communities are much more than just content, and your platform of choice should be designed to facilitate meaningful connections and ultimately achieve self-sustaining engagement.
❌ Not good for lead generation
Owned community platforms are the key to continuous engagement and member retention.
Members join because they're familiar with your brand and a successful community will work wonders for their loyalty.

On the other hand, if the goal is new leads acquisition for your business, your owned community platform alone won't do much without a robust lead generation strategy in place.

So, once your community is up and running, you'll have to promote it in order to drive more registrations. For this, social media is still a valuable channel that will help you reach new potential members from your followers base and beyond.
Conclusion
When starting your own online community you have a choice to make: opt for a social vs. an owned community platform.

In this article, we analyzed the main pros and cons of both, but whichever solution you opt for, managing a thriving online community will still require lots of strategy and structure.
To help you succeed, we've gathered all the top tips and best practices from experienced community managers who've done that and achieved phenomenal results.

You can now read them all in our free Community Guide, so don't forget to download your copy!