That means that while the interest may be there, they may need a decision from someone higher up to take the time from work or fund their travel.
As well, The Experience Institute found only 22% of attendees always attend events whenever they can. 46% of attendees attend an event either once every 2-5 years or 6-10 years.
We've gathered 4 tips to help you, but let's define the different age generations before we begin.*
Millennials: born 1980-2000 (Age 19-39)
Gen Xers: born 1965-1979 (Age 40-54)
Boomers: born 1946-1964 (Age 55-73)
*These are the age definitions used in TEI Decision to Attend Study #2
1. Learn what your attendees want
If you want your attendees to show up, you need to provide what they want.
Two simple, low-cost ways to learn about your attendees are to:
Determine their online habits (website analytics)
Ask them directly (survey tools)
Website analytics
Google Analytics is the gold standard for a free analytics tool. It can give you incredible insight into your event website, but it takes time to learn how to make the most of the platform.
However, it gives you great info on who is coming to your site, where they enter and leave, and how long they stay.

The different options available on Google Analytics for analyzing your event website traffic.
But to determine how attendees find your site in the first place, search engine optimization (SEO) tools are essential.
Moz or SEMRush show you which keywords your attendees use online and your site visibility, which means how visible you are on Google.
They also have great keyword research tools, and can even recommend related keywords.

Look for keywords with high organic CTR (clickthrough rate) and high priority.
Finally, to understand how attendees navigate your event website, try Hotjar. It shows you heatmaps of your site, conversion funnels to show how many visitors bought tickets, and can even offer quick surveys to attendees.
Survey tools
Speaking of offering surveys, try SurveyMonkey or SurveySparrow to send surveys to your attendees and easily analyze the results.
And don't be shy - your attendees are willing to give feedback, as long as it's simple to do so.
87% say they would give feedback on the conference if it was quick and easy. So when you're asking for event feedback, less is more.
2. Select the right destination
The destination makes or breaks the decision to attend for 26% of attendees. For the rest, it plays only a partial role or no or role at all.
While you can't account for everyone's personal preferences, by knowing your attendees, you can choose a location that's:
accessible, and
desirable.
Accessible
An accessible destination is essential. Out of 9 important destination factors, some factors were:
Transportation options (89%)
Wayfinding/ease of getting around (86%)
Easy access to local information (69%)
Attendees already take valuable time from their schedules to attend, so it's vital that you make it as easy as possible for them to reach their destination.
Some tactics include:
Offer an 'Accessibility' page on your event website
Link to public transport schedules and information
Include comprehensive directions from airports and hotels
Desirable
Keep your eye out for destinations that are reinventing themselves to improve the destination experience. 71% of attendees reported that it's important that the destination is working on making the overall experience more positive.
BizBash is a great source to stay up-to-date on the hottest destinations, trends and venues. They also have a large collection of local destinations and venues to browse.
As well, more than 50% of attendees want to extend their stay and turn their trip into a vacation. And for those who don't have the time for 'bleisure', they still want opportunities to explore the destination city.
3. Provide material to convince supervisors
As mentioned above, 50% of Millennials need permission from a supervisor to attend your event. They're also the largest generation in the US labor force, meaning they are one demographic you don't want to ignore.
Confab, the premier event for content strategy, does an excellent job of helping would-be attendees convince their boss. They dedicate a whole page to proving the value of Confab to decision makers.
Confab Events keeps their page focused on benefits and results to prove the value of their event.
This benefits other generations too - 20% of Gen Xers and 13% of Boomers appreciate material like this.
So how can you add this to your own event? The easiest case is to brainstorm questions or problems your attendees - and their organizations - could have that relate to your event. Then answer them!
Remember that these attendees will need to take knowledge back to their organization, so stick to tangible benefits, numbers and knowledge. It will save your potential attendees a lot of work.
4. Highlight and promote opportunities for social interactions
84% of Millennials, 80% of Gen Xers and 75% of Boomers rank networking at events as important or very important.
As well, 75% of attendees rate opportunities for social interactions as important or very important.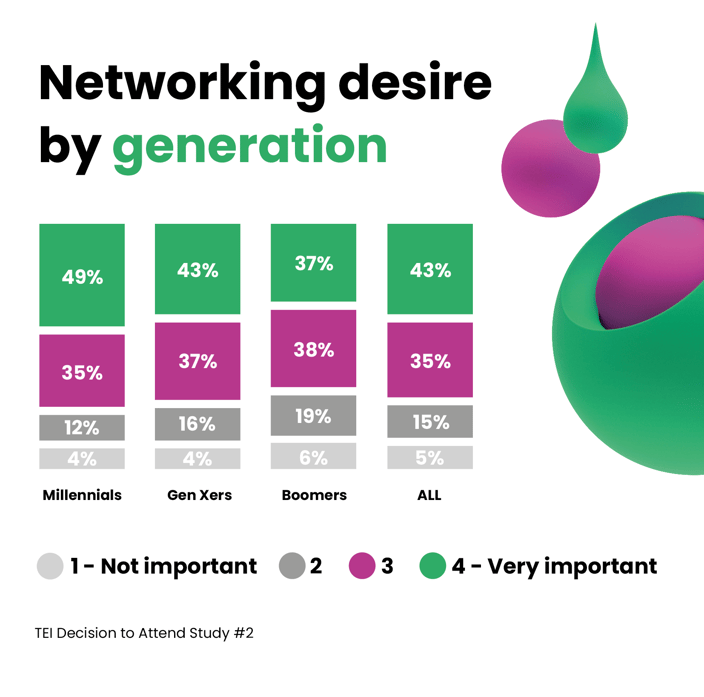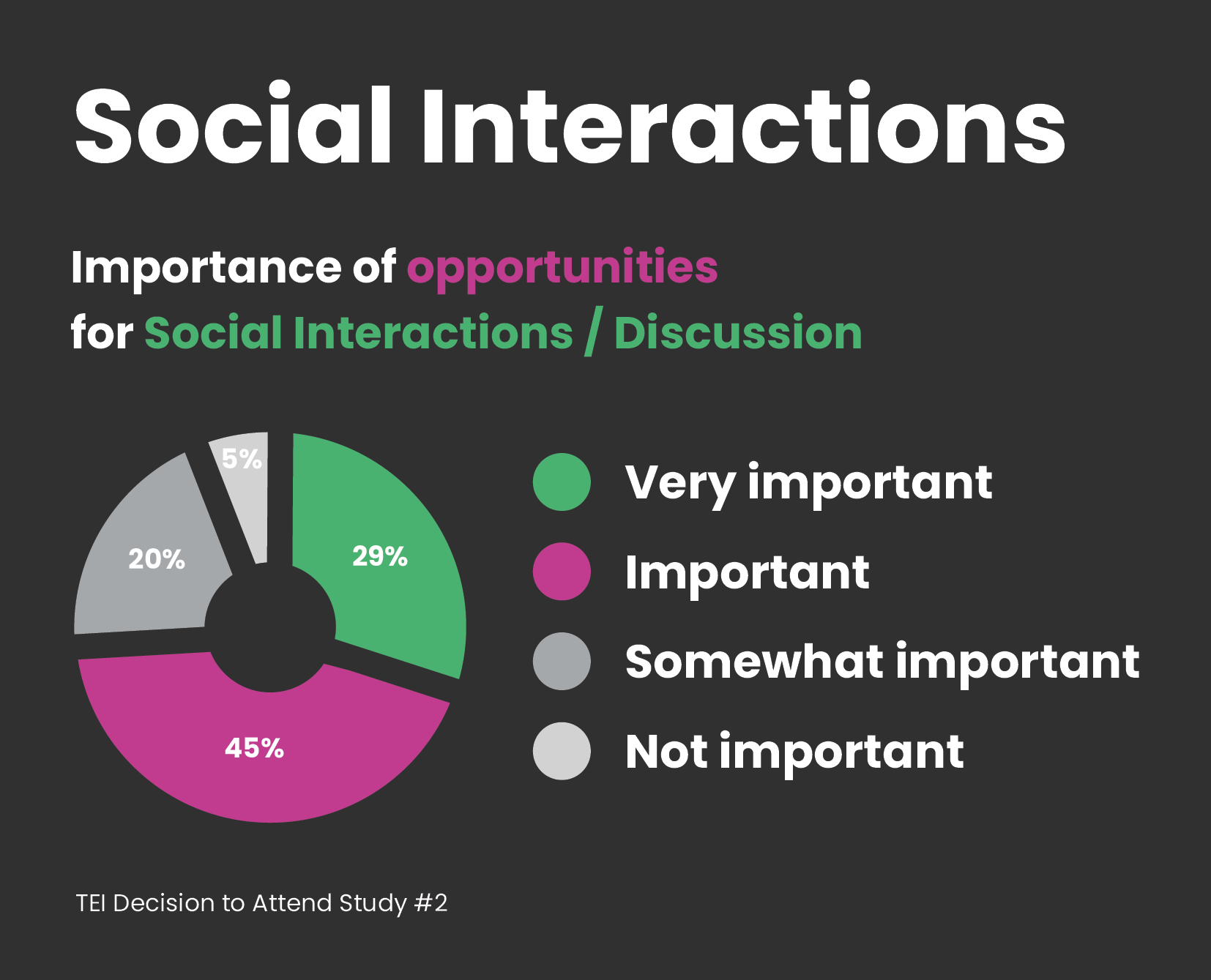 To learn more about our event networking solution,
TechCrunch, a media company focused on the tech industry (and one of our clients), runs Disrupt events worldwide, connecting startups and investors together.
What makes or breaks the next unicorn can be one right connection, so they take great pains to highlight the effective networking opportunities on their website and through blog posts.
Another great example is LendIt USA (also our client), one of the leading fintech events. They know their attendees expect quality networking opportunities, so they highlight the different networking options on their website.

LendIt's networking section starts off with a powerful title and clear navigation.
They also highlight the benefits of each section in a succinct way.

Recap
Here's what we went over:
Learn about your attendees
Select the right destination
Provide material to convince decision-makers
Highlight and promote opportunities for social interactions
The most important thing to remember is to make things easier for your attendees.
From making new connections to getting to the venue easily, a simple event journey is the best event journey.
For more reading, check our latest infographic. It tells you how to
Editor's note: This article was originally published on March 18, 2018. It was updated October 17, 2019.