Hi everyone, my name is Saara! 😊
I know many of you wonder what life at Brella is really like, and hopefully I can answer your questions.
If you haven't already, my amazing colleague Jenni wrote about her experiences as our Technical Support Lead last month - give it a read.
Let's get started!
Could you tell us about yourself and what you do at Brella?
I'm Saara, and I am a newly promoted Team Lead of the wonderful New Sales Team here at Brella. We are a team of 7 helping our customers with their search for the right event platform for them! I have had the privilege to be working here almost a year to this date and have loved every second.
Outside of work, I have recently started running! I ran my first half marathon a month ago with other Brellaneers and got super into it. I found myself signing up to a marathon school the next morning after my first race. Running allows me to free my mind and somehow it gives me an avenue to organise my thoughts.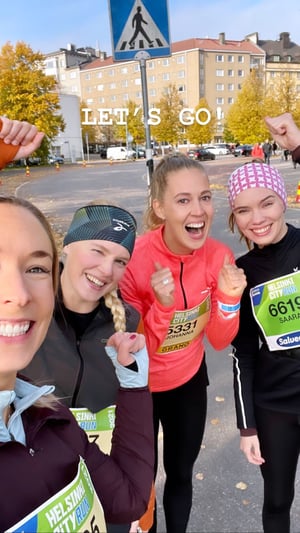 Myself and some other brave Brellaneers before the Helsinki City Marathon 🏃‍♀️
I spent my youth competing in figure skating so competitiveness and goal setting is in my blood. The plan is to complete another half marathon in the early part of 2022, hopefully under the Spanish sun & hitting my set time goal!
Tell me about what a typical work day looks like for you at Brella?
My day normally consists of conversations with my team, either individually or all together. These moments are extremely valuable to connect with my colleagues, spar about existing cases and share experiences and feelings. I also dedicate time to selling which means talking to new prospects, continuing with the existing cases either via email or by Zoom, reaching out to new contacts and contracting - all of which I love. Conversations with our clients are so insightful and the best feeling is when we can really help a prospect with their challenge.
As a team lead I also participate in Brella's Commercial Head function, which consists of all the other function heads from our commercial teams. In our meetings we plan OKRs, analyze results and spar about challenges, always with the goal of finding solutions for them as a team and keeping the company's growth and success in mind. This has been something very new to me and plenty of learning is still ahead which is very exciting for me!
As our product continues to develop fast, I also dedicate time to keep myself up to speed with everything so that I can convey the new and updated features to clients with value and adapt them to their requirements.
How did you end up working as Team Lead of our New Sales team?
My background is in hospitality and event sales. After my studies in Switzerland, I had the opportunity to live in London for 5 years working in beautiful hotels selling in-person event spaces to clients. Unfortunately Covid happened and the physical events industry took a huge hit - bookings got cancelled and event spaces were completely empty.
I used this opportunity to move back to Finland to be closer to my family and landed a job at Brella as an Account Executive - a dream job! I got to continue working in the industry with the same clientele. But also this gave me the opportunity to experience what it is to work in a growth company and with tech. Fascinating I must say! The biggest challenge for me at first was definitely the fact that our product develops almost daily. I was used to selling event spaces that had been the same for 100+ years.
I recently got promoted to lead our amazing New Sales team, and I am so excited for the future challenges! This has always been a professional goal of mine and I am so thankful for Brella for giving me this opportunity. Now it is all about learning the ropes of the new responsibilities, being there for my team and together helping our clients to succeed with other functions involved.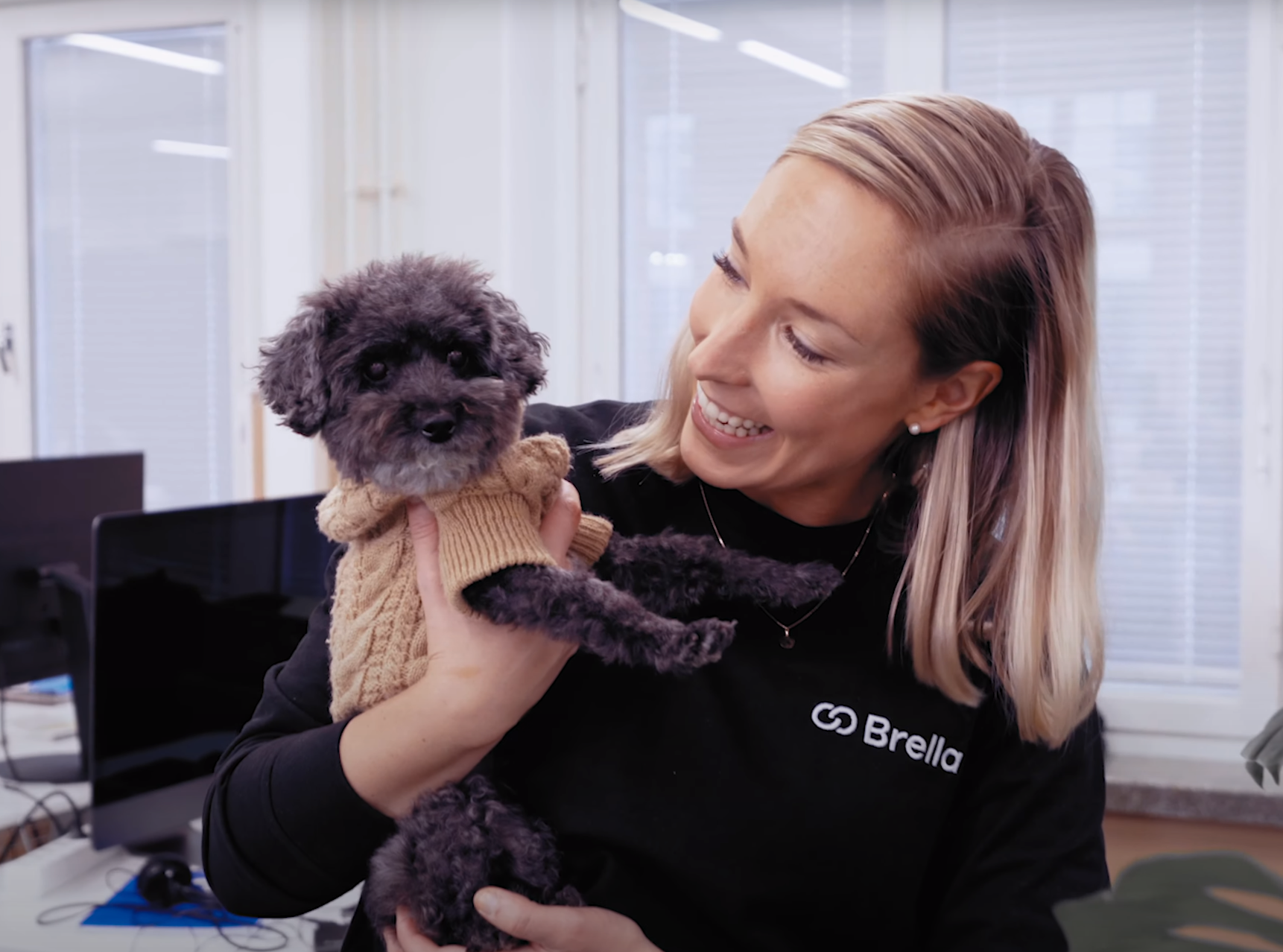 Did you know that we are an extremely pet-friendly organization? 🐶🐱🐹
What are the most rewarding and challenging things about your work?
I most enjoy seeing my colleagues succeed, whether it's nailing a negotiation, finding the best way of communicating a new feature to our customers, or helping our customers achieve their set goals. It is very powerful to see someone be proud of themselves and satisfied with the work they have done. I myself also love the feeling that I have managed to help my clients to the best of my abilities - that is our team's utmost goal!
New sales can sometimes be raw and a little intimidating. You get a lot of no's from customers, but the yeses make all the work so worth it! It is so important to know yourself, remain calm and collective.
The event industry is very busy, things are moving fast and especially now when Covid restrictions are still changing, it is important that we are there for our clients. Together we can find a solution, create backup plans for backup plans and deliver meaningful event experiences.
How would you describe Brella's culture and your colleagues in your own words?
Caring, inspirational, motivating, limitless!
The atmosphere at Brella is something I have never come across before. This is a safe working environment where you can be you. Individuality is our strength. We together have the ability to reach high, make big things happen and be there for our customers.
I truly admire my colleagues and they wow me every day. They are highly knowledgeable and experts in their respective fields. Everyone goes above and beyond to help our customers and other Brellaneers. I can feel the positive energy in meetings and even via Slack, which always makes my day feel lighter and energizes me further. I leave meetings with a smile on my face and feeling that anything and everything is possible in life with the help of others!
Any tips you would give to someone who is starting in your field?
Surround yourself with people from the event industry. If you have a chance, go visit events of all formats. It is so important to understand and speak the same language with your future clients so you can ultimately understand their requirements, successes and learnings in order to help them better. It's even better if you can relate to their challenges and this way find meaningful solutions to overcome their struggles!
Anything else you'd like to share or any greetings?
Thank you very much for reading my story. It would be my pleasure to connect with you further and share industry insights and experiences!
And of course, we are always looking for new teammates and co-workers at Brella. I hope I've convinced you that Brella is 100% a worthwhile place to build your career.
Take a look at our open positions - maybe there is something that catches your fancy!