With the great power of virtual features, also comes great responsibility of how to analyze them.
This is not just a referral to one great movie. At Brella we believe that event organizers and sponsors should have access to as many insights about how their event went as possible.
And as events move more and more into the virtual space, it opens up opportunities for both you and sponsors to gain and understand these insights easily.
In this post I'll cover a few recent developments in Brella and how you can use them to help you understand the real impact of your event.
Content engagement
Since the main stage in a virtual and hybrid event is now the live stream, it is crucial to be able to analyze how your attendees engaged with your content.
Once we released the opportunities to have your own live streamed or on-demand main stage in Brella, we knew that the analytics for how people behave there would also be crucially important.
Now you can see and understand what interested your audience most by knowing not only view counts, but how much time they spent watching your content too.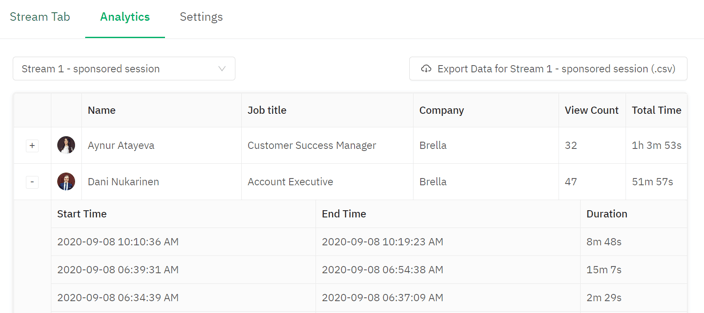 This is a little feature with a lot of benefit.
Now you can:
Evaluate attendance in multiple content sessions to find the most popular
Track overall engagement though analyzing the time spent and drop offs
Improve follow-up conversions with highly targeted campaigns
And your sponsors benefit from this feature and their sponsored content through:
Evaluating content performance in their virtual booths
Understand the 'ghost' visitors who visited often but did not engage
Gather a list of leads to follow up with and nurture after the event
Content is core to virtual events, and you deserve to understand every bit possible about its performance and relevance to your audience.
Sponsor analytics
Providing revenue opportunties for both you and your sponsors is core to a virtual event. And we believe that a digital partnership can have long-term benefits for both parties.
This is because, quite simply, virtual events provide your sponsors with more information on traffic, engagement, and buyer intent than could ever be possible at a physical event.
They can achieve real, tangible ROI from their participation.
After the release of our new virtual sponsor booths, we knew event organizers and sponsors needed to understand how many people visited their booths and what types of content they interacted most with.

You can export this data and get actionable insights about:
Which sponsor materials were most interesting
Which sponsor booth was most appealing, and
Which sponsor booths had the most visibility.
And perhaps even more important, you can provide them with powerful lead generation opportunities through matchmaking.
These analytics give you something that you couldn't have in your physical environment but always wanted to: real statistics & real ROI.
Instead of your sponsors relying on gut feelings or manual calculations on booth traffic and conversations, now they can rely on the accurate numbers that you provide them.
Attendee engagement
Engaging with content is essential, but what about outside your livestreams?
Brella provides you with tons of relevant engagement metrics, like how many attendees joined before your event vs during, networking meetings and more.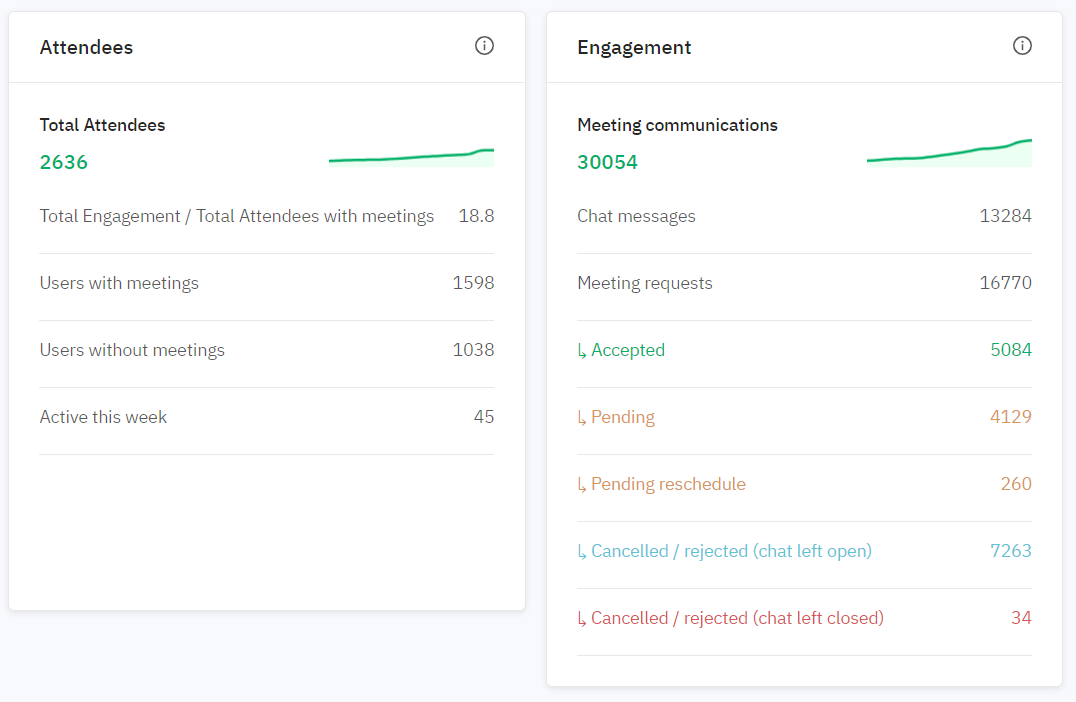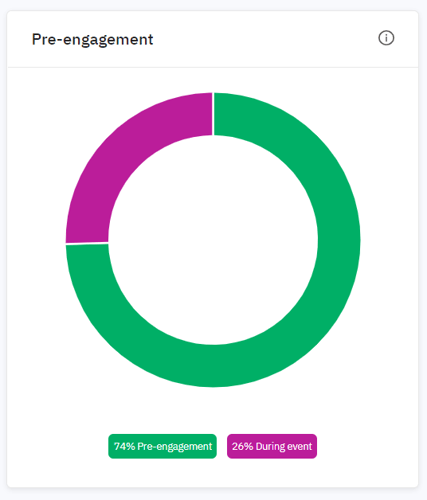 You can also get a quick overview of the engagement by looking at the average engagement per user.
From our own research, we've found the average virtual event has an average engagement per user of 13. This takes into account the different actions your attendees during your event, like:
Booking networking meetings
Chatting with other attendees
Participating in livestreams
And more.
And if you find that attendees are not as engaged as you would like, it's simple to send reminders through the platform to encourage interaction.
Post-event, you have tons of data to understand the attendee interests.
When you combine that with your content performance, you'll have a perfect picture of the most interesting topics, and potential to determine trends for the future.
Takeaway
Even though this turn to virtual & hybrid events has been difficult for everyone in the event industry, there are many positive sides of taking your event online.
One of these is gathering a huge amount of statistics about how your events perform.
This helps you get insights from that and deliver the best content possible in the future.
And this is only a small slice of the analytics you can get from Brella.
Aside from virtual event data, you can also get data like:
The interests and goals of your attendees
Their engagement levels
Their journey through your event
Meeting & networking stats
Sponsor activity & ROI
And so much more!
To learn more about our virtual event platform and analytics,
and our team will contact you to set up a demo.