New York - May 7, 2020
IMEX Group, the leading organization behind the largest community events for international business shows in the world, officially starts a partnership with Brella, the leader in networking for events. The goal: to bring the entire industry together in the world's first #PlanetIMEX: an online experience exclusively designed for international business events, planners, event professionals and everyone else involved in the industry.
PlanetIMEX launched on May 6 with a number of educational sessions, fun activities and community meetings to keep the industry both informed and up to date. PlanetIMEX is a virtual, ongoing world of new experiences, business connections and learning.
The three main "islands" of PlanetIMEX are Education, Community and Networking. Brella and the IMEX Group have been hard at work to bring all visitors to PlanetIMEX even closer together by leveraging Brella's virtual matchmaking and meeting platform.
Visitors can "island-hop" across three interactive islands, each offering unlimited, free access to a variety of engagement opportunities - the Education Island, Community Island and Networking Island.
"Bringing the whole community of event professionals together was a fundamental element of #PlanetIMEX to help the industry move forward. The next step is to help everyone in the community secure quality face time with potential partners, prospects, speakers and keep up the momentum for business events. That's why we partnered with Brella to deliver high quality matchmaking and meetings," said James Johnson-Miller, Director of Event Technology at IMEX Group.
In order to keep the spirit of IMEX alive and to bring people together and help build connections, the IMEX Group has created a virtual environment that reflects the core values and personality of IMEX and provides a platform for visitors to explore, reconnect, talk future business, continue learning - and have fun! - in the company of friends and colleagues.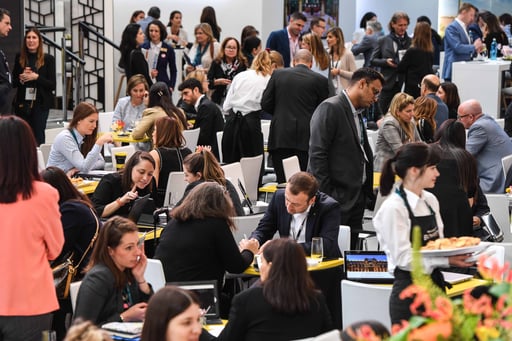 Fostering business and personal connections amongst the global events industry is at the heart of what IMEX does and so building a strong networking component into PlanetIMEX was always extremely important. One of the joys of entering an IMEX show is seeing the true joy on people's faces as they meet and connect with both existing contacts and meeting new ones on Brella.
This project was possible thanks to a hard-working team of 60 people, including IMEX's partners for event technology, such as Cvent and Brella. The whole of PlanetIMEX was created following the cancellation of the main IMEX show in Europe: IMEX in Frankfurt.
PlanetIMEX launched on Wednesday, May 6 and hosts dedicated activities and events over the coming weeks and months.
For press inquires, contact Emma Blake at Emma.Blake@imexexhibitions.com.
---
Brella provides the world's leading event networking platform for conferences and exhibitions. With the world's first intent-based matchmaking algorithm, powered by Artificial Intelligence, Brella is used by the largest events in the world to help attendees and exhibitors reach their business goals. The company has enabled thousands of events across 56 different countries in the world, working with thought leaders like Google, Microsoft, AT&T, Informa Knect365, Ernst & Young, Qualcomm, IBM, TechCrunch, Techstars, Hubspot, Ericsson and The Linux Foundation. Founded in 2016, Brella's headquarters are located in Finland, with regional offices in New York and San Francisco.
The sole aim of the IMEX Group is to unite and advance the global meetings, events and incentive travel industry – by educating, innovating and helping industry professionals make powerful business connections with the right people. Find out more about the IMEX Group here.