Helsinki, June 2, 2022 – Brella is delighted to announce a new partnership with One Tree Planted in a joint effort to combat deforestation in Southeast Asia and counteract the tons of yearly carbon emissions from the event industry.

Brella's aim is to plant a total of 100,000 trees in 2022.

"Sustainability is at the core of our business model, and our mission is to rethink the current pollutive practices in the event industry while giving back to help the environment," says Brella CEO and co-founder, Markus Kauppinen.

Studies have shown the event industry is far from being carbon neutral, with a 3-day in-person gathering of 1,000 attendees producing up to 530 metric tons of CO2 emissions.

On the other hand, reforestation is unanimously recognized by scientists as one of the top solutions to the climate crisis.

Trees help clean the air we breathe, filter the water we drink and provide habitat to over 80% of the world's terrestrial biodiversity. Trees also provide tremendous social impacts by creating jobs for over 1.6 billion people, empowering women in underdeveloped nations, and supporting communities devastated by environmental damage.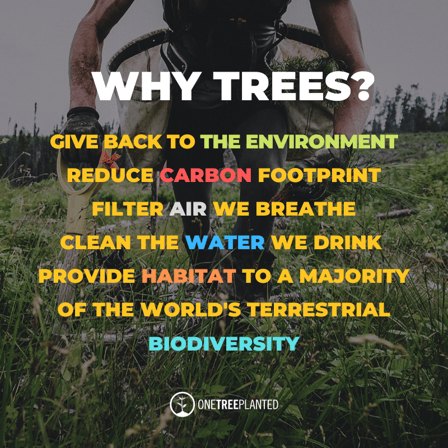 The partnership with One Tree Planted is designed to involve Brella's users in global reforestation one meeting at a time: for every 10 meetings scheduled through our networking tool, Brella will plant 1 mangrove in Southeast Asia.

Why mangroves?

Mangroves play a vital role in tropical and subtropical Asian ecosystems. They grow where the ocean meets land and, thanks to their dense roots, protect the coastlines by filtering pollutants from the water and reducing coastal erosion.

"Brella shares our belief that reforestation is a vital step in healing our planet, and we are excited to be partnering with them to further our impact. Through this partnership we will be able to plant more trees and benefit people, nature, and biodiversity," says Ashley Lamontagne, Forest Campaign Manager at One Tree Planted.

"We want to thank our partners and users all around the globe for joining us on this mission for a new era of tech-powered and sustainable in-person events," says Markus Kauppinen before sharing one last important message.

"But we also want this partnership to be an example of how event suppliers can join forces and ultimately make a positive change for our planet."


"We want this partnership to be an example of how event suppliers can join forces and ultimately make a positive change for our planet." - Markus Kauppinen, CEO and Co-founder at Brella
About One Tree Planted: One Tree Planted is a 501(c)(3) nonprofit on a mission to make it simple for anyone to help the environment by planting trees. Their projects span the globe and are done in partnership with local communities and knowledgeable experts to create an impact for nature, people, and wildlife. Reforestation helps to rebuild forests after fires and floods, provide jobs for social impact, and restore biodiversity. Many projects have overlapping objectives, creating a combination of benefits that contribute to the UN's Sustainable Development Goals.

To learn more, visit www.onetreeplanted.org