As part of Brella's continuous support for virtual, hybrid and live events, we are pleased to announce the launch of virtual booths for exhibitors and sponsors.
Now event organizers can foster relevant interactions between their sponsors and attendees with simple-to-find booths, sharable content and efficient 1:1 networking.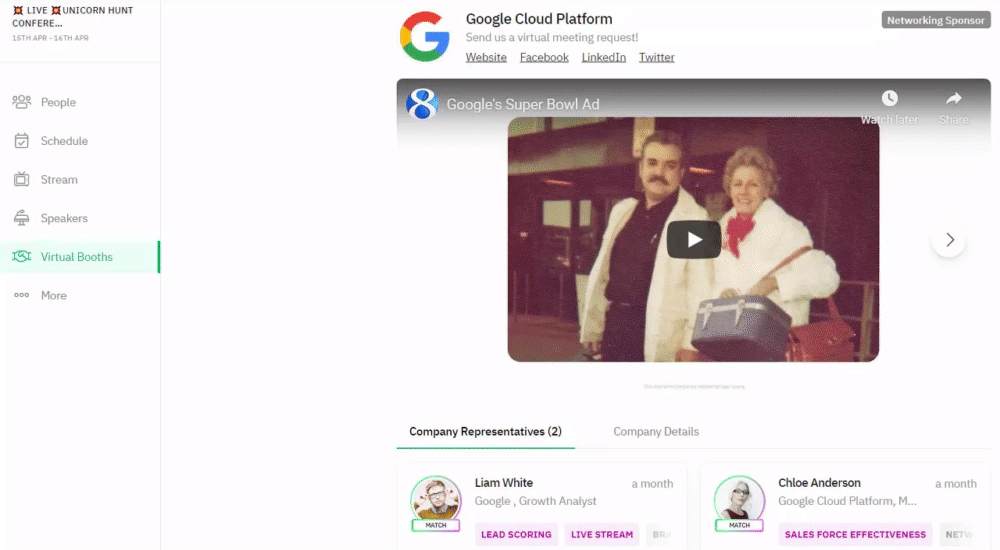 Existing Brella customers have full access to these features and can start using them right away.
As events have been turned on their head, event organizations and planners have scrambled to find simple yet effective ways to host their events virtually until hosting live events again becomes a reality.
With this new release, organizers can provide incredible sponsorship opportunities to virtual sponsors, with the added benefit of merging this virtual presence with a live one during hybrid events.
Sponsors can offer brochures, videos, and even embed direct links to demo requests, newsletter sign ups and much more.
"We want to help each and every event organizer conduct business as usual during this stressful time. By recreating the sponsor booth experience online, organizers can provide powerful opportunties for their sponsors, who are also feeling the pinch. It's a win-win for all." -- Ville Vanhala, Co-Founder & Head of Global Partnerships
Sponsors and exhibitors are essential to the event ecosystem, so the modern event organizer demands a platform that can cater to the growing needs of their benefactors and stakeholders.
We are continually improving our virtual event platform in order to host any and all events, be it live, virtual or hybrid.
To schedule a demo of our virtual events, or to learn how Brella's virtual event platform can help take your event online in a simple and effective manner,
with our virtual event experts.