The top networking trends in 2022
How did the pandemic affect the way we network at events? We dove into the data from 10,000+ events from 2016 - 2021 to find out.
In a rush? Download the full report here!
Detailed statistics from 2016 to 2021
How 1:1 meetings were affected at virtual, hybrid, and in-person events
Plus, 5 trends you need to watch out for in 2022
Download your copy for free now!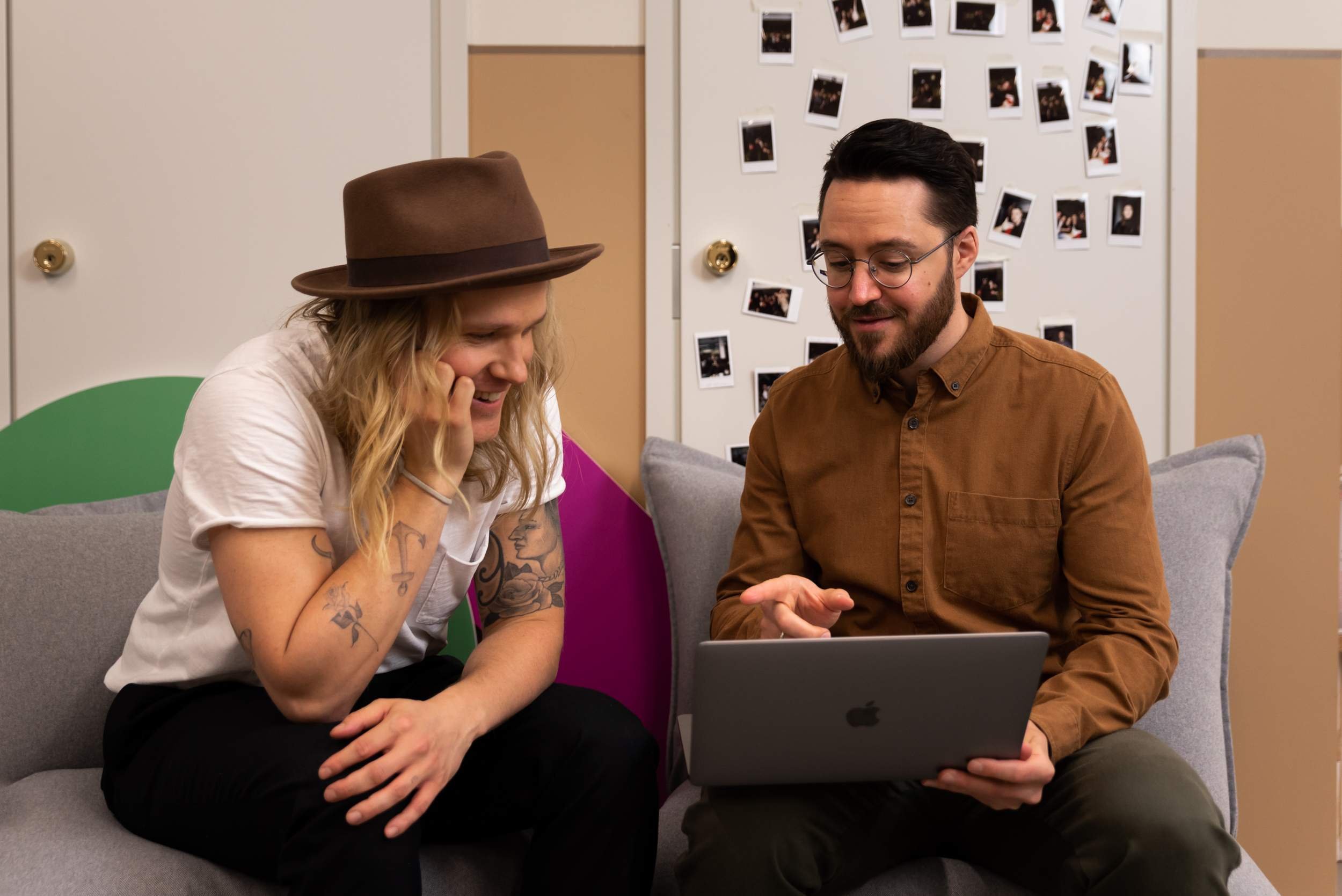 Audience connections will never stop
Networking has been an integral part of the event experience since the first event ever held. No matter if you bring vendors and buyers together at a tradeshow, or facilitate scientific discussions at academic conferences, or help job-seekers connect with recruiters at job fairs, all it takes is one meaningful connection to forever change someone's life.
When we rave about events we've participated in, we talk about the jaw-dropping experience, but it's the faces and names of the people we met that we'll remember and reminisce on years down the line. Events are the catalyst for new business, new jobs, new contacts. And it's this life-changing potential the right interaction encompasses that has excited, motivated, and powered us since the beginning of Brella's journey.
Today, I am beyond excited to bring you this first-of-its-kind report, which dives deep into the value that networking provides events of all types. Networking is often relegated to afterparties and icebreaker events, but it has real, tangible business value that can help your event stand out in the current competitive market.
Within this report you'll find in-depth networking data from In-Person, Virtual & Hybrid events pre and during Covid over the past 5 years. The demand for meaningful connections is stronger than ever in the event industry, but we believe that it still has plenty of room to grow.
We also believe meaningful connections will be a key driver for better attendee and sponsor satisfaction and retention rates today and in the future.
I hope you enjoy the findings, and from my team to yours, a strong, healthy, and profitable 2022!
Ville Vanhala
VP of Customer Experience & Co-founder, Brella
How did the pandemic affect the way we network at events?
Methodology
We analyzed the results from more than 10,000 events from 2016 to 2021 to measure the impact of event networking, how it has changed over the years, and how the adjustment from in-person to virtual and hybrid affected how we connect at events.
All of this data can be found in our full State of Networking report, available for free!
The metrics we evaluated
Before we dive into the report, we'll cover the networking metrics we evaluated (and why they're important).
Average # of meetings - The average amount of 1:1 meetings organized at an event between attendees.
Percentage of attendees with 1:1 meetings - this metric shows how networking-minded your attendees are. While meetings can happen outside your networking tool, this shows how large a base had networking as a high priority.
Meeting acceptance rate (MAR) - the best meetings come when there is a mutual desire to connect. We found that a healthy MAR hovers around 30%. This may seem low - but this ranks incredibly high compared to other meeting proposals (for example, the MAR of cold calling is just 2%!)
Meeting requests sent per attendee - measuring meeting requests sent by attendees is an excellent indicator of networking desire. We found that virtual events, while believed by some to be not suitable for 1:1 networking, actually had a higher amount of meeting requests sent than hybrid or in-person events, showing that the pivot online has not dampened our desire to meet with others.
If you're interested in learning more about these metrics, take a look at our brand-new Brella Academy course on Event Networking & Matchmaking. Our instructor will take you through all the essentials of planning, executing, and measuring efficient networking experiences that enhance the experience for all your stakeholders.
Best of all, it's accredited - and free. Register today!
In-person events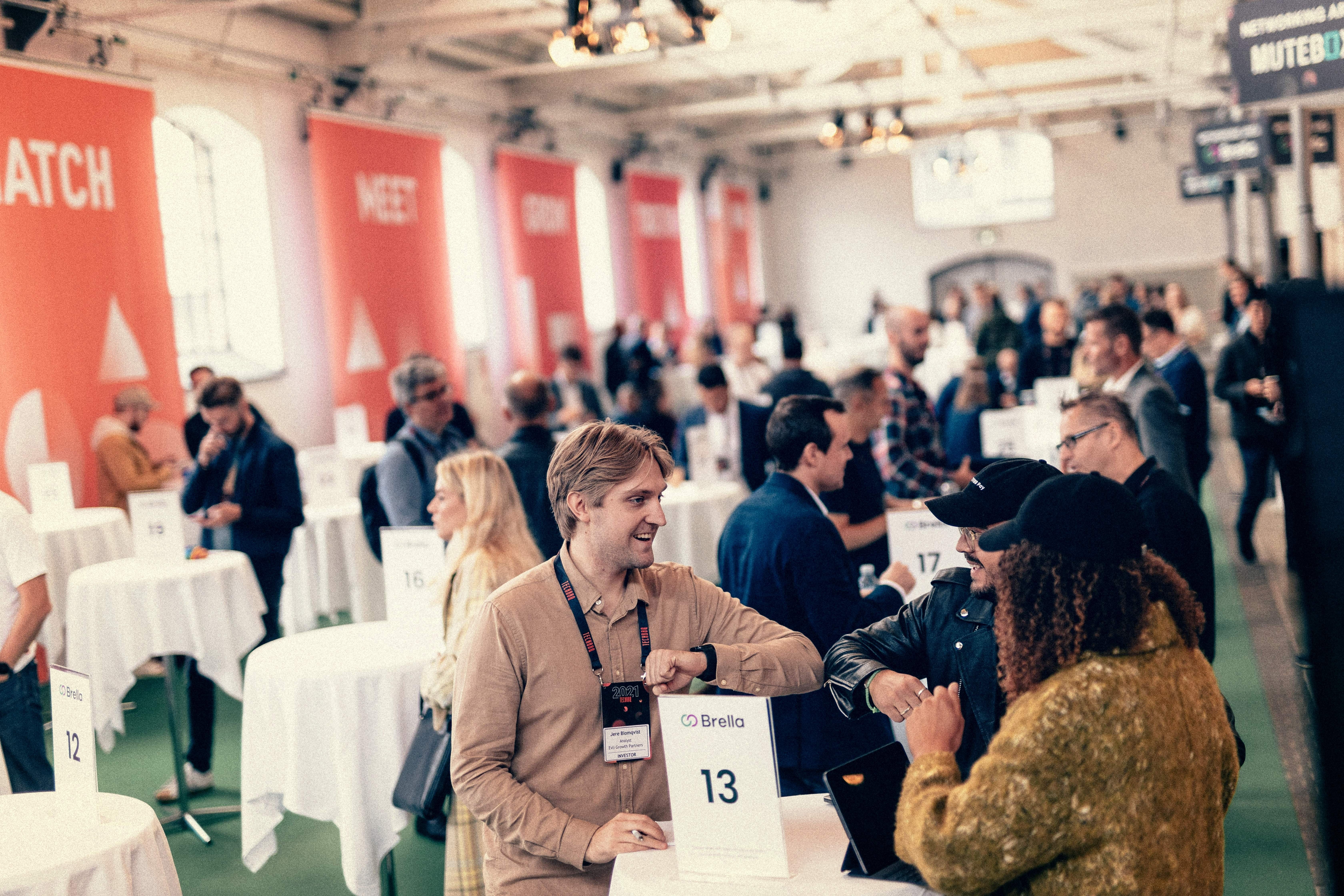 TechBBQ drove more 1:1 meetings in a sustainable way at their recent hybrid event - read all about it here!
Virtual events
Hybrid events
The trends for 2022
Networking is a core pillar of any gathering of people, no matter how big or small. So when anything affects the way we gather together, it has big implications for events.
These are five of the top trends we see when evaluating our own data, based on over 10,000 events during the past 6 years.
Trend 1: Sponsors will send fewer reps, with higher expectations
Meetings are the lifeblood of any business. Even technology companies who sell software or apps have a handful of enterprise clients who demand more service and accountability. Those deals require trust. And that trust comes only from a 1:1 meeting, whether via a video call or in-person.
No business wants to forgo an opportunity to have relevant meetings, and we've seen sponsorships thrive despite the wild fluctuations of events. However, they too have had to make concessions, and so we expect to see fewer representatives at in-person booths, both to cut costs and also to comply with whatever restrictions exist.
As well, we've seen the power of hybrid events - despite similar attendance amounts when compared to virtual events, hybrid events have:
2x more attendee 1:1 meetings
2x more sponsor attendance
2x more sponsor 1:1 meetings
However, the average number of representatives per sponsor decreased slightly (3 per hybrid event vs 4 per virtual event), meaning that sponsors are not sending more people to make use of the hybrid opportunity.
This means your sponsors will look to make their investment back in other ways - like through digital marketplaces, greater emphasis on awareness, or more scrutiny on actual meetings instead of potential ones.
Providing your sponsors with the best ways to meet others is just good business, and we expect to see more sponsors ask about networking programs in the year to come. We're extremely pleased to see both the % of sponsor meetings and sponsor meeting acceptance rate growing in this new normal.
Consider a 35% meeting acceptance rate at events to a 2% meeting acceptance rate with cold calling. It's a no-brainer to attend events, and from our data we can see that sponsors are waking up to the potential that this new rendition of events brings.
Mathias Stenman
Head of Account Management, Brella
Trend 2: More virtual networking before and after the main event
Since 2016, we have pushed for event organizers to open up networking opportunities before the event. Why? The reason is quite simple - attendees can save time at the event by setting up their event agenda with people they want to meet beforehand (plus, they engage further with the event brand).
From our data, we've seen how that impacts different metrics such as event engagement, networking meetings, and even event satisfaction. Spoiler alert - it's all positive.
We kept this same philosophy when we pivoted to virtual - allow the platform to be open before the event begins to allow attendees to get acquainted with the platform, start connecting with other attendees and build some hype before the event begins.
However, networking virtually and networking in-person are quite different. We've seen how virtual events have changed and shifted. They have more breaks from the screen, and whenever possible, they take place over multiple days.
While networking has an important place in virtual events, we thought - why not include networking times before, during, and after the virtual event?
This approach allows all participants to focus on the content and take breaks when needed, without missing out on valuable connections.
And this also extends the time that your attendees interact with your brand.
Best of all, we've seen this approach also work for in-person events AND hybrid events. Your whole attendee base can connect with the right people, at any time, no matter if they choose to participate virtually or live.
Johanna Virkamäki
Head of Customer Success, Brella
Trend 3:
Events will rebound like crazy in 2023
All of us crave meaningful connections and it's clear that networking stats will go through the roof once we're able to host in-person events without restrictions.
Despite attendance being lower, attendees are accepting more meetings than ever. And the technology available to event organizers provides even more relevant recommendations that are more likely to be accepted - we expect already impressive meeting acceptance rates to grow.
Perhaps best of all, sponsors have taken a larger share of meetings at events, growing from 11% to 21% - a huge increase! This proves that sponsors are realizing the power of 1:1 meetings, and the important role that events play in connecting them with the right leads.
Connections make the world go 'round. As a famous man once said, your network is your net worth, and events have always been one of the best places to meet like-minded people.
And as in-person events return, we expect to see an explosion of networking meetings and programs to help feed this desire for connections.
So what about virtual events? A constant struggle we have heard from our customers over these past 2 years with their virtual events was how could they really engage their attendees?
Not everyone was convinced that networking was the answer, but after looking at the data, we saw that virtual attendees actually sent more meeting requests than at in-person or hybrid events. That's more time on the platform, more time engaging with other attendees and content, and a greater brand recall post-event.
That's the power of networking, and it will be at the heart of the industry's explosive rebound in 2023.
Ville Vanhala
VP of Customer Experience, Brella
Trend 4: Hybrid will no longer refer to events, but the organization
What will hybrid events look like in the future?
At Brella, we've seen a multitude of approaches to hybrid. From a hub and spoke model, with multiple volunteer-led event hubs throughout the world, to a more traditional startup-investor event, to even a hybrid wine tasting, the execution varies widely.
However, now the discussion has turned hybrid not into an event format, but a description for the organization - and I strongly believe this perspective will dominate going forward.
When it comes to bringing both virtual and in-person audiences together, there is still a lot of work to be done by both organizers and tech providers to create a seamless, meaningful experience. As well, this hybrid experience can differ depending on your audience, your industry, and your event structure.
However, hybrid works better as an ideology rather than a simple format, and I'll explain why.
Being connected to events and the audience within them year-round is a powerful avenue for community building and customer retention year over year. Connecting with others year-round - this sound suspiciously like a community. But when you think about it, it's a perfect hybrid structure.
Throughout the year, your attendees can connect with each other online and consume content on-demand before your event. At your event, they can experience it live or virtually, and after the event they can continue the discussions online.
By embracing this hybrid mentality, organizers can continue to grow brand loyalty and their audience base year over year, as well as provide their audience with the necessary opportunities to grow their knowledge and network all throughout the year.
So instead of just thinking about hybrid events, I encourage you to think bigger.
Mikko Matikka
Chief Product Officer, Brella
Trend 5: Networking will be core to community building
Virtual. Hybrid. Now community. Why is community the new hot topic? Well, they offer a ton of benefits to any event brand:
Improved attendee retention

Greater engagement year-round

Higher satisfaction rates
And whenever someone brings up community, content is never far behind.
But while content is a great reason to join a community, members stay because of the relationships they build and the sense of belonging they find.
With our upcoming communities release, we dove deep into the reasons for communities - why do they exist? How do they get built? What separates the great from the good?
And we've consistently found that while content gives a reason for people to show up initially, the bonds they create and the social belonging that those bonds foster is the key ingredient for a strong community retention and growth rate.
Whether it's structured 1:1 networking programs to connect startups and investors together, or monthly roundtable discussions about trending topics, or even just meet-and-greets with new community members, it all comes back to bringing your community together.
Content forms one vital pillar of any community, but the second is connections. So as you begin laying the foundation of your event community, remember to ask yourself the question: How will I bring my community together?
Your community will thank you for it.
Stella Roark
Head of Sales USA, Brella