The largest event organizers pick Brella over Hopin
Read on to learn why.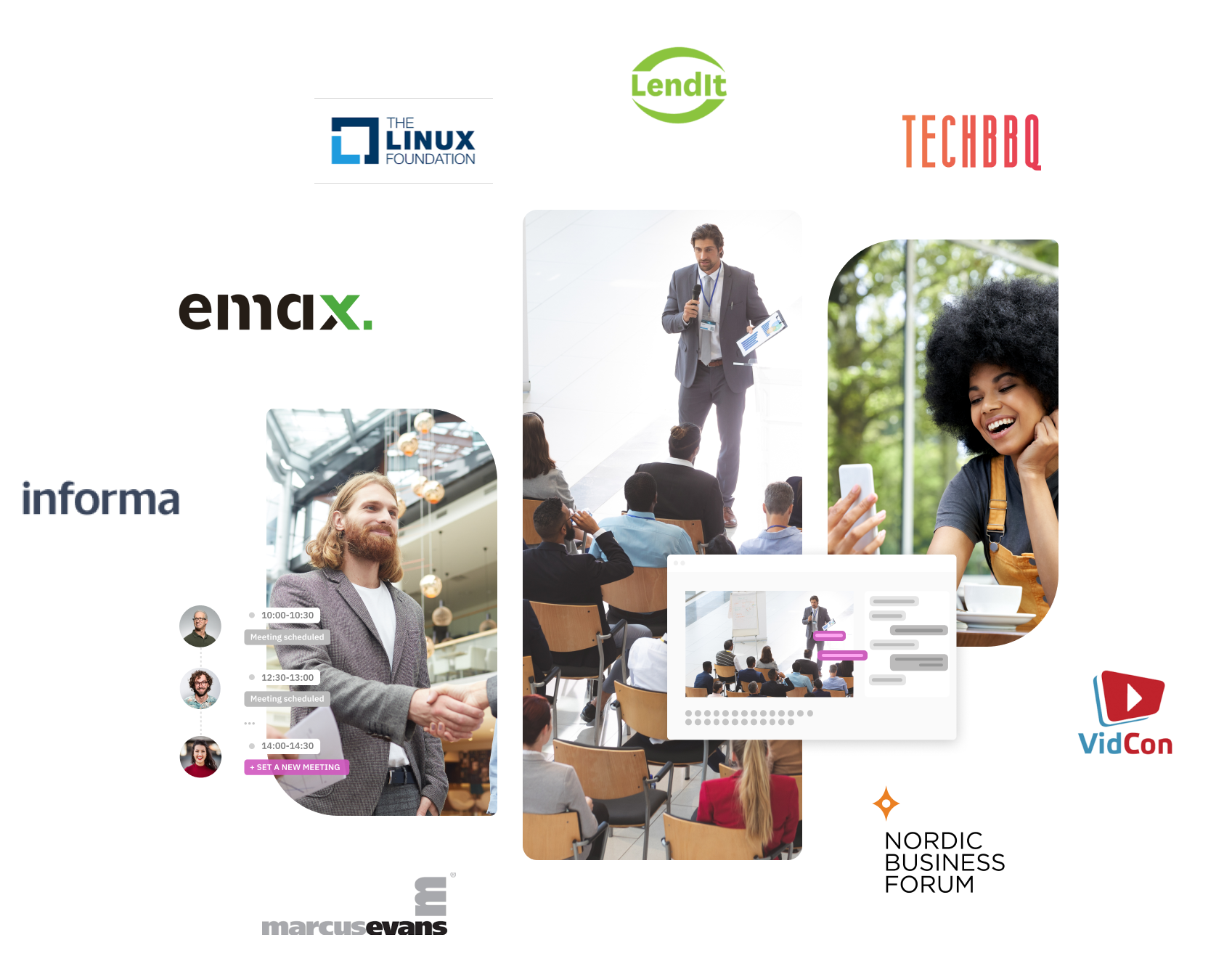 Looking for Hopin alternatives?
Brella & Hopin have similar features, but Brella is a better choice for events where engagement and networking are critical. Here's an overview of what Brella does best...
AI-powered matchmaking & networking
Hopin's networking offers a roulette-type experience, where attendees are randomly matched for meetings — a good approach for meeting completely new people.
Brella's award-winning AI matchmaking is a great alternative to Hopin that offers tailored matches connecting likeminded attendees based on their interests and intents.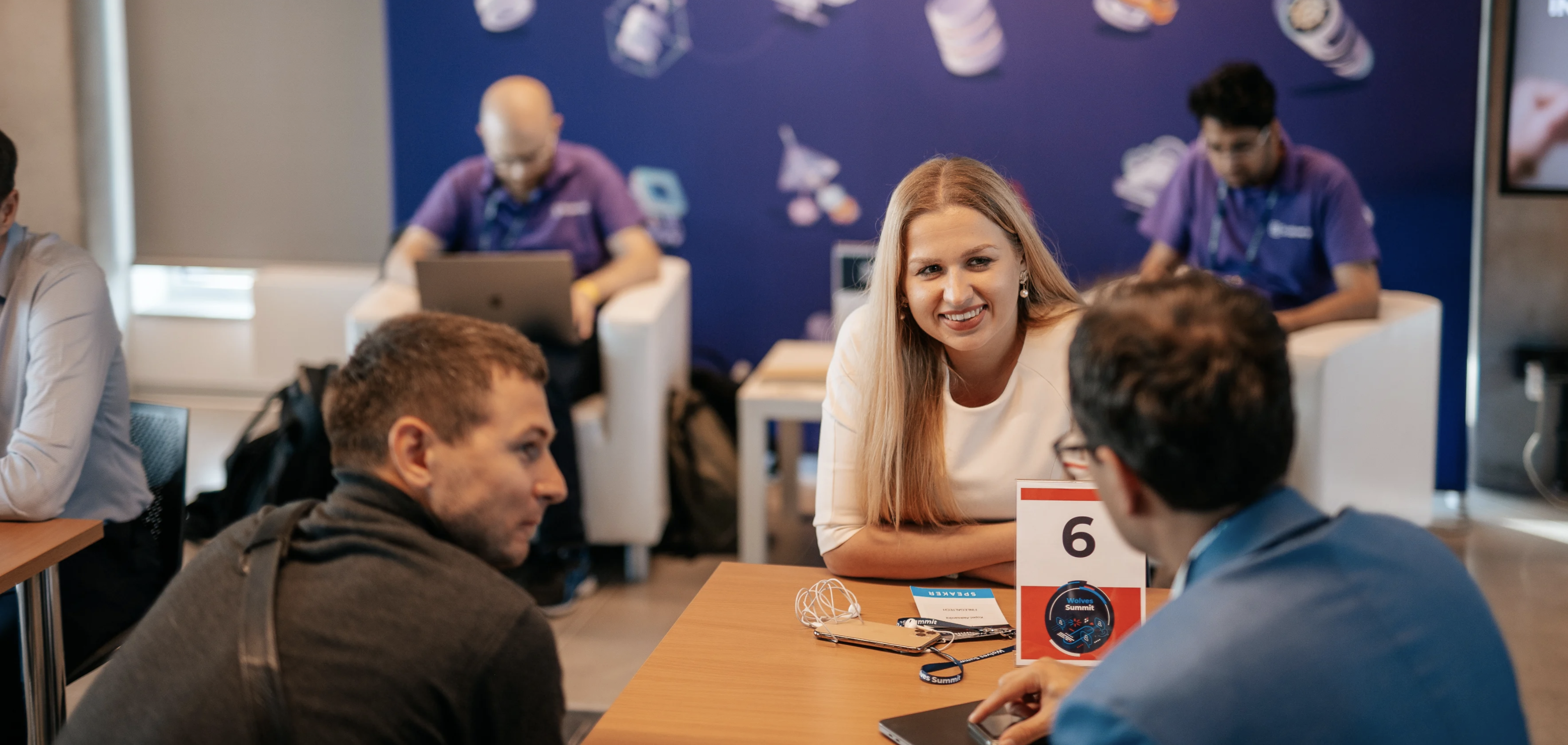 Long-term Hopin customers also prefer Brella's networking
Wolves Summit uses both Hopin and Brella...
They hosted their event on Hopin, but wanted to try out Brella for networking — and the results were out of this world! Compared to their previous events with only Hopin, their latest event using Brella's networking resulted in ...
A 10.2% higher meeting acceptance (33.2%)

Almost 2200 meetings between attendees

12,000+ chat messages exchanged
Want to learn more?
Wolves Summit increased their networking success by using Brella alongside Hopin, with attendees scheduling 2,200+ meetings and sending a whopping 12,000+ chat messages.
An end-to-end event experience that puts attendees first
Brella delivers a complete event experience that delights attendees, impresses sponsors and handles the heavy lifting for your team.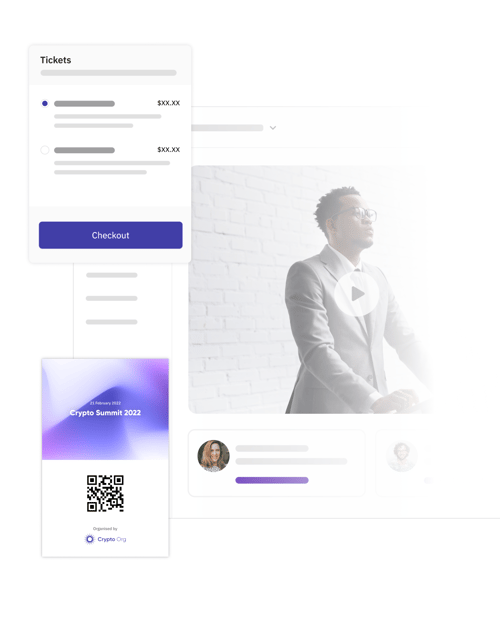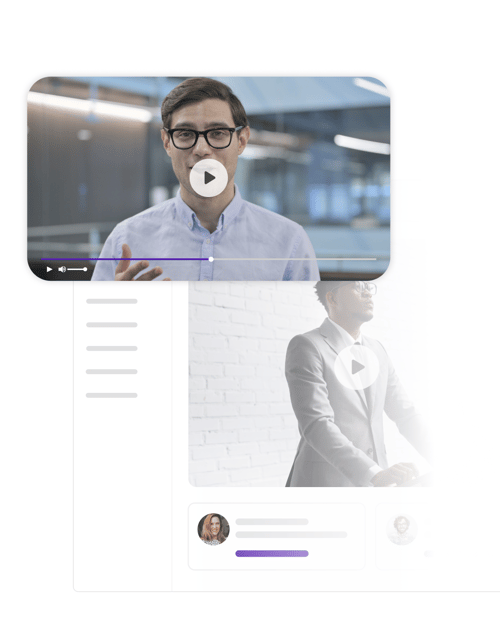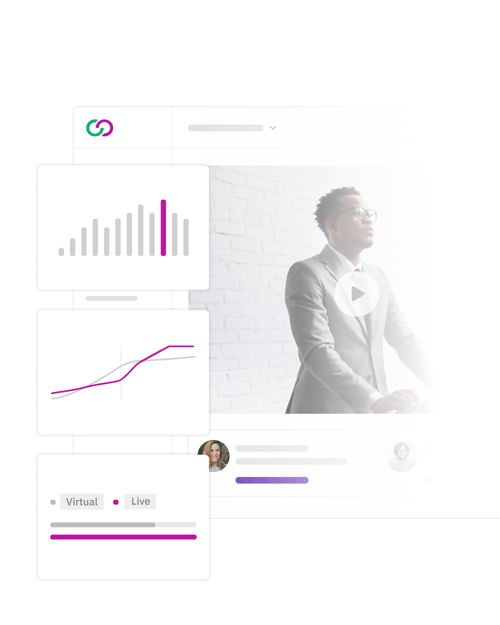 "As we started using Brella at more and more events, we've really seen much deeper connections between our attendees and sponsors. It really sets us apart from our competition, so it is the app of choice for us now."
A partnership that unlocks untapped potential
Unlike other event platforms which are simply tools in your workflow, Brella is committed helping your team explore brand new opportunities to maximize your engagement and revenue from your event portfolio.
"Our [Customer Success Manager] helped us uncover a net opportunity to create additional value for sponsors, to be implemented next week!"
Brella vs. Hopin — which is best for your event?
How Brella's pricing compares to Hopin
Hopin's lowest plans make it an affordable alternative for smaller (and simpler) events, but sacrifice key features and access to comprehensive service and support offerings — there are also limits on the event duration and attendee numbers.
Brella's starting price is a bit higher, but it turns into a very economical option for larger events with complex needs. We only offer a single plan with a user-based pricing model that provides unrestricted access to all features, apps (web, iOS & Android), support and service offerings — plus, multi-event portfolios get discounts.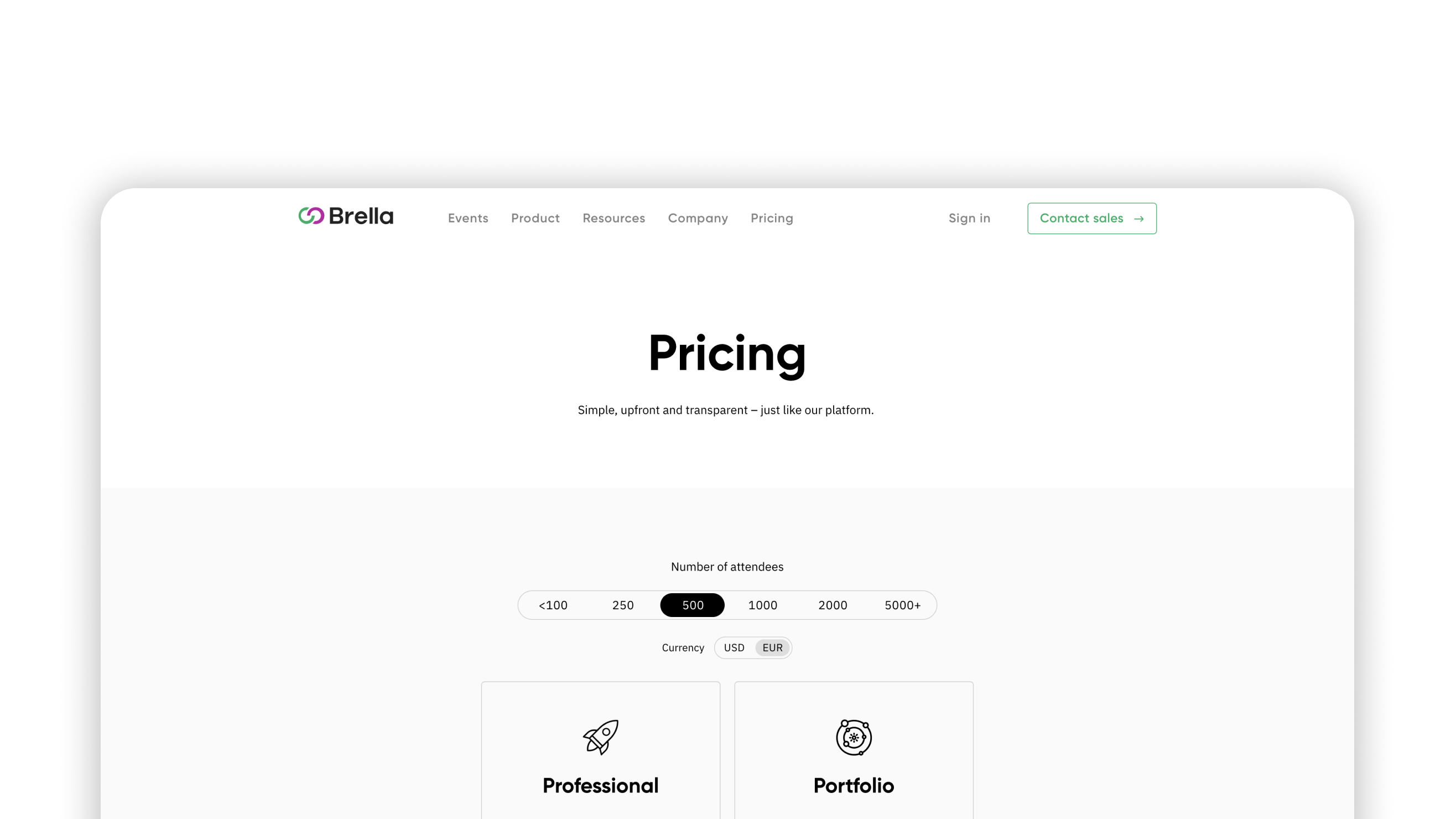 Brella is the tool for engagement-first events
Brella is the platform of choice for professional event organizers and companies that host conferences and events where provable ROI and industry-leading engagement rates are critical.
An affordable pricing model, all the support and guidance needed to make the most challenging events successful, and features that meet the highest quality standards make Brella a surefire option to keep attendees (and sponsors) coming back for more.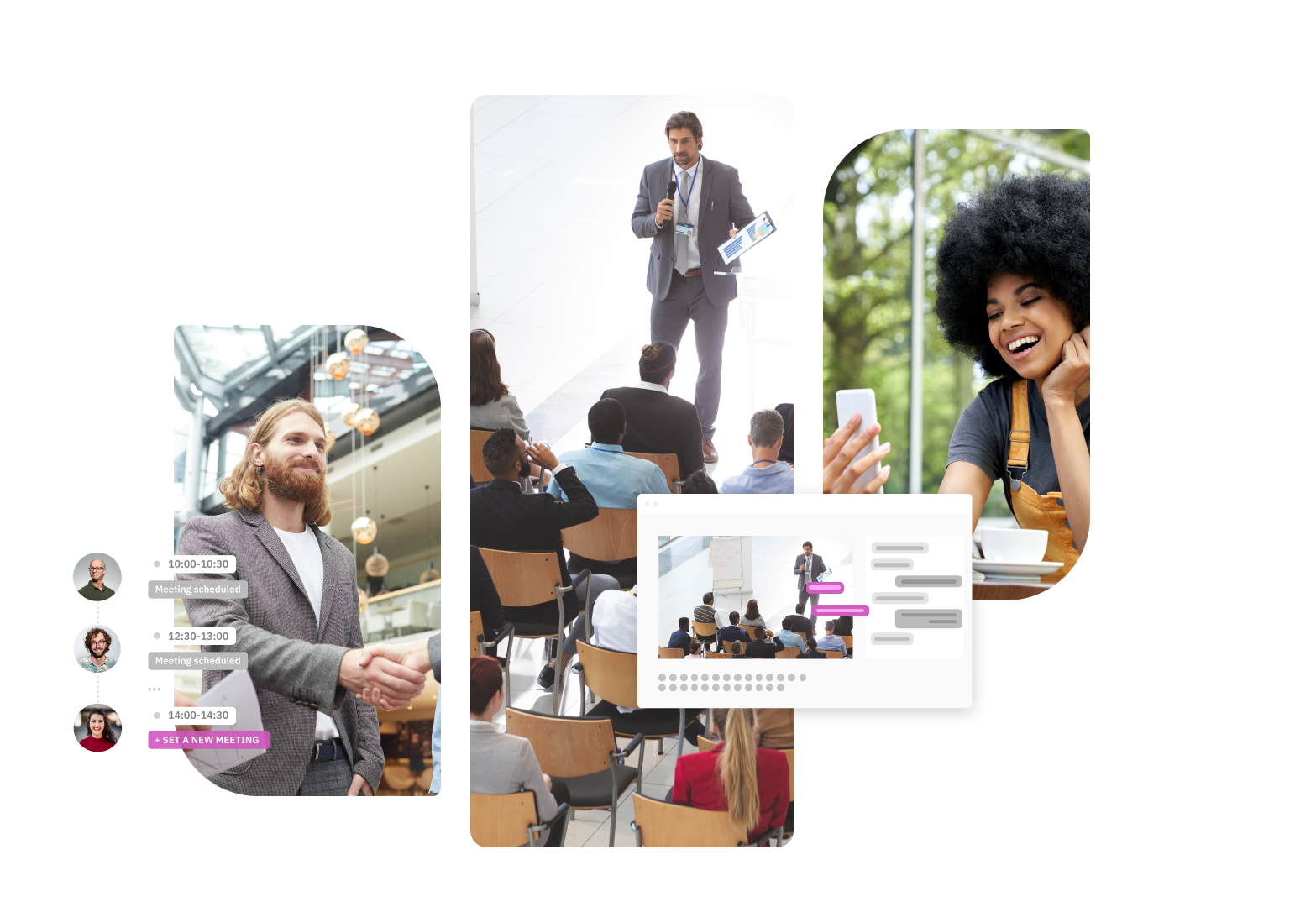 Which tool is best for in-person, virtual and hybrid events?
Both Brella and Hopin offer features that make them well-suited for all 3 event types.
However, Brella is the gold-standard for events that require strong networking and engagement features — whether they are in-person, virtual or hybrid.
Brella can serve a matchmaking & networking tool at in-person events, a complete online event platform for a virtual event, or a matchmaking, engagement & content delivery platform that connects in-person and virtual attendees at a hybrid event.