The best events constantly innovate and improve, and we're no different.
This is why we're excited to tell you that our new event manager launches soon! We'll also begin posting the latest changes and updates on our blog so you remain up-to-date on the new features.
Our latest feature is one we're super excited about - a multitrack agenda feature! Many of you have requested this, and we're thrilled to launch it. This release improves our event schedule and meeting booking logic, which has two main benefits.
1. It makes planning your event simpler, and
2. It makes it a breeze for your attendees to navigate your event.
Here's a short rundown of what we added and improved with this update:
Track feature to label each content slot (attendees can filter and search)
Content description slots (add headers, links, even pictures)
Location tags
Real time sync - keeps your schedule timely and hides past content
Separate pages for your personal schedule and the event schedule
Let's go over the new features!
Before And After
After we launched our new version, the next step was fixing the schedule. The former schedule was linear and simple, but limited.
While suitable, it lacked important features. You couldn't tag separate locations or mark different content happening at the same time, a problem when so many things happen at once.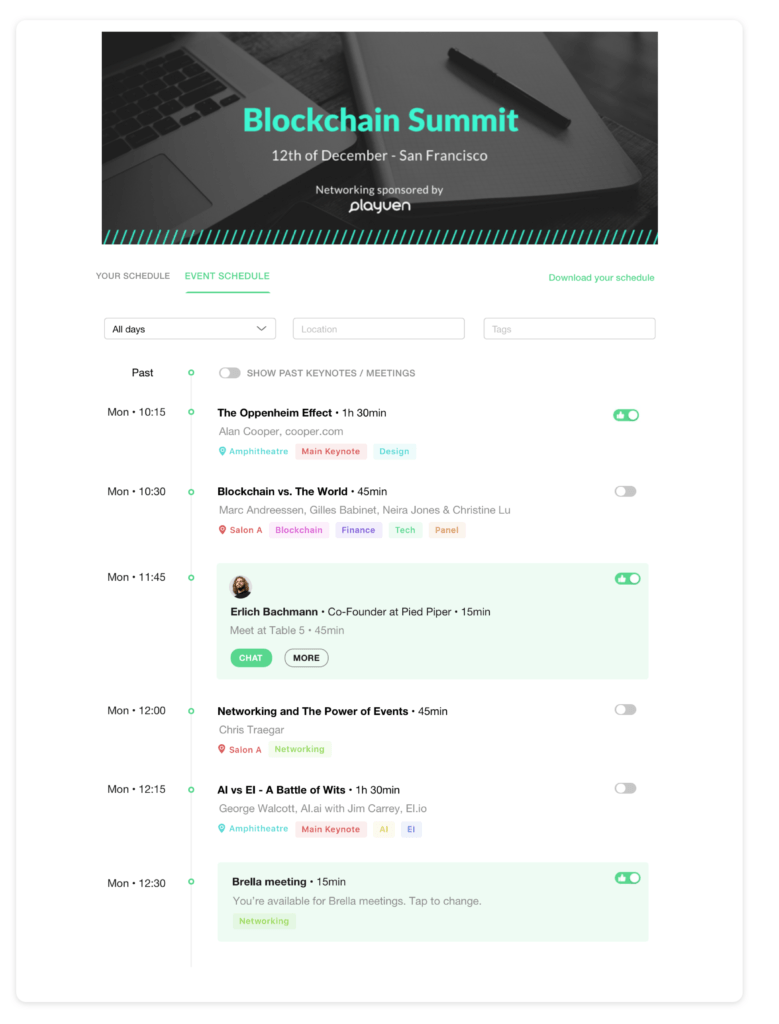 There's a lot to take apart here, so let's start at the top.
New Event Schedule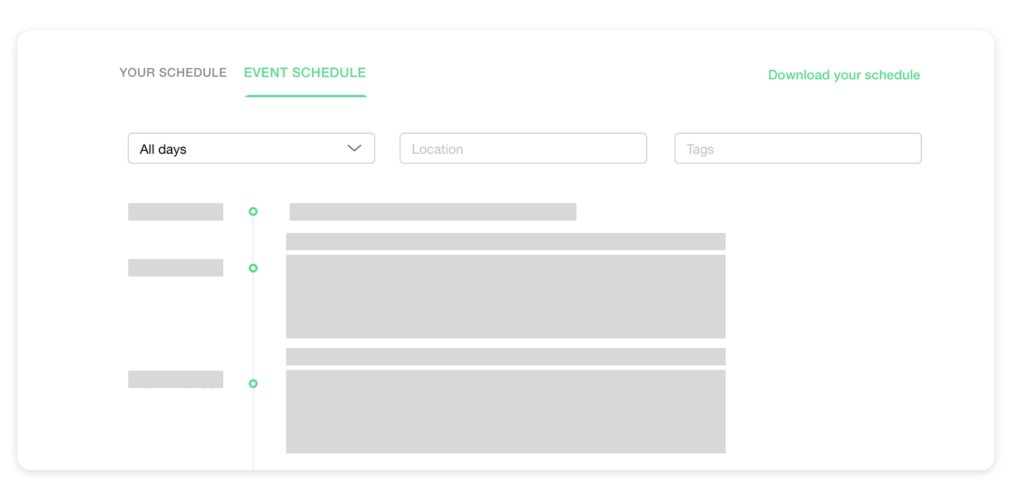 We've improved our search function, allowing you to search for different content by day, location or tag. And, naturally, now you can add locations and tags to your content!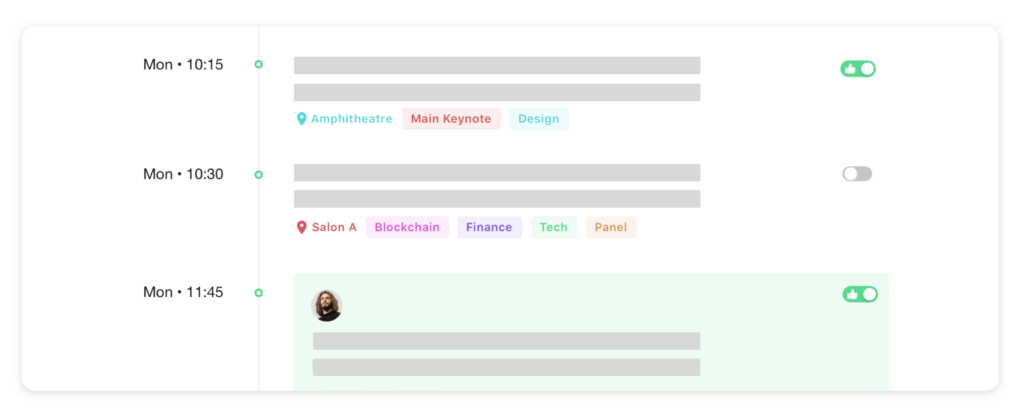 This means your attendees can sort through your schedule in a detailed, simple way.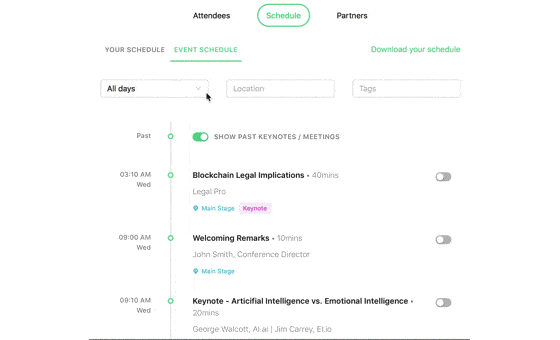 As well, you'll notice we've added a function to hide or show past keynotes and meetings. The schedule now syncs to your event time and hides all past meetings and content by default. But when you click on it…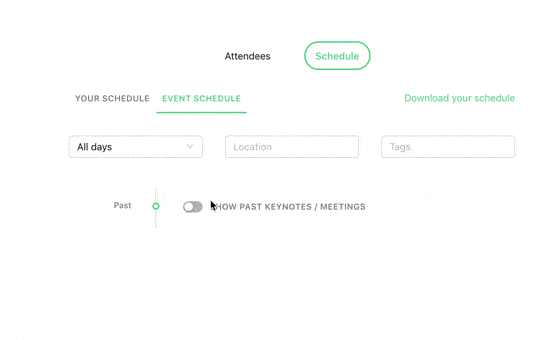 Talk about a blast from the past.
A common complaint was that you couldn't hide previous meetings or content, which meant you could actually book meetings in the past. As you can imagine, this caused problems and unnecessary headache for both organizers and attendees.
Now, booking meetings in the past are… a thing of the past. Yes, that's right, this change also affects how your attendees book meetings: they won't be able to book meetings at past times anymore. Hooray!
With these new changes, your attendees will navigate and network at your event with confidence.
New Content Manager
Now let's check out the tags and improved content manager.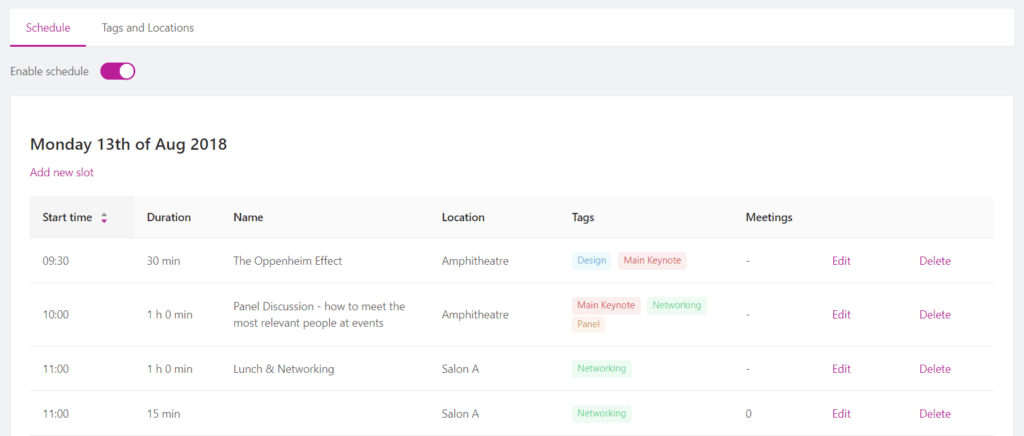 Here is where you'll start. You can add new content or meeting slots and label them how you like. You can either add tags when you create or edit your slots, or add them in the "Tags and Locations" tab.
Whether your event has speakers on blockchain, finance or AI, tags help you label them the right way. Your attendees can sort and find the most relevant content for them, as well as see vital information at a glance.
You can also add different locations so your attendees know exactly what is happening, where and when. This helps them be at the right place at the right time.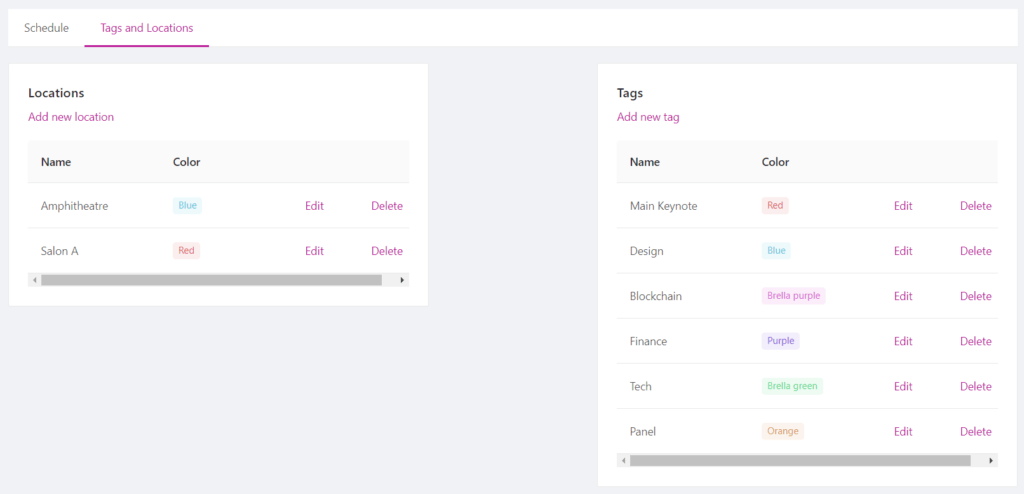 You can also add a more detailed speaker bio. With headers, subheaders, links, emojis, even photos, you can really put everything you want. Your attendees will be wowed with the level of detail!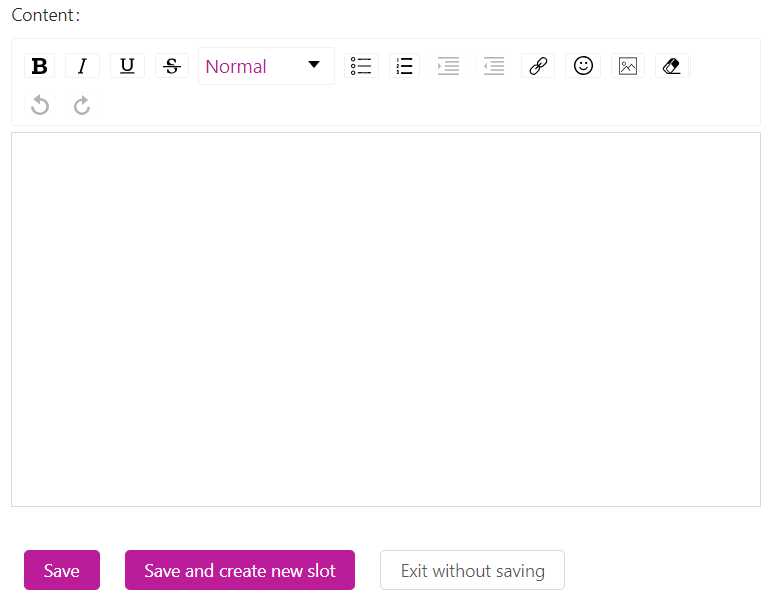 With these changes, we're sure you'll be able to add everything you need to wow your attendees.
Personal Schedule for Attendees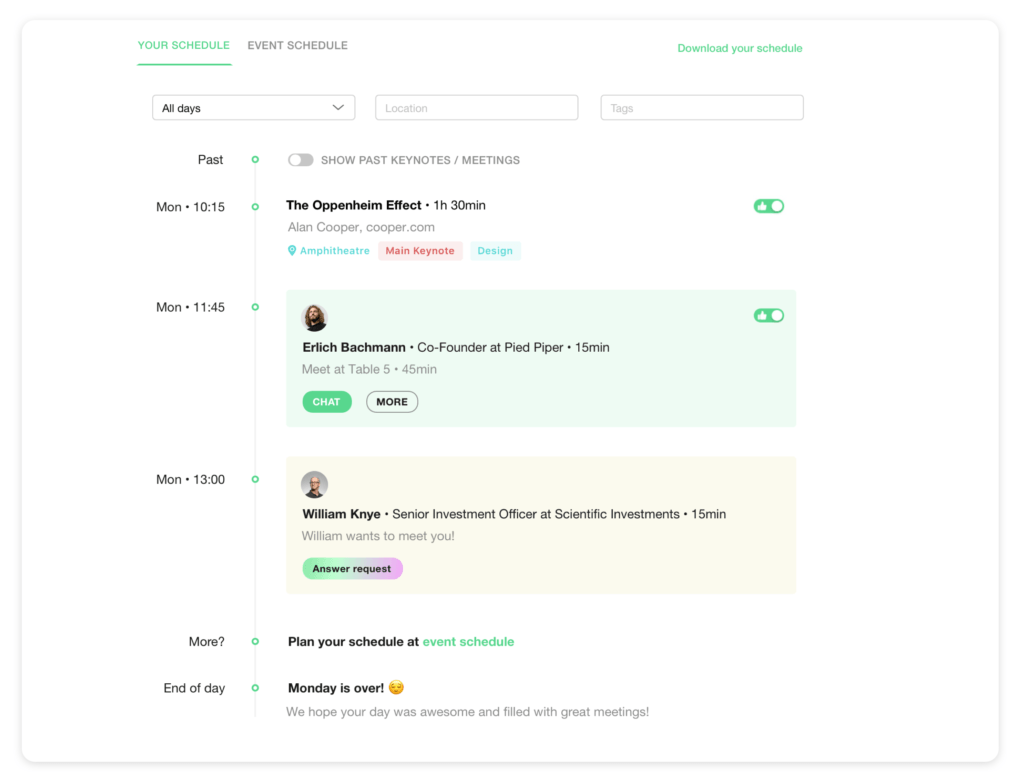 Having a packed event schedule means there is something for everybody. However, your attendees won't attend every session, so it's important they can form their own schedule intuitively.
Luckily, they can select the content they want to attend and add it to their schedule. You could do this previously, but we improved the look and feel of it. This, along with their booked meetings, allow them to plan their day and make their own ratio of content to networking.
You'll also see how many attendees plan to attend each session, giving you up-to-date info and valuable insights into the most popular ones.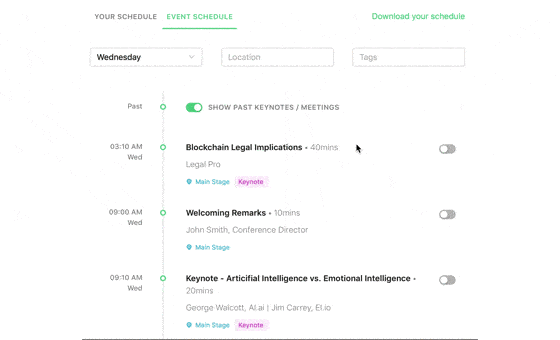 For busy attendees, they can use the same filters as the main schedule to show their bookmarked keynotes by location, topic or day. They can also edit their meeting details in the schedule itself without going to the main meeting hub.
Conclusion
You put so much work into your event and it deserves to be the best it can be. It's vital that event tech adds value to your event, not take value away, which is why it's important to listen to you and your concerns.
You've all requested this feature a lot and we're so excited to finally share it with you. We pride ourselves on having smooth and seamless design so we don't take anything away from your event experience.
There are many new features planned, so stay tuned to hear about the new developments to help your events!
Interested in a demo of our schedule?
Illustrations and images by Sanna Kartiovaara.