At Brella, we are constantly looking for ways to streamline the attendee experience, and provide event organizers with functional, intuitive and secure tools that offer complete peace of mind.
To that end, we improved a common workflow that is used by every single Brella user (be they attendees, organizers, sponsors or speakers): Authentication.
The flow seems simple on the surface: Create an account (or use any supported social media account), decide on and set a secure password, and then recall it whenever you sign-out or change device / browser.
However, let's face it: passwords have become both an inconvenience and a liability in today's fast-paced world. In fact, the latest release of the "Pwned Passwords Service" (November 2020) reports over 613M passwords leaked in various data breaches since 2017.
Extensive discussions with our customers indicated that this was especially true for the event industry:
Many attendees only use Brella for the duration of their event, or sporadically return to access greater networking opportunities — this increases the likelihood of forgotten passwords, and encourages attendees to opt for less-secure (or reused) passwords in an attempt to decrease this burden.

Deciding on and recalling a password can be a stressful and contentious experience for event attendees in a rush to catch their next session, or organizers focused on setting up a portfolio of large events (much like many of our customers).

Social login options are convenient, but not every attendee has a social account we support (although, we do support most of the major players).

Social login options are also not the best match for business events: Some attendees (and sponsor reps) are likely to use company devices to access business events, making it less-likely that they are already signed-in to their personal social media (let's face it, how many of us actually remember our Facebook or Google passwords?).
All of that is now a thing of the past with the launch of our brand new passwordless authentication system powered by Magic Link — joining the likes of tech trailblazers, such as Slack, Cisco and Medium in embracing a secure, passwordless future.
How does passwordless authentication work?
The workflow is simple:
A user visits Brella and inputs their email address
They receive an email with a link


After clicking the link, they are signed-in within the original tab


If they don't have a Brella account, they are prompted for their name and a basic introduction, after which they can start participating in the event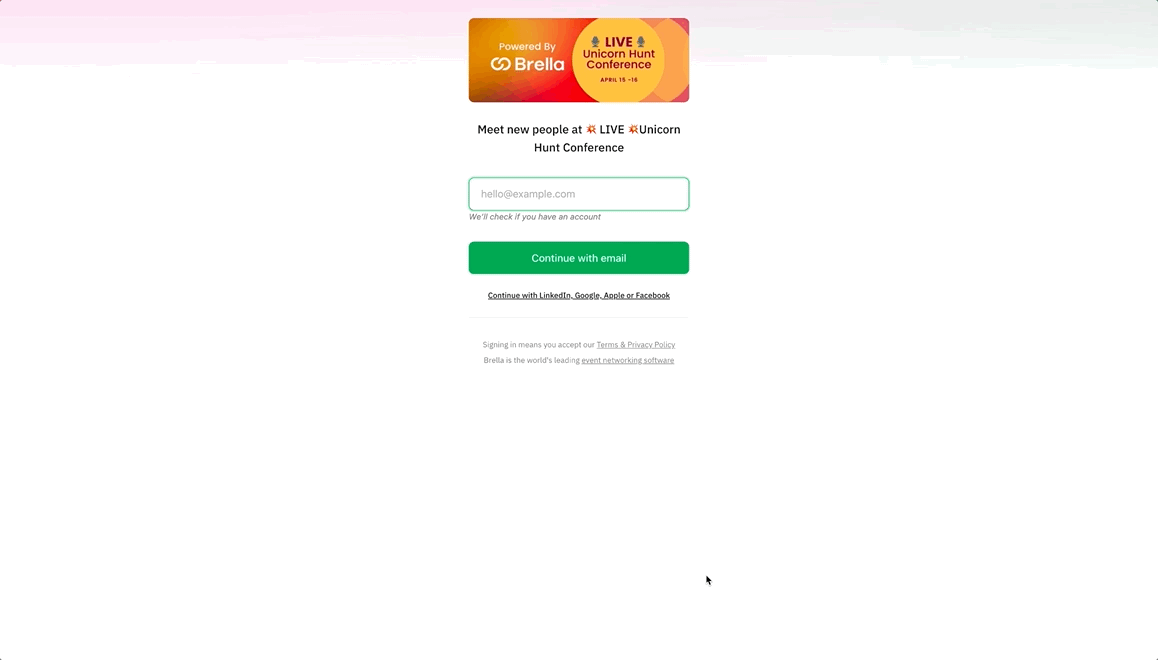 If they already have an account under the same email address (regardless of whether it was created using a social login or password), they can immediately start participating in the event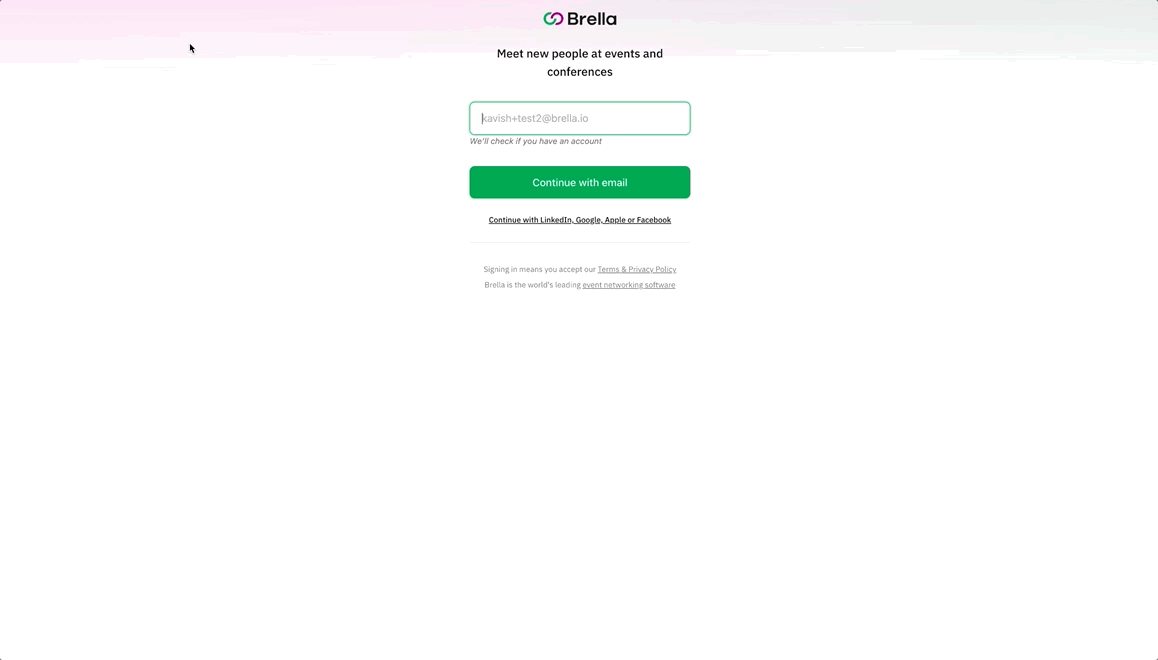 How will this change impact Brella users?
The following changes occurred at 8:00AM on July 6th 2021, when this feature went live:
Any attendees participating in an event held on Brella will be signed out of the platform if they either refresh the page, or close the tab after 8:00 AM (EEST) on July 6th 2021. They will not be automatically signed out otherwise.

They will have to sign-in using our passwordless authentication, or any of our social sign-in options, such as Facebook, Google, Apple or LinkedIn (which will remain unchanged).

Going forward, the passwordless Magic Link authentication will be offered as the default sign-up / sign-in method.

The "sign-in method" column in our Admin Panel (manager.brella.io), which displays the sign-in methods used by each attendee will be removed with this release.
What's next?
While our community (and their attendees) enjoy the simplicity of our new frictionless authentication, our team will be hard at work to support event organizers who are transitioning to hybrid events. This means that huge new features are coming to Brella, including major updates to our native mobile apps — stay tuned for more information!