Event announcements (or push notifications) are perfect for informing your attendees of schedule changes, event alerts and much more.
We believe that engaging with your attendees shouldn't be difficult, so we gathered a list of 6 easy tips to make your next event announcements simple.
1. Consider the customer journey
From our data, nearly 50% of attendees register for event tools 1 week before the event.
Even if they register for the event 6 months or more in advance, they may not register for your event tool until right before your event.
Emails are effective tools for distributing information to attendees, but for those who register last minute, it can mean a barrage of emails, or none at all.
Consider using notifications to share information with new registrants while gently reminding other attendees.
2. Use a clear title
Stick to one item per notification so your attendees stay informed, not overloaded.
By putting the most relevant information in the notification title, you guarantee your attendees will understand the vital information first.
For example, for announcing keynotes, stick to a notification like this.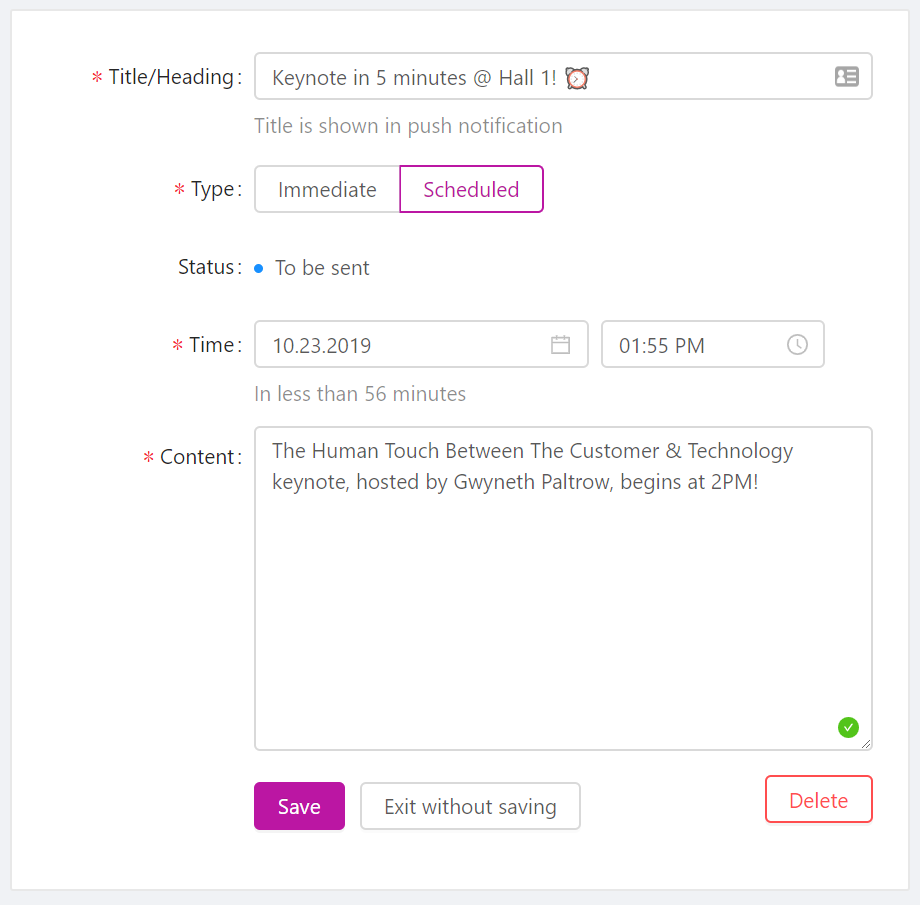 This means your attendees will see a notification that tells them what's happening, and can learn more by pressing the notification.

3. Use sponsored announcements
Clever usage of sponsored announcements can draw great visibility to your sponsors.
After all, the number one thing your sponsors want from your event is more business, which means your attendees need to know they're there.
Also, your attendees will appreciate knowing that your sponsors have prepared something special for them.
For example, your sponsors may host a breakout session or have a giveaway at their booth. You can schedule these notifications to go live at a prime time to give them great visibility and return.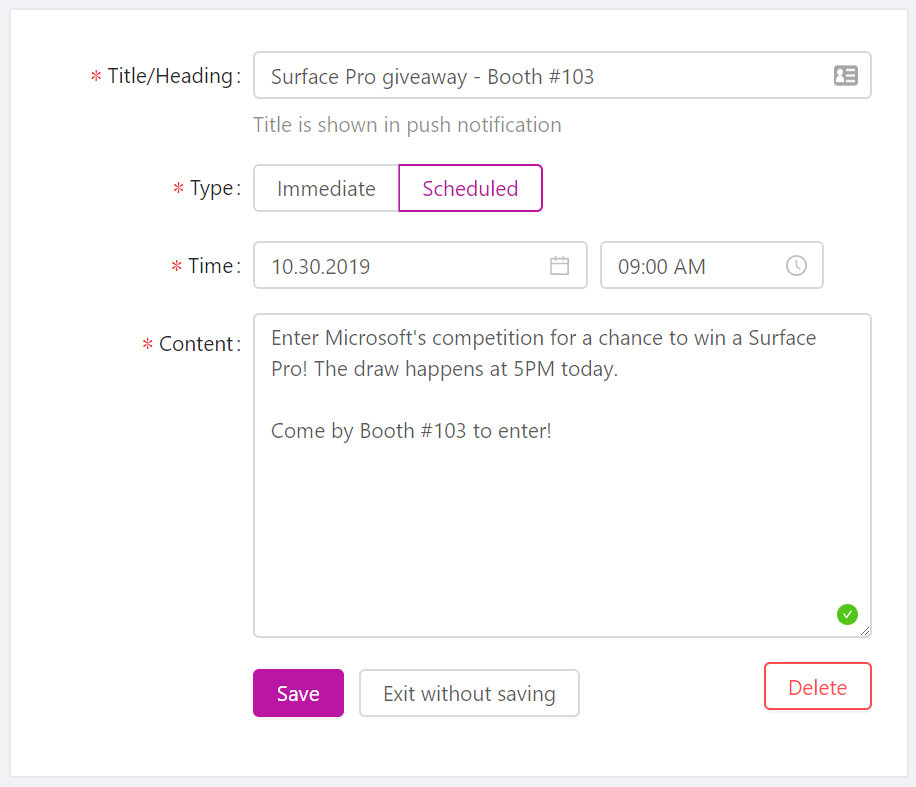 4. Be active during event
Staying active during events is important. Don't think that you're bothering your attendees – push notifications are one of the easiest ways to inform your attendees of changes.
Stay active and use notifications to encourage attendees to:
Attend sessions
Book more networking meetings
Share event experiences on social media
Leave feedback
And speaking of being active…
5. Schedule in advance
Scheduling notifications in advance helps you coordinate with your event content. It also saves you time from sending notifications at the event.
Now you can do it with Brella's scheduled announcements feature.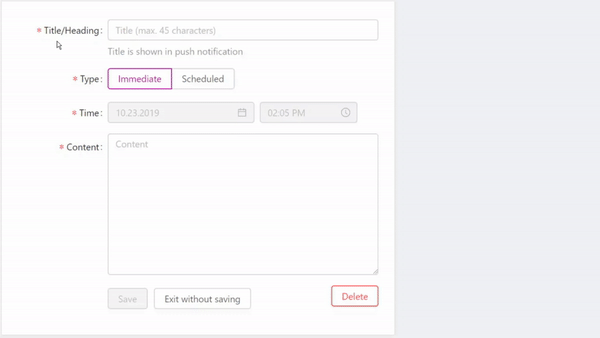 You can set the time and schedule them in advance so you spend time now to save time later.
6. Keep going after the event
Don't be afraid to stop as soon as the event stops. Send survey requests, thank yous, etc.
You can also encourage attendees to share their experiences on social media or follow your own social media accounts.
Don't think that they are done with your event the moment it ends – your attendees still want to hear from you!
Conclusion
We hope these tips help you create and schedule more meaningful event announcements for your attendees.
To learn more about our product updates,
, or subscribe to our monthly newsletter below.