Regardless of how big your event is, your attendees come with more or less the same expectations: To learn, to network, to have a fun time.
The question is, how do you make sure that your event provides all these things to them?
While event networking software can help engage and connect attendees outside sessions, the sessions themselves can get overwhelming and your attendees' attention may easily start to drop.
The best method to make sure that this doesn't happen is to keep engaging your audience throughout each session.
Luckily for us - event professionals - technology makes this ridiculously easy.
In this article, we'll show you three effective ways of keeping your audience positively engaged during your event sessions with the help of technology. We'll also share some practical tips that you can easily duplicate at your event or conference. Enjoy.
1. Crowdsource questions from the audience via an app
Q&A sessions are one of the most valuable moments of every event session. Your attendees can finally take part and learn something extra.
However, passing a mic around the audience is not only impractical and slow, but sourcing questions in this way often results in someone hogging the mic and asking a question that is irrelevant for most of the audience.
Crowdsourcing questions through a live Q&A tool can save the day. Your attendees will simply post their questions via an app using their mobile devices.
This way you will make sure that their questions are short and to the point. What's more, by using the app, everybody in the room or online gets an equal chance to ask a question.
With a Q&A platform, you will be able to display the attendees' questions on the big screen, which makes it easier for the speakers and moderators to facilitate the discussion.
Also, participants can upvote questions posted by others, which will push the questions that are relevant for most of the audience to the top and allow them to be answered with priority.
2. Give the audience a voice with live polling
Whether it's a keynote presentation, panel discussion or a fireside chat, the audience typically sits and listens passively during the session. Their attention tends to wane and they may gradually become very unengaged. Sounds quite sad, doesn't it?
Give the audience an opportunity to participate in real-time by way of live polling. Running a few live polls throughout an event will keep people in the audience engaged, enhance the social and emotional engagement, and set the stage for networking.
Here are three different poll types to try at your next event.
Word cloud polls
Word clouds are a great way to introduce the topic of the presentation or crowdsource insights from the audience.
They work best for questions that can be answered by one or two words. The principle is easy: The more times a word is submitted, the larger it appears on the screen. To optimize their use, start your questions with "In one word, what do you..?"
For example:
Using one word, what's the major challenge event organizers are facing?
What is one word that comes to your mind when someone says 'meeting'?
In one word, what does sustainability mean to you?
Multiple-choice polls
These are perfect for gauging the audience's knowledge, collecting their opinions or finding out about their preferences.
Use them to break the ice at the beginning of a session, or to engage the audience throughout.
For example:
What do you think is the most serious issue the world faces today?
a) Climate change
b)Poverty
c) Food and water security
d) Ongoing wars and conflicts
e) Social inequality
If age were just a state of mind, how would you describe yourself?
a) Dreamy child
b) Crazy teenager
c) Hard-headed adult
d) Cool grandpa/grandma
If you could have one superpower, what would it be?
a) Mind-reading
b) Ability to fly
c) Shape-shifting
d) Teleportation
e) Ability to become invisible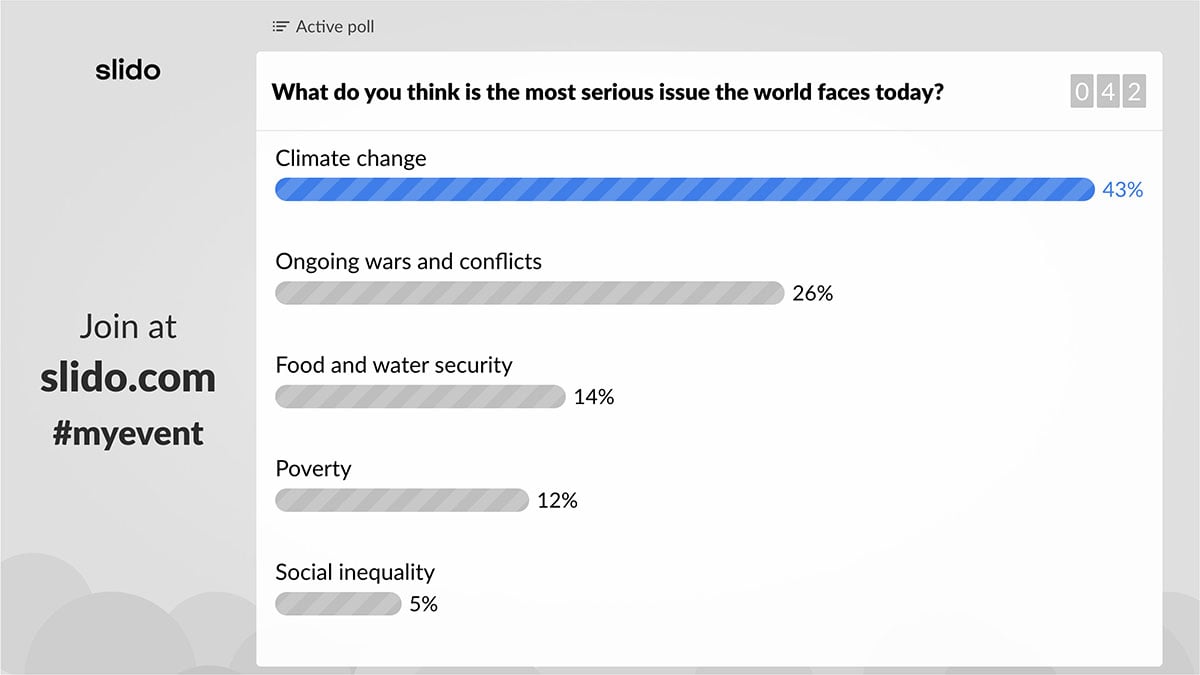 Rating polls
As the name suggests, these polls let your audience rate things or express their tendencies. These types of polls are suitable for gaining insight into the audience's background or checking their level of knowledge.
For example:
On a scale from 1 to 5, how well do you understand GDPR? (1=very poorly, 5=very well)
How would you rate interaction at events right now? (1=poor, 6=excellent)
On a scale from 1 to 7, how excited are you about event technology? (1=not very excited, 7=very excited)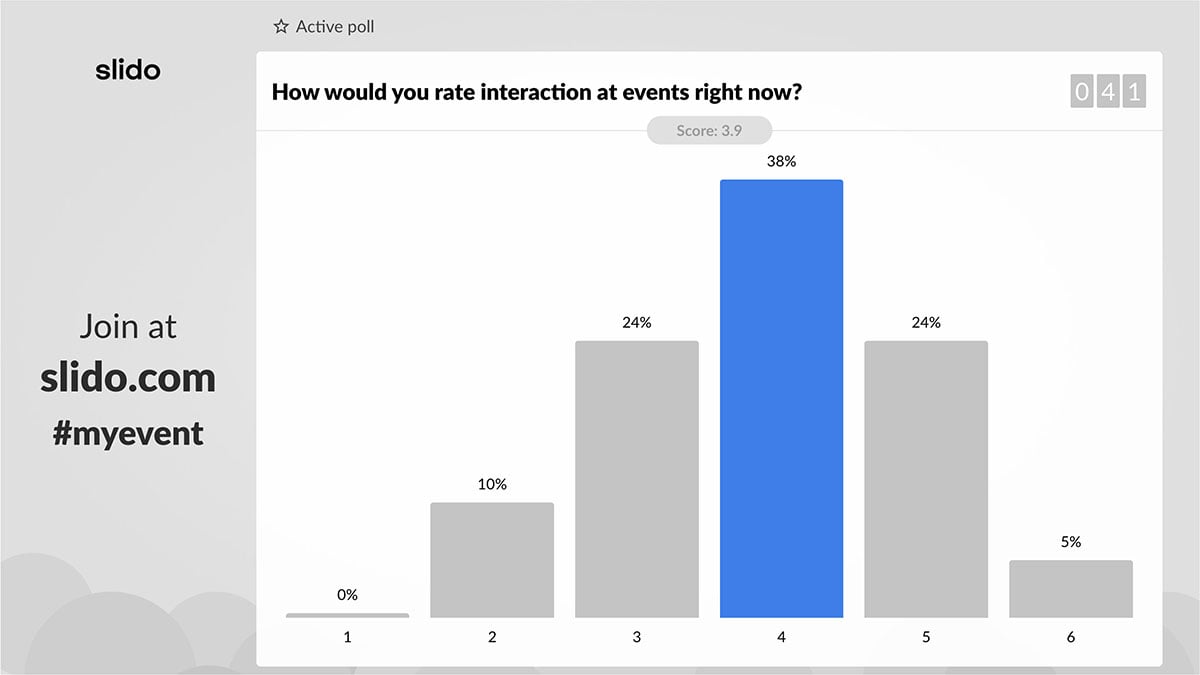 Note: Live polls need to be well-facilitated in order to reach their full potential. The speaker should always properly introduce the poll, and say what the objective behind it is. Once people have voted and the results are displayed on the screen, the speaker should always comment on the results and place them in the context of the content of the presentation.
3. Bring more learning and fun through an interactive quiz
Adding a bit of competition to an event session will keep your attendees on the edge of their seats. A well-facilitated quiz can do just that.
Since quizzes may be time-consuming, the best time to pull them off is at the end of a session. The best technique is to tell the audience at the start that there's going to be a quiz by the end, comprised of questions relating to the topic of the session.
By notifying the audience about the quiz in advance, you will give them something to look forward to and they will be compelled to pay attention.
And don't forget to award the winner with a prize. It will be a great motivator to get people involved.
Hopefully, you have found these tips useful. Try Slido to engage your audience during event sessions and create a better experience at your next event or conference!

About the author
Katy Mrvova is a senior content creator at Slido, the leading live Q&A and polling platform that helps to make meetings and events more interactive and valuable. Follow Slido on Twitter @slidoapp or check out their blog.